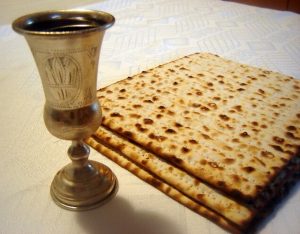 At the end of our gospel lesson this morning, Jesus said to the crowd, "It is my Father who gives you the true bread from heaven. For the bread of God is that which comes down from heaven and gives life to the world." They said to him, "Sir, give us this bread always." Jesus answered, "I am the bread of life. Whoever comes to me will never be hungry, and whoever believes in me will never be thirsty."[1] This is the beginning of Jesus' long discourse on bread which takes up nearly the whole of Chapter 6 of the Gospel according to John and of which we will hear parts for all of the month of August.
A few verses further on, Jesus will say again, "I am the living bread that came down from heaven." And he will add, "Whoever eats of this bread will live for ever; and the bread that I will give for the life of the world is my flesh. . . . Those who eat my flesh and drink my blood have eternal life, and I will raise them up on the last day; for my flesh is true food and my blood is true drink. Those who eat my flesh and drink my blood abide in me, and I in them."[2]
The Jews, John tells us, disputed among themselves as Jesus was delivering this lengthy dissertation on bread. I think we can understand why! The very idea of consuming human flesh is off-putting, even disgusting, and would have been extremely objectionable to the Jews; no wonder they grumbled and mumbled, complained and disputed. Even as a metaphor, the statement demands a lot from Jesus' followers!
Church-going Episcopalians (and others like us who participate weekly in Holy Communion) are perhaps overly familiar with the metaphor. It's not that we have somehow explained it away; I don't think we have. Rather, we have made it routine. Every week we act out Christ's injunction with some sweet wine and a tasteless little cracker we call a "host." A couple of decades ago, Monsignor Paul Turner, a Roman Catholic priest in Kansas City, Missouri, quipped that "it's easier to believe that bread really becomes the Body of Christ than it is to believe that the host is really bread."[3] Nonetheless, we make these claims, that the host is bread and that the bread is the Body of our Lord, and in doing so we seem to have weakened the impact of this shocking metaphor.