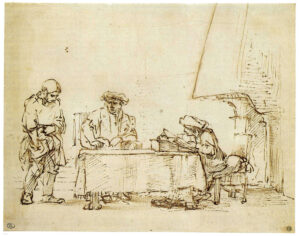 John, your parish secretary, puts together a mailing every week that he sends to the clergy who will be joining you as presiders and preachers. He includes in that mailing some of the material from an Augsburg Fortress publication called "Sundays and Seasons," which is a great lectionary resource. The illuminations that your lectors read before each Bible reading giving a little introduction about the lesson come from "Sundays and Seasons." I've been familiar with the publication for a long time, though I've never been a subscriber: I used to participate in a weekly ecumenical lectionary study group that included Presbyterian, Methodist, Lutheran, and Episcopal clergy and our Lutheran colleagues often brought something from "Sundays and Seasons" into our discussions.
This week "Sundays and Seasons" offered this précis as an introduction to our gospel reading, which is Matthew's Parable of the Talents:
Jesus tells a parable about his second coming, indicating that it is not sufficient merely to maintain things as they are. Those who await his return should make good use of the gifts that God has provided them.[1]
It's now that time of year when clergy and church councils like to talk about stewardship of God's gifts, and I am sure that you have heard many sermons that take exactly this approach to the Parable of the Talents;. I know that I have both heard and preached such sermons! But, having taken a closer look at the text recently, I that interpretation misses the mark. I don't think this is a story about stewardship, at all: I believe it's a story about conscience or, rather, the lack of conscience.