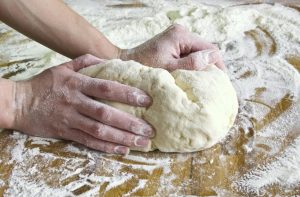 Children, as those of us who have had or who have been children know, grow in their ability to communicate. Vocabularies grow. Grammars develop. They move from simple one- or two-syllable concepts – such as "Mama" or "Dada" or "NO!" – to more complex ideas.
When my niece was a toddler, she put together two concepts – negativity and certainty – in a way that was confusing to some adults. When asked if she would like to have something, say a food, she would answer, "Not sure." If she had understood sentence structure or the concept of adverbs, she would have said, "Surely not!" But she didn't yet understand those things: she understood negativity – "not" – and certainty – "sure" – and put them together in a way that made since to her.
Not to her grandmother, however. My poor mother never did get it that "Not sure" didn't mean that my niece was undecided, so she would try to convince the girl that liver or broccoli or whatever was something she should try. But "Not sure" did not mean indecisiveness; it meant quite the opposite. "Not sure" meant "Dig-in-the-heels screaming-fit absolutely not; don't try to change my mind."
Children often communicate in these unclear ways, ways that often seem like complaints. I especially remember the experience of serving our children an unfamiliar food, or taking them to a dinner where they were given something unlike they would get at home. The nearly immediate response was, "What is this? I don't like it."
"How do you know you don't like if you don't know what it is?" I would ask.
"I don't like it!" they would repeat it.