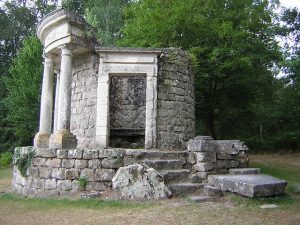 Before coming to Ohio, my wife and I lived in the Kansas City metroplex. For reasons that still remain mysterious, I was somehow added to the mailing list for the newspaper of the Roman Catholic Archdiocese of Kansas City, Kansas, which is called The Leaven. When we moved here, I expected that that would stop, but somehow they got my change of address, so I still get The Leaven. I suppose I could have asked to be taken off, but I enjoy reading some of the articles, especially a column written by the paper's editor-in-chief Father Mark Goldasich. Fr. Goldasich often relates stories of people from around the archdiocese; some are funny, some are touching, and some, like this recently offered story, bring tears to your eyes:
One day a young man was shopping in a supermarket when he noticed an elderly lady who seemed to be following him. Whatever aisle he turned down, she turned down. Whenever he stopped, she stopped. He also had the distinct impression that she was staring at him.

As the man reached the checkout, sure enough, the lady was right there. Politely, he motioned for the woman to go ahead of him.

Turning around, the elderly lady said, "I hope I haven't made you feel uncomfortable. It's just that you look so much like my late son."

Touched, the young man said, "Oh, no, that's OK."

"I know that it's silly," continued the lady, "but could I ask you to do something for me? Could you call out, 'Goodbye, Mom,' as I leave the store? It would make me feel so happy."

The young man was glad to oblige. After the lady went through the checkout and was on her way out of the store, he called out, "Goodbye, Mom!"

The lady turned back, smiled and waved.