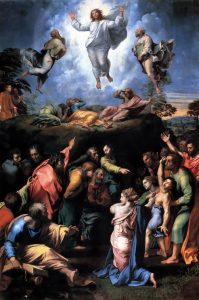 Today, as I write this, is Trinity Sunday 2020, but my imagination this morning is not caught up by the Lectionary gospel lesson of the day, the last mountain-top experience of the Eleven when, just before his Ascension, Jesus gives them the Great Commission.[1] Rather, my mind is taken to another mountain-top story, the one New Testament story Episcopalians can count on hearing twice each year at celebrations of the Holy Eucharist, that of the Transfiguration of Jesus. It is heard on the Feast of the Transfiguration, August 6, when Luke's version is read at the mass:
Jesus took with him Peter and John and James, and went up on the mountain to pray. And while he was praying, the appearance of his face changed, and his clothes became dazzling white. Suddenly they saw two men, Moses and Elijah, talking to him. They appeared in glory and were speaking of his departure, which he was about to accomplish at Jerusalem. Now Peter and his companions were weighed down with sleep; but since they had stayed awake, they saw his glory and the two men who stood with him. Just as they were leaving him, Peter said to Jesus, "Master, it is good for us to be here; let us make three dwellings, one for you, one for Moses, and one for Elijah" — not knowing what he said. While he was saying this, a cloud came and overshadowed them; and they were terrified as they entered the cloud. Then from the cloud came a voice that said, "This is my Son, my Chosen; listen to him!" When the voice had spoken, Jesus was found alone. And they kept silent and in those days told no one any of the things they had seen.[2]
It is also always heard on the Last Sunday after Epiphany when, depending on the Lectionary year, it may be Luke's story or the essentially similar versions from Matthew[3] or Mark.[4]