This sermon was first preached on Easter Sunday, 2001, at St. Francis of Assisi in the Pines Episcopal Church, Stilwell, Kansas, where I was rector from July 1993 to June 2003. I had thought it lost when that parish abandoned its internet domain after I left that position. However, at the urging of a friend, I searched for it on the Internet Archive's "wayback machine," and was surprised to find it. I have updated some of the references and corrected some mistakes to publish it here. I have always thought it a pretty good sermon, and I guess others have thought so, too: in the course of researching sources to update the footnotes, I found that a rather large chunk of it had been reproduced in full, without attribution, as the pastor's 2019 Easter letter in the newsletter of a Roman Catholic parish in Scotland.[A] (As my fellow Anglican cleric Charles Caleb Cotton wrote in 1824 – and Oscar Wilde later quoted and expanded – "Imitation is the sincerest [form] of flattery."[B])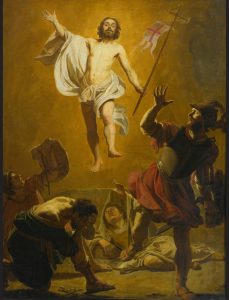 Easter is a joke. Amen.
(The Preacher steps out of the pulpit, perhaps even returns to his chair, then returns to the pulpit.)
OK … I guess I should explain that. What is a "joke"? Princeton University's WordNet Dictionary says, in one of its definitions, that a joke is an "activity characterized by good humor."[1] Can you think of a better way to characterize the resurrection of Jesus than as an "activity characterized by good humor"? The Resurrection of Jesus of Nazareth was God's activity of the highest and best humor!
I wrote in our newsletter, The Canticle, that the Sunday we call "Easter" is really not a separate feast day; it is the third part of a three-day celebration that begins at sundown on the previous Thursday, the day we call "Maundy." This three-day celebration is called by an ancient Latin name, "the Triduum." The Triduum is a single celebration in three acts. We have arrived at Act Three in the drama of redemption.