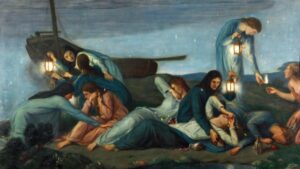 We have three intriguing lessons from scripture today. First we have a denunciation of Hebrew worship, which also interestingly contains a verse most famous in American politics for having been spoken on the steps of the Lincoln monument by Dr. Martin Luther King, Jr. Some people who dislike liturgy, or some aspect of liturgy, like incense, or vestments or music, ignoring that sentence about justice flowing like streams, have used this text to prove that God also dislikes, liturgy, or incense, or vestments, or whatever. However, that's not what this lesson is about and I'll get back to that in just a moment.
The second lesson is a crazy excerpt from Paul's first letter to the Thessalonians. With all that talk of God playing a trumpet and people flying up to meet Jesus in the air, it reads like some sort of hallucination or LSD trip, or like the ramblings of our crazy uncle who shows up for Thanksgiving dinner, muttering about things people don't understand. The thing about Paul's letters, though, is that they're intended to be read as a whole. Breaking them up into excerpts, as the common lectionary does, can lead to a misreading and a misunderstanding. Fortunately, the lectionary doesn't intend the epistle lesson to necessarily be read and interpreted in conjunction with the gospel lesson, as it does with the thematically related Old Testament lesson, so today we'll just set crazy, old uncle Paul in a chair over there and let him be today.
Finally, from Matthew's gospel, we have a lesson in which Jesus teaches about the kingdom of heaven. He does this using a parable. Now, you know what a parable is, right? It's kind of like a metaphor and it's kind of like a simile, but it's neither a metaphor nor a simile. In a metaphor, the speaker says or implies that A is B, when the listener knows darn good and well that A is not B at all, but metaphoric imagery challenges us to consider A in ways we might not have done before.