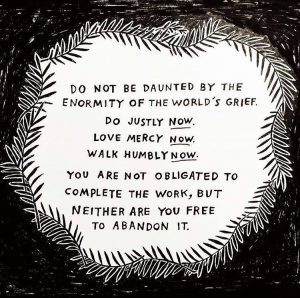 Lenten Journal, Day 26
This morning on Facebook I saw this sentiment laid out as an inspirational graphic claiming Celtic origins:
Do not be daunted by the enormity of the world's grief. Do justly, now. Love mercy, now. Walk humbly now. You are not obligated to complete the work, but neither are you free to abandon it.
It is not Celtic. I have also seen it cited to the Talmud. It is not Talmudic. I know this because I have used this epigram in sermons and I have researched its origins. I've not been able to find them and, because it is so widely disseminated now with the Talmudic claim, I think they are impossible to find.