From John's Gospel:
On the third day there was a wedding in Cana of Galilee, and the mother of Jesus was there. Jesus and his disciples had also been invited to the wedding. When the wine gave out, the mother of Jesus said to him, "They have no wine." And Jesus said to her, "Woman, what concern is that to you and to me? My hour has not yet come." His mother said to the servants, "Do whatever he tells you."
(From the Daily Office Lectionary – John 2:1-5 (NRSV) – January 17, 2014.)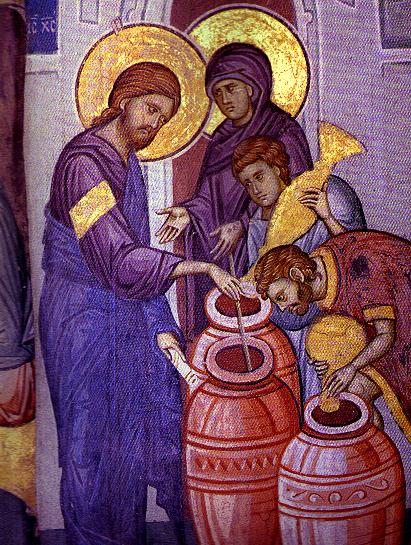 Today is the feast of St. Antony of Egypt. According to a Life of St. Antony written by Athanasius, Antony and his younger sister were orphaned when he was about 18 years of age, inheriting a goodly estate which he began to manage. However, writes Athanasius, six months after his parents' death he was "turning over in his mind the way the apostles had left everything to follow the Savior" when he heard a sermon on Christ's encounter with the rich young man whom the Lord instructed, "If you wish to be perfect, go, sell your possessions, and give the money to the poor, and you will have treasure in heaven; then come, follow me." (Matt. 19:21)
According to Athanasius:
As though this reminder of the saints had ben sent to him by God, and as though that passage had been read specially for his sake, Antony went out immediately, and gave to the villagers the possessions he had inherited from his ancestors — they consisted of some three hundred very pleasant and fertile acres — so that they would not be an encumbrance to him and to his sister. He sold all his possessions and gave the considerable sum h raised to the poor, keeping back only a little of it for his sister.

Again when he went into church, he heard what the Lord said in the gospel, "Do not be anxious about tomorrow." He could not wait any longer, but went out and gave away even what he had kept back to the poor. He left his sister in the care of some well-known, trustworthy virgins, putting her in a convent to be brought up, and he devoted himself to the ascetic life not far from his home, living in recollection and practicing self-denial.
When I read that, I wondered what Antony's sister's reaction to it all might have been . . . . Truthfully, had I been her, my affections toward my older brother would not have been kindled! And then I read this morning's Daily Office gospel about the wedding at Cana and the (to my mind) very uncomfortable repartee between Jesus and his mother. If we take off the rose-tinted glasses through which the Holy Family and the saints are often viewed and assess this conversation honestly, these are two people talking passed one another and not being terribly pleasant to each other!
When I was in seminary, my New Testament professor Bill Countryman referred to the portrayal of Jesus in the Fourth Gospel as "obnoxious." In his book The Mystical Way in the Fourth Gospel, Countryman called Jesus' repeated pattern of hard-to-understand responses to questions "obnoxious discourse." Jesus seems intent on making his claims as difficult and offensive as possible; everything he says seems designed to irritate the people listening. And, in the story of the wedding at Cana, he seems to be starting with his mother!
Taken together, the story of Antony disposing of the family fortune and this gospel lesson serve as reminders that every family has its "issues." The saints and holy people whom we revere and to whom we look as exemplars, even Jesus and his mother, were just "regular folks" doing the best they could and trying to work things out as well as possible. Sometimes they were wildly successful and are examples we should seek to emulate. Sometimes we look at them and question their judgments and their actions; not every example is one to follow. In either case, we hope to learn something, even when they are being obnoxious. Perhaps especially when Jesus is obnoxious!
====================
A request to my readers: I'm trying to build the readership of this blog and I'd very much appreciate your help in doing so. If you find something here that is of value, please share it with others. If you are on Facebook, "like" the posts on your page so others can see them. If you are following me on Twitter, please "retweet" the notices of these meditations. If you have a blog of your own, please include mine in your links (a favor I will gladly reciprocate). Many thanks!
====================
Father Funston is the rector of St. Paul's Episcopal Church, Medina, Ohio.