From the Psalter:
He whose throne is in heaven is laughing; the Lord has them in derision.
(From the Daily Office Lectionary – Psalm 2;4 (BCP Version) – December 2, 2013.)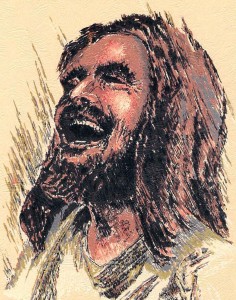 In the library of my parish church is a pen-and-ink drawing of Jesus laughing. It's not a picture I particularly like, nor is it particularly well executed. In fact, if someone hadn't told me that it is supposed to show Jesus laughing, I would have thought he was angry! Whenever I look at it, this verse from the Psalter comes to mind.
I think it's hard for some people to conceive of Jesus (or God) showing emotions, particularly negative ones. I remember years ago (I was in my early 20s) listening to a meditation on anger at a church retreat. The priest offering the meditation said, "Jesus never displayed anger." Really? I thought. What about that little incident in the Temple overturning tables and brandishing a whip? A false and mistaken idea that Jesus was never just plain mad, that God never gets royally pissed off does nothing more than create guilt in people who do (that would be everybody, I think).
One of the most interesting portrayals of the Lord in art that I have ever seen was a small hand-carved crucifix. The face of Jesus was contorted in obvious rage. I asked the artist about it and he told me it was how he saw Jesus saying, "Father, forgive them." — "I think that what he is saying at that moment is, 'You forgive them because, right now, I can't! I have done everything you asked of me. I have taught them, healed them, exhorted them to proper conduct, shown them how to live, and this is what they do to me. I have run out of forgiveness. You do it!'" — I wish I'd been able to obtain that crucifix, but it wasn't for sale.
I am quit certain that Jesus exhibited the full range of emotion, and I am equally certain that God does, as well. After all, Jesus was — is — God Incarnate. Furthermore, our faith teaches us that through his Ascension, Jesus has taken humanity into God's heavenly domain; that includes everything it means to be human, including our emotions, positive and negative.
During these days of preparation for Christmas, this season the church calls "Advent," emotions run high. For many people, sadness, anger, depression, a sense of loss, feelings of exclusion and betrayal may be the major emotions of the holidays. Laughing Jesus who looks to be angry, God laughing in derision, Jesus angry in the Temple, Jesus in exasperated rage on the cross . . . they should remind us that there should be no guilt in feeling these things. They are part of our humanity. Our human task is to accept them, work through them, and let go of them.
Lord, accept my Advent anger, my Christmas blues; help me lay them aside so that I may enter into the joy of your Incarnation.
====================
A request to my readers: I'm trying to build the readership of this blog and I'd very much appreciate your help in doing so. If you find something here that is of value, please share it with others. If you are on Facebook, "like" the posts on your page so others can see them. If you are following me on Twitter, please "retweet" the notices of these meditations. If you have a blog of your own, please include mine in your links (a favor I will gladly reciprocate). Many thanks!
====================
Father Funston is the rector of St. Paul's Episcopal Church, Medina, Ohio.