====================
This sermon was preached on Sunday, March 10, 2013, at St. Paul's Episcopal Church, Medina, Ohio, where Fr. Funston is rector.
(Revised Common Lectionary, Lent 4, Year C: Psalm 32; 2 Corinthians 5:16-21; and Luke 15:1-3, 11b-32. These lessons can be read at The Lectionary Page. At St. Paul's Parish, during Lent, we are using the Daily Office of Morning Prayer as our antecommunion; therefore, only these two lessons and the psalm were read. The Old Testament lesson, Joshua 5:9-12, was not used.)
====================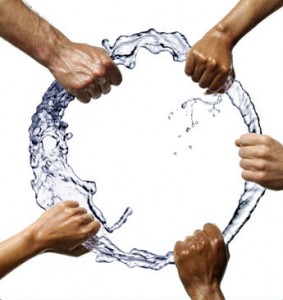 The picture on the front of the bulletin today is one I found on the internet several months ago and which I just found intriguing. I can't recall what I was doing or reading or searching for when I ran across it, but it grabbed my attention and seemed to me to be a great illustration for baptism and the baptismal covenant set out in The Book of Common Prayer.
That covenant of five promises is made immediately after the person being baptized or, if an infant, his or her parents and Godparents have affirmed their faith in the word of Apostles' Creed as we shall do in a few minutes. The baptismal pledges are made in answer to five questions, to each of which the answer is, "I will, with God's help:"
Will you continue in the apostles' teaching and fellowship, in the breaking of bread, and in the prayers?
Will you persevere in resisting evil, and, whenever you fall into sin, repent and return to the Lord?
Will you proclaim by word and example the Good News of God in Christ?
Will you seek and serve Christ in all persons, loving your neighbor as yourself?
Will you strive for justice and peace among all people, and respect the dignity of every human being?
Think of the ring of water in the picture as representing the sacrament; the five hands trying to grasp it, the five promises of the covenant.
We are told in the Catechism at the back of prayer book that living up to these promises is the way we, as the ministers of the church, both lay and ordained, pursue the churches mission:
Q. What is the mission of the Church?
A. The mission of the Church is to restore all people to unity with God and each other in Christ.
Q. How does the Church pursue its mission?
A. The Church pursues its mission as it prays and worships, proclaims the Gospel, and promotes justice, peace, and love.
"To restore all people to unity with God and each other." That's what Paul is talking about in the lesson we have today from the Second Letter to the Church in Corinth: God "reconciled us to himself through Christ, and has given us the ministry of reconciliation; that is, in Christ God was reconciling the world to himself, not counting their trespasses against them, and entrusting the message of reconciliation to us. So we are ambassadors for Christ, since God is making his appeal through us." (2 Cor. 18-20)
Reconcile is an interesting word. It has three parts, actually to prefixes and a base verb, all from the Latin. The base verb is calare (or cilire in this combined form); it means to call. The first prefix is "con-" which means "together." Our word council comes from this combination; a council is called to together to accomplish something, to make a decision, to govern an organization or a political subdivision. The next prefix is "re-" which means "again." Reconciliation is the act of calling together again . . . and again . . . and again. It isn't something done only once; it takes time and it on-going effort.
We have a story of reconciliation in the Gospel story this morning, the familiar story of the prodigal son. We all know this story, but let me just quickly recap what it's all about.
In Jesus' time in First Century Palestine the typical pattern of inheritance was that the first-born son would receive two-thirds of his father's wealth, and any other sons would share the remaining one-third. (Daughters got nothing other than their dowries.) In this story there are only the two sons, the younger of whom decides he doesn't want to wait for Dad to die. "Give me my inheritance now!" is his demand of his father, a demand which is highly insulting to the father. He's basically saying, "I wish you were dead. I'm done with this family. I'm leaving." And that is what he does.
The boy takes his money and goes off to sew his wild oats, which he does with a vengeance! He blows the whole thing, the entire sum; however much it may have been, he spends it all. This, by the way, is what "prodigal" means! To be prodigal means to spend one's money or resources with extravagance, lavishly, abundantly, profusely, often to the point of complete depletion. Doing so is not necessarily a bad thing! In the context of this story, of course, there is an implication of negativity, that the younger son is a wastrel, a spendthrift, a good-for-nothing idler; his older brother, when he returns home, certainly seems to think so. But Jesus' point is not to criticize the younger brother, and Jesus does not condemn profligate spending of resources. You may remember this story told in Matthew's Gospel:
Someone came to [Jesus] and said, "Teacher, what good deed must I do to have eternal life?" And he said to him, "Why do you ask me about what is good? There is only one who is good. If you wish to enter into life, keep the commandments." He said to him, "Which ones?" And Jesus said, "You shall not murder; You shall not commit adultery; You shall not steal; You shall not bear false witness; Honor your father and mother; also, You shall love your neighbor as yourself." The young man said to him, "I have kept all these; what do I still lack?" Jesus said to him, "If you wish to be perfect, go, sell your possessions, and give the money to the poor, and you will have treasure in heaven; then come, follow me." When the young man heard this word, he went away grieving, for he had many possessions. (Matthew 19:16-22 NRSV)
So lavishly disposing of one's wealth is not the moral issue here.
As we are usually led through consideration of this story our focus turns to the father who is said to represent God, a loving and generous parent who forgives the wastrel son and welcomes him back with open arms. Certainly in the father we find an example of the reconciliation which is our baptismal ministry, but if the father represents God, then the reconciliation is God's doing, not ours . . . and the Cathechism clearly teaches us that we are to be the ministers of reconciliation — or as Paul puts it, we are the ambassadors of Christ.
What if, instead of the father, God is another of the characters in this story? What if God instead is the prodigal who seems so irresponsible? I am here borrowing from journalist and seminarian David R. Henson who asks:
What if God is the God who comes to us in the disguise of those we despise, those who have hated and killed us, rejected us and abandoned us, those who annoy and frustrate us most, those who are excluded?

In the guise of the sinner, the debauched, the prostitute, the unclean, the enemy, the unsavory, God comes to us and challenges us to participate in a radical, irresponsible hospitality that turns the rules of polite society upside-down.

And if God comes to us as this, how do we respond? As the father does, subverting social norms and opening his life to the chaos the prodigal brings? Or as the brother does, maintaining society's values but closing off his life to loving the Other?

In this parable, Jesus is asking us whether we will entertain angels, even if the angels look to us like demons, like exactly what we fear and loathe. He is asking us whether we can overcome our prejudice and the oppression of religiosity to open our arms enough to embrace the Other, the other who is actually our closest kin. (Patheos)
Katherine Grieb, who teaches at Virginia Theological Seminary, also suggests that the father in the parable is not a figure for God. She writes, "What happens if we focus on the man who had two sons and read this parable as an answer to the question the Corinthians might have asked Paul: What does it mean to be an ambassador for Christ?" In other words, the father is us; the father is the one to whom is given the ministry of reconciliation. The father in the parable "models grace-filled responses [of reconciliation] — to the teenager who says, "You're the worst parent in the world, I wish you were dead!" — to the awkward penitent — to the passive-aggressive rule keeper." Grieb recalls theologian Karl Barth who suggested that "if Jesus himself had not left the Father and traveled into the far country to share a table with sinners, we would still be there, eating those pig pods. Shouldn't Christ's ambassadors also request a table in the sinners' section?" (The Real Prodigal, The Christian Century, March 9, 2004, p. 21)
There is a communion hymn that is one of my favorites. It's not in our hymnal, although I wish it was; I would have selected it for today. It is entitled God and Man at Table Are Sat Down (and I know that's not "inclusive language" but bear with me and remember that man for centuries was considered a generic term). It begins with a description of the church at worship . . . .
O, welcome, all ye noble saints of old
As now before your very eyes unfold
The wonders all so long ago foretold.
God and man at table are sat down.

Elders, martyrs, all are falling down;
Prophets, patriarchs are gath'ring round.
What angels longed to see now man has found:
God and man at table are sat down.
But then it veers away from that noble and comforting description of the holy people of God gathered from across time, and names a few other folks who are to be welcomed to the banquet:
Beggars, lame, and harlots also here;
Repentant publicans are drawing near.
Wayward sons come home without a fear.
God and man at table are sat down.
In the Episcopal Church we have what we call "the sacrament of reconciliation," auricular confession to a priest; you can find the formal rite of confession in the Prayer Book beginning on page 447. It's a wonderful thing to be able to offer that. But I believe the true "sacrament of reconciliation" is what we offer and celebrate at this table. Here, as ambassadors of Christ with a ministry of reconciliation we are to welcome prophets, patriarchs and matriarchs, martyrs and saints, but more importantly we are to invite and embrace, again and again, the beggars and the wastrels, the prostitutes and the pimps, the passive-aggressive rule keepers and the insulting teenagers.
Paul wrote, "From now on, we regard no one from a human point of view," neither saint nor sinner, neither patriarch nor prostitute, neither martyr nor miscreant; "everything old has passed away . . . [and] everything [and everyone] has become new!"
If we grab that water ring, if we live up to our baptismal pledges, if we carry out our mission of reconciliation, if we are truly ambassadors for Christ, I think the greatest thing that could be said of us is "These people welcome sinners and eat with them."
====================
A request to my readers: I'm trying to build the readership of this blog and I'd very much appreciate your help in doing so. If you find something here that is of value, please share it with others. If you are on Facebook, "like" the posts on your page so others can see them. If you are following me on Twitter, please "retweet" the notices of these meditations. If you have a blog of your own, please include mine in your links (a favor I will gladly reciprocate). Many thanks!
====================
Father Funston is the rector of St. Paul's Episcopal Church, Medina, Ohio.