From the Psalms:
But I am like a green olive tree in the house of God;
I trust in the mercy of God for ever and ever.
(From the Daily Office Lectionary – Psalm 52:8 (BCP Version) – June 3, 2013.)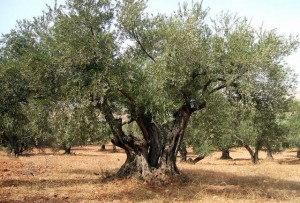 The writers of the psalms used trees a lot as a metaphor for the righteous. The very first psalm says, "They are like trees planted by streams of water, bearing fruit in due season, with leaves that do not wither; everything they do shall prosper." (Ps. 1:3, BCP) Throughout the psalms we find references to specific types of trees, and today "a green olive tree."
When we lived in Las Vegas we had two olive trees in our front yard, very large, well grown trees. We had a great arborist who trimmed and shaped them each year. They were beautiful trees with gnarled, twisting, yet graceful trunks. Their leaves were dark green on the top side, silver on the underside: when the wind blew they seemed to shimmer. Their grace and character set them apart from other trees. They provided wonderful shade in the hot desert summer, but they were messy. Olive trees are very productive; they dropped lots of fruit and lots of leaves!
Our olive trees were purely decorative. The fruit they produced was useless. In biblical Israel, however, the olive was a very important tree, a source of food, light, hygiene, and healing. For nearly 6,000 years, olives have been eaten in the Mediterranean as a staple food. Olive oil has been used for cooking, in lamps for light, for medicine, in bathing, and for religious anointing.
Olives are also extremely hardy, which is why we had them as shade trees in our desert landscape. They will live and produce fruit in any conditions: hot, dry, cold, wet, rocky, or sandy. It is said that you can't kill an olive tree: when cut down or burned, new shoots will emerge from the root.
To be an olive tree, then, is to endure and to be productive. To endure and be productive in the house of God is the goal of every person of faith. As Paul reminded the Romans, endurance produces character, and character produces hope, and hope does not disappoint. (Rom. 5:5-4)
The Palestinian pastor of the Evangelical Lutheran Christmas Church in Bethlehem, the Rev. Mitri Raheb wrote in Bethlehem Besieged, "At times, when we feel as if the world must be coming to an end . . . our only hopeful vision is to go out . . . and plant olive trees. If we don't plant any trees today, there will be nothing tomorrow. But if we plant a tree today, there will be shade for our children to play in. There will be oil to heal the wounds, and there will be olive branches to wave when peace arrives."
This is what it is to be an olive tree in the house of God.
====================
A request to my readers: I'm trying to build the readership of this blog and I'd very much appreciate your help in doing so. If you find something here that is of value, please share it with others. If you are on Facebook, "like" the posts on your page so others can see them. If you are following me on Twitter, please "retweet" the notices of these meditations. If you have a blog of your own, please include mine in your links (a favor I will gladly reciprocate). Many thanks!
====================
Father Funston is the rector of St. Paul's Episcopal Church, Medina, Ohio.