From the Book of Genesis:
So Jacob took a stone, and set it up as a pillar. And Jacob said to his kinsfolk, "Gather stones," and they took stones, and made a heap; and they ate there by the heap. Laban called it Jegar-sahadutha: but Jacob called it Galeed. Laban said, "This heap is a witness between you and me today." Therefore he called it Galeed, and the pillar Mizpah, for he said, "The Lord watch between you and me, when we are absent one from the other. If you ill-treat my daughters, or if you take wives in addition to my daughters, though no one else is with us, remember that God is witness between you and me."
(From the Daily Office Lectionary – Genesis 31:45-50 (NRSV) – February 19, 2014.)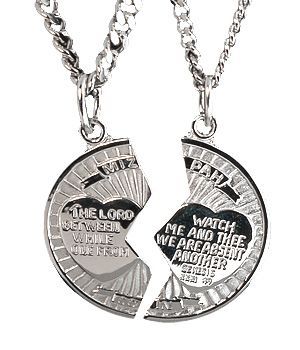 "The Lord watch between me and thee. . . . " Years ago (several more than forty) I graduated from high school at the tender age of 16 and announced to my parents that I was getting married.
Rather than get their knickers in a twist and forbid it, they conspired with my older brother (a college professor) and his wife (also a college professor) to send me away for a good, long while. My brother and sister-in-law were on their way to Europe for three months of sabbatical study, and I was given the opportunity to go with them.
As I was leaving for that long summer trip, my girlfriend (she wasn't yet my fiancée) gave me a medallion that was styled to look like one half of a broken coin. I was to wear that half and she would wear the other. When the two halves were put together, the word MIZPAH and this entreaty of Laban's were inscribed across the whole.
Long story short . . . by the end of my summer-long absence, she had formed another relationship and I had no interest in trying to "win her back" or in getting married to her or anyone.
When I read this story, I think of her, even though that prayer's implied petition for reunion and resumption of our relationship was not realized. When I think of her, a song which became popular many years after that summer comes to mind, Fifty Ways to Leave Your Lover by Paul Simon:
You just slip out the back, Jack
Make a new plan, Stan
You don't need to be coy, Roy
Just get yourself free
Hop on the bus, Gus
You don't need to discuss much
Just drop off the key, Lee
And get yourself free
Of course, although Laban is not Jacob's lover, "slipping out the back" is exactly what Jacob tried to do in leaving Laban's household, and "making a new plan" is exactly what our summer apart led my former girlfriend and me to do. But it seems to me that we never really finish our relationships; they never really end. We may leave one another's presence; we may never see one another again; but the relationship, once established, endures.
A few thousand years later and humankind is still remembering and learning from the relationship between Jacob and Laban; nearly a half-century later I can still see my former girlfriend's face in memory and hear her voice. There may be fifty ways to leave a relationship, but the relationship doesn't end; it is transformed. It becomes a relationship of absence, and that makes it a relationship of untold, unrealized, and unrealizable possibilities. What might have happened if . . . ? Another lyric comes to mind:
Once upon a time
Once when you were mine
I remember skies
Reflected in your eyes
I wonder where you are
I wonder if you
Think about me
Once upon a time
In your wildest dreams
The Moody Blues got it right. Those "what if" musings are all "once upon a times" and "wildest dreams." (The title of the song is In Your Wildest Dreams.) It is best to let them go, to focus on current, active relationships, and to consign those long-passed, transformed-but-not-ended relationships to God's care. "The Lord watch between me and thee . . . ."
====================
A request to my readers: I'm trying to build the readership of this blog and I'd very much appreciate your help in doing so. If you find something here that is of value, please share it with others. If you are on Facebook, "like" the posts on your page so others can see them. If you are following me on Twitter, please "retweet" the notices of these meditations. If you have a blog of your own, please include mine in your links (a favor I will gladly reciprocate). Many thanks!
====================
Father Funston is the rector of St. Paul's Episcopal Church, Medina, Ohio.