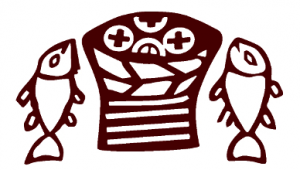 In 2014, Evie and I were privileged to join a group of other pilgrims from Ohio and Michigan and spend not quite three weeks in Palestine and Israel visiting many of the sites we hear about in the Bible, especially the Christian holy places of the Gospel stories. One of those was a hilly place overlooking the Sea of Galilee called Tabgha. Until 1948, when the Israelis uprooted its residents, a village had been there for centuries; now it is simply an agricultural area and a place of religious pilgrimage.
The name is a corruption of the Greek name of the place, Heptapegon, which means "seven springs;" its Hebrew name is Ein Sheva, which means the same thing. It is venerated by Christians for two reasons; on a bluff overlooking the place is where the feeding of the multitude is believed to have occurred and on the beach is where the Risen Christ is thought to have had a grilled fish breakfast with Peter during which he asked him, three times, "Do you love me?" At each location, there is a shrine and a church: the first is called The Church of the Multiplication; the second is called Mensa Domini (which means "the Lord's Table") and also known as The Church of the Primacy of Peter.
A Fourth Century pilgrim from Spain named Egeria reported visiting, in about 380 CE, a shrine where the Church of the Multiplication now stands; in her diary, she tells us that the site had been venerated by the faithful from the time of Christ onward. Shortly after her visit, a new church was built there in which was laid a mosaic floor depicting the loaves and fishes. That floor still exists today and a graphic of that picture of loaves and fishes is on the front of your bulletin.