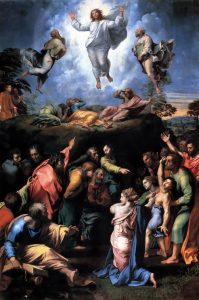 Today, in the normal course of the Lectionary, would have been the 10th Sunday after Pentecost on which, this year, we would have read the lessons known as "Proper 13" in which the gospel lesson is Matthew's story of the feeding of the 5,000. However, since this is August 6, we don't follow the normal course. We step away from the Lectionary to celebrate one of the feasts which, in the language of the Prayer Book, "take precedence of a Sunday,"[1] the Feast of the Transfiguration.
The church's understanding of the meaning of the event described by Luke in today's gospel lesson is summarized in today's opening collect: "[O]n the holy mount [God] revealed to chosen witnesses [God's] well-beloved Son, wonderfully transfigured, in raiment white and glistening." The collect expresses the church's hope that Christians "may by faith behold the King in his beauty."[2] The Collect for the Last Sunday after Epiphany, on which we also read about this event, similarly summarizes the event as the revelation of the Son's "glory upon the holy mountain," and expresses the hope that the faithful may be "changed into his likeness from glory to glory."[3]
In other words, the Transfiguration is all about Jesus, but, while that's true, nothing about Jesus is ever all about Jesus! It's about Jesus to whose pattern his followers are to be conformed,[4] so it is about us, as well. And, as any story is about not only its protagonist but also about the "bit players" who surround him, it is about James and John and Peter, who represent us.