From the Psalms:
The law of the Lord is perfect and revives the soul; *
the testimony of the Lord is sure and gives wisdom to the innocent.
The statutes of the Lord are just and rejoice the heart; *
the commandment of the Lord is clear and gives light to the eyes.
The fear of the Lord is clean and endures for ever; *
the judgments of the Lord are true and righteous altogether.
More to be desired are they than gold, more than much fine gold, *
sweeter far than honey, than honey in the comb.
By them also is your servant enlightened, *
and in keeping them there is great reward.
Who can tell how often he offends? *
cleanse me from my secret faults.
(From the Daily Office Lectionary – Psalm 19:7-12 (BCP Version) – February 21, 2013.)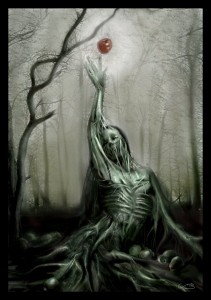 Every time I recite Psalm 19 with its words of praise for the Law, I am caught up short by verse 12. In verses 7-11 we read that the Law is perfect and just, that it provides wisdom and rejoicing, that it is more desirable than gold or honey, and that in keeping it there is enlightenment and reward. Then comes the kicker, "Who can tell how often he offends? Cleanse me from my secret faults." In other words, despite all the grandeur and wonder of the Law, no one can actually keep it!
The Prayer Book translation of the second part of verse 12 is rather poor. The Hebrew word translated here as "secret" is cathar. A better translation would be "hidden" because the subject is not my faults that I keep secret from others, but rather my offenses of which I am unmindful. The petition of this Psalm is to be cleansed from the sins I commit unawares.
Interestingly, the general confessions in the services of the Episcopal Church make no reference to unknown sins. We confess "things done" and "things left undone"; we confess sins of thought, word, and deed; but we do not confess that there may be (certainly, there are) sins of which we are guilty but of which we have no knowledge, that there are "secret faults." Perhaps this is a "secret fault" in The Book of Common Prayer. If it is, it is one that can be remedied by recourse to other prayer books and devotionals.
In 1852, a Presbyterian pastor named Elisha Yale (no relation to Yale University), with the assistance of his colleague the Rev. Samuel Cozzens, compiled a devotional entitled, A Select Verse System: For the Use of Individuals, Families and Schools. Fifty-two chapters or "lessons", one for each week of the year, provided Bible verses to be read each day, and one or more hymns, nearly all by Isaac Watts, to be learnt and sung. Lesson XIX is entitled Examining Ourselves and includes this verse from a two-verse hymn by Dr. Watts:
Lord, search my soul, try every thought;
Though my own heart accuse me not
Of walking in a false disguise,
I beg the trial of thine eyes.
The second verse of the hymn, found in the 1845 Canadian Congregationalist hymnal Church Psalmody: Hymns for Public Worship, is equally instructive.
Doth secret mischief lurk within?
Do I indulge some unknown sin?
O turn my feet whene'er I stray,
And lead me in thy perfect way.
We are encouraged by the Prayer Book to observe "a holy Lent, by self-examination and repentance," but no amount of self-examination will disclose those "secret sins" which are hidden from ourselves. Our repentance must always include "begging the trial of God's eyes" and asking, "Do I indulge some unknown sin?" Because the answer is undoubtedly, "Yes."
====================
A request to my readers: I'm trying to build the readership of this blog and I'd very much appreciate your help in doing so. If you find something here that is of value, please share it with others. If you are on Facebook, "like" the posts on your page so others can see them. If you are following me on Twitter, please "retweet" the notices of these meditations. If you have a blog of your own, please include mine in your links (a favor I will gladly reciprocate). Many thanks!
====================
Father Funston is the rector of St. Paul's Episcopal Church, Medina, Ohio.