From the Gospel according to Luke:
As they led him away, they seized a man, Simon of Cyrene, who was coming from the country, and they laid the cross on him, and made him carry it behind Jesus.
(From the Daily Office Lectionary – Luke 23:26 (NRSV) – July 5, 2013.)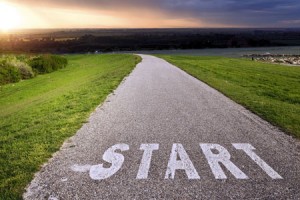 Do you know where Cyrene was? Its location was in the same place as present day Shahhat, a town in northeastern Libya, about 80 miles northeast of Benghazi and about five miles from the Mediterranean coast. It's nearly 1300 miles from Jerusalem. Simon had "come from the country" a fair distance! And at the end of that very long journey, he was made to carry the cross up the hill to Golgotha. The journey is a common metaphor of the Christian life; Simon's long journey could stand as an example. But does the metaphor, does Simon's example make sense anymore?
In other reading today, I learned that although the United States as a whole has only 87 people per square mile, the average American lives in a metropolitan area with more than 5,000 people per square mile. Two-thirds of Americans live in metropolitan areas with half-a-million or more residents. The long journey may be a Christian metaphor, but it is probably not one that resonates with the personal experience of most modern Americans. Long journeys are no longer part of our everyday corporate experience.
Certainly Americans travel; last year we spent $597 billion on leisure travel and $259 billion on business trips. But living in cities with nearly every need, and most of our family and friends, close at hand, and without a religious or social tradition of pilgrimage, the long journey is not a common practice.
Paradoxically, we seem to be an increasingly mobile and transient society. We don't do journeys, but we do seem to move about quite a bit. While my small-town (pop. 28,000) church has several long-term members who have been here most, if not all, of their lives, a significant part of our worshiping community is made up of those who have recently relocated to the area because of job transfers, and who expect to leave within just a few years. Indeed, many of those who have left the congregation in the past ten years have done so for the same reason. The long-term leadership of the congregation (and now that I've been here more than ten years, I feel like that includes me) has seen many active church members come and go as breadwinners are transferred into the area, work here for three to five years, and are then transferred elsewhere.
As I ponder these contradictory data, a mobile population lacking in experience of journeying, it seems to me that what we lack may be rootedness, a sense of permanent "home place," an anchoring in space and time. There is a difference between a "journey" and a "trip" – and that difference is time. There is a difference between a "journey" and a life of constant work-related relocation – and that difference is the home place, the anchor point in space.
My family is as un-rooted as most; my personal history more so. Not quite half my lifetime ago, I was required to fill out an FBI background check form; doing so, I realized that by the time I was 35 years of age, I had had 37 addresses! When my children were in the fifth and third grades, we relocated from Las Vegas, Nevada, to an exurban, Kansas-side community of the Kansas City metroplex, where we lived for ten years; the home we owned there is still the place I have lived the longest in my life! Although they were born in San Diego and Las Vegas, it's very clear that my kids think of Kansas as "home." My wife and I moved to Ohio after the children had completed high school and they have never lived here. From time to time someone will ask one or the other, "Are you coming home for Christmas?" Their typical reply makes it very clear that they do not consider Ohio "home." They have a sense of rootedness, and that root is not sunk into this soil.
Unlike my children, I do not have that sense of rootedness. I was born in Las Vegas, but left the place when I was only 8 years of age. For the next several years, my family relocated (always within the Los Angeles area) every twelve to eighteen months. I continued that pattern after leaving home, sometimes moving after only three or four months. As I aged and became employed, my length of stay in any one place grew. But it is only at more than 60 years of age that I can look back and make sense of life through the metaphor of "the journey." I do wonder how useful this metaphor is for those still in the throes of an unrooted life, relocating every few years as jobs change, perhaps taking "business trips," and maybe finding time for vacation travel.
Simon had a home, a place where he was rooted, Cyrene. He was on a journey when he encountered Christ on the way to Calvary. He was not on a "trip"; he was not relocating. What can we learn from Simon? Does the journey metaphor make sense anymore?
====================
A request to my readers: I'm trying to build the readership of this blog and I'd very much appreciate your help in doing so. If you find something here that is of value, please share it with others. If you are on Facebook, "like" the posts on your page so others can see them. If you are following me on Twitter, please "retweet" the notices of these meditations. If you have a blog of your own, please include mine in your links (a favor I will gladly reciprocate). Many thanks!
====================
Father Funston is the rector of St. Paul's Episcopal Church, Medina, Ohio.