From the Letter to the Ephesians:
Slaves, obey your earthly masters with fear and trembling, in singleness of heart, as you obey Christ; not only while being watched, and in order to please them, but as slaves of Christ, doing the will of God from the heart. Render service with enthusiasm, as to the Lord and not to men and women, knowing that whatever good we do, we will receive the same again from the Lord, whether we are slaves or free. And, masters, do the same to them. Stop threatening them, for you know that both of you have the same Master in heaven, and with him there is no partiality.
(From the Daily Office Lectionary – Ephesians 6:5-9 (NRSV) – January 25, 2013.)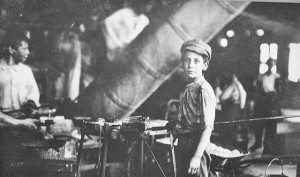 So let's admit right off the bat that we have a problem here. Where the progressives and liberals among us would much prefer to read Paul condemning the institution of slavery, he does not. Instead, he simply admonishes slaves to be good slaves and masters to be good masters, and even goes so far as to analogize a Christian's relationship with God (or Jesus) to slavery. This just doesn't sit well in the modern mind and provides plenty of ammunition for those whom Friedrich Schleiermacher addressed as religion's "cultured despisers." We would much rather Paul hadn't said this.
But he did. So what to think of it . . . .
First off, the Greek here is doulos which is most often translated as "slave" as it is here, but it can also refer to a bond-servant, a servant for hire, or to someone who is devoted to another without regard of his or her own interests (the last often metaphorically). It's unlikely that Paul intended this as either a comment on non-slavery employment relationships or as a metaphorical statement, but we can certainly read it in those ways in our modern context.
Secondly, and this encourages us to read this text as applicable to modern employee-employer relations, the institution of slavery in the First Century Roman empire was an economic, not a racial, reality. We modern Americans, influenced by our own history, hear racial overtones in these verses, but they are not really there. In ancient Rome slaves might be prisoners of war, sailors captured and sold by pirates, slaves bought outside Roman territory, or even the children of desperately poor Roman citizens sold into bond-servanthood by their parents. Further, slaves were commonly and even rather frequently freed; a slave could buy his or her own freedom.
So if we read this text as referring not only to the First Century practice of slavery, but applying also to any economic institution wherein one person works at the behest of and for the benefit of another, it provides guidance for theological critique of contemporary employment practices and related laws. It requires the church to question any employment situation in which workers are inadequately paid, where worker safety is at risk, or which threatens to damage the family life or welfare of the worker and his or her dependents.
In fact, the long struggle to recognize and protect workers' rights finds its genesis in this and similar biblical texts. In Great Britain and in our own country during the 18th and 19th Centuries (and even into the early 20th Century), children worked in mines and factories; all laborers worked six-day weeks and often 16- to 18-hour days; working conditions were often dangerous; and on-the-job death was a common occurrence. Fans of the series Downton Abbey (or earlier dramas such as Upstairs, Downstairs) need only think of the way in which the servants' life is portrayed to see a small (and very toned-down) illustration of what a worker's life was like, always at the beck-and-call of the employer.
The anti-slavery movement in Britain became the movement to bring about just and equitable labor laws, to prevent children from working, to reduce the work day to ten hours per day, and to make employers responsible for working conditions. That movement spread to the United States. In both Britain and America, it was driven by Christians, many of them Christian socialist Anglo-Catholics in the Church of England and the Episcopal Church, who read these texts as demanding the ends they sought.
So we need not apologize to our "cultured despisers" for Paul's words about slavery. Instead, we are called like our forebears in the faith to see in them our call to champion workers' rights and just labor laws.
====================
A request to my readers: I'm trying to build the readership of this blog and I'd very much appreciate your help in doing so. If you find something here that is of value, please share it with others. If you are on Facebook, "like" the posts on your page so others can see them. If you are following me on Twitter, please "retweet" the notices of these meditations. If you have a blog of your own, please include mine in your links (a favor I will gladly reciprocate). Many thanks!
====================
Father Funston is the rector of St. Paul's Episcopal Church, Medina, Ohio.