From the First Letter to the Corinthians:
Love is patient; love is kind; love is not envious or boastful or arrogant or rude. It does not insist on its own way; it is not irritable or resentful; it does not rejoice in wrongdoing, but rejoices in the truth. It bears all things, believes all things, hopes all things, endures all things.
(From the Daily Office Lectionary – 1 Corinthians 13:4-7 (NRSV) – April 5, 2014.)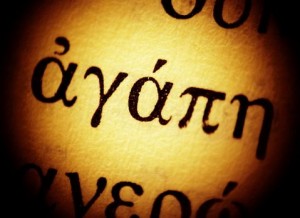 There are six Greek words translated "love" in English: eros (sexual passion), philia (deep friendship), ludus (playful love), pragma (longstanding or mature love), philautia (self love), and agape (unconditional or selfless love). It is the sixth which Paul uses here and which is used extensively throughout the New Testament and in early Christian texts.
It is perhaps perhaps the most radical. This is the love that one extends to all people, whether friends, family members, or strangers. Agape was translated into Latin as caritas, which is the origin of our word "charity." C.S. Lewis referred to it as "gift love," the highest form of Christian love. It is similar in nature to concepts appearing in other religious traditions. For example, it has been suggested that the idea of metta or "universal loving kindness" in Theravada Buddhism is the same thing.
Agape is used in the Gospels to describe the love that God has for humanity in general: "For God so loved the world, he gave his only Son" (John 3:16).
It is also used to name the human response to God's love and to describe the love that Jesus commands be shared and expressed between human beings. In Matthew 5:43-44, agape is used to describe both one's love of neighbor and the love we are extend to our enemy.
It is not, despite the popularity of this passage as a reading at weddings, about marital love. This is Paul's instruction to the Corinthians (and through them to all Christians) about "the more excellent way" mentioned at the end of Chapter 12, the manner in which they are to exercise their spiritual gifts.
Chapter 13 does not stand alone. It continues Paul's discussion of spiritual gifts that begins in the previous chapter and continues through the next. Agape here is to be the guiding principal Christians employ in deciding when, where, and how to use the gifts God has given them. They are to be offered to the community with the same sort of self-sacrificing love exhibited by God to all of humankind: "For God so loved the world that he gave his only Son."
Agape has nothing to do, as romantic love — eros — does, with attractiveness or attraction; it has nothing to do, as marital love — pragma — does, with compromise; it has nothing to do with any prior relationship, as familial or brotherly love — philia — does. It is to be bestowed on the unloved and the unlovely; it is to be given without regard to whether it is deserved or merited; it is to be given without thought of reciprocity or payback. It is, in a word, to be given as God gives it. It is something human beings are incapable of giving but for the fact that it is first given them by God.
====================
A request to my readers: I'm trying to build the readership of this blog and I'd very much appreciate your help in doing so. If you find something here that is of value, please share it with others. If you are on Facebook, "like" the posts on your page so others can see them. If you are following me on Twitter, please "retweet" the notices of these meditations. If you have a blog of your own, please include mine in your links (a favor I will gladly reciprocate). Many thanks!
====================
Father Funston is the rector of St. Paul's Episcopal Church, Medina, Ohio.