====================
This sermon was preached on the Eleventh Sunday after Pentecost, August 4, 2013, at St. Paul's Episcopal Church, Medina, Ohio, where Fr. Funston is rector.
(Revised Common Lectionary, Pentecost 11 (Proper 13, Year C): Hosea 11:1-11; Psalm 107:1-9, 43; Colossians 3:1-11; and Luke 12:13-21. These lessons can be read at The Lectionary Page.)
====================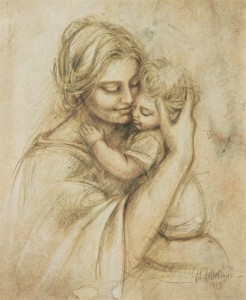 This passage is one of my favorites in the book of the prophet Hosea. Hosea's major metaphor for the relationship of God with Israel, as we learned last week, is that of marriage. Hosea portrayed God as Israel's "husband" and condemned the nation because of the "adulterous" relationship it had had with other gods. As a "prophetic act" Hosea married a prostitute named Gomer, with whom his relationship parallels that of God with Israel. He tells of Gomer running away from him and having sex with another man, but he loves her and forgives her. Similarly, even though the people of Israel worshiped other gods, Hosea prophesied that Yahweh continues to love his people and does not abandon God's covenant with them. This passage, however, departs from that metaphor and presents, instead, an image of God as Divine Parent, an image which is surprisingly feminine and maternal.
When Israel was a child, I loved him,
and out of Egypt I called my son.
* * *
It was I who taught Ephraim to walk,
I took them up in my arms;
but they did not know that I healed them.
I led them with cords of human kindness,
with bands of love.
In these verses God is portrayed as an adoptive parent. God's lovingly brought Israel out of Egypt, cared for Israel, taught, comforted, healed, and nurtured Israel. The Divine Adoptive Parent nurtured this child, taught the child to walk, held this child in times of suffering and anguish, offered healing when he was injured. But just as Hosea's earlier metaphor likened God to a cuckolded husband, God is now an abandoned parent.
Israel's disobedient and defiant nature becomes clear as God offers a general indictment against Israel's idolatry.
The more I called them,
the more they went from me;
they kept sacrificing to the Baals,
and offering incense to idols.
The Baals are competitor gods to Yahweh. They were local gods, represented by fertile fields, jars of olive oil, the smell of baking bread, the aroma of roasting meat. They appealed to the senses and to one's immediate sense of satisfaction and well-being. In the Spring, the followers of the Baals would cry "Baal is alive" through the villages, and the worshipers of Yahweh would joined; they were hedging their bets hoping to ensure a bounteous crop and a satisfied family. The cult of Yahweh demanded worship in sometimes far-away sacred places. Sacrificial worship hadn't yet been centralized at Jerusalem, but there were only a few places where it cold be offered. The Baals were more immediate so many Israelites would take out a little insurance and serenade Baal along with the neighbors. After all, where was YHWH anyway and what has he done for you recently?
These Baals of satisfaction and well-being are precisely the "gods" which got the attention of the rich man in the Gospel parable Jesus tells today.
The land of a rich man produced abundantly. And he thought to himself, 'What should I do, for I have no place to store my crops?' Then he said, 'I will do this: I will pull down my barns and build larger ones, and there I will store all my grain and my goods. And I will say to my soul, 'Soul, you have ample goods laid up for many years; relax, eat, drink, be merry.' But God said to him, 'You fool! This very night your life is being demanded of you. And the things you have prepared, whose will they be?' So it is with those who store up treasures for themselves but are not rich toward God.
And so it was with the people of ancient Israel:
They shall return to the land of Egypt,
and Assyria shall be their king,
because they have refused to return to me.
The sword rages in their cities,
it consumes their oracle-priests,
and devours because of their schemes.
My people are bent on turning away from me.
To the Most High they call,
but he does not raise them up at all.
It was not the Baals who accomplished those things that many believed they had done; it was not they who were nurturing Israel; it was Yahweh! And like a spurned husband, like a rejected parent, Yahweh was angry! God, rejected and spurned, is furious and, frankly, vindictive. God will throw Israel out of the promised land. God will send them back to Egypt or turn them over to the invading Assyrians. God will allow war to consume the people and their lying priests. God is disgusted by their schemes. They think they have ample goods laid up for many years, so that they can relax, eat, drink, and be merry. God will show them what fools they are! God feels the indignation and rage that any parent might toward a disrespectful child.
Bu then, God rises above this anguish and anger; we are privileged to witness Yahweh's churning emotional conflict commitment, the turmoil deep within God's heart:
How can I give you up, Ephraim?
How can I hand you over, O Israel?
* * *
My heart recoils within me;
my compassion grows warm and tender.
I will not execute my fierce anger;
I will not again destroy Ephraim;
for I am God and no mortal,
the Holy One in your midst,
and I will not come in wrath.
At the heart of this passage are two Hebrew words, one of which is translated as "heart"; the other, as "compassion". The first is leb and in Judaic understanding it refers not merely to the body's physical heart, but to the innermost being of the human person. It refers to the center of personal life, to a human being's psychic and spiritual energies upon which the whole moral and religious condition of a person completely depends. Here, it is God who has this sort of inner core of being, and the center of God's Being is inextricably linked in Hosea's prophecy with God's compassion, not with Yahweh's righteous anger and wrath . . . God's essential Being is eternally and indelibly characterized by love and compassion.
Our English word compassion derives from the Latin for "suffering together"; compassion is the ability to share in the suffering of another, to be empathetic. There are two Hebrew words translated as "compassion;" Hosea uses them both. Although in this passage he uses is nichuwm, which has its root in the concept of regret or sorrow, elsewhere he describes God's compassion using the synonym rechemet, which comes from the Hebrew root rechem which literally means "womb". The Hebrew understanding of compassion is deeply maternal, rooted in a profound metaphor of birthing and motherhood; compassion in Hebrew thought might best be conceived not as "shared suffering", but as "womb love".
This word applied to God conjurs a beautiful image of God as our mother doing all the amazing and miraculous things a life-giving, nurturing mother does. She protects her child; she nourishes, cradles, and prepares her child. Whether she gives birth to the child or adopts the child, how can she give up or forget her child? "Can a woman forget her nursing child, or show no compassion for the child of her womb?" asks God in book of the prophet Isaiah, "Even these may forget, yet I will never forget you." (Isaiah 49:15)
The 14th Century mystic and saint, Dame Julian of Norwich (1342-1416), wrote of God our Mother with these words:
It is a characteristic of God to overcome evil with good.

Jesus Christ therefore, who himself overcame evil with good, is our true Mother. We received our 'Being' from Him ­ and this is where His Maternity starts ­ And with it comes the gentle Protection and Guard of Love which will never ceases to surround us.

Just as God is our Father, so God is also our Mother.

And He showed me this truth in all things, but especially in those sweet words when He says: "It is I".

As if to say, I am the power and the Goodness of the Father, I am the Wisdom of the Mother, I am the Light and the Grace which is blessed love, I am the Trinity, I am the Unity, I am the supreme Goodness of all kind of things, I am the One who makes you love, I am the One who makes you desire, I am the never-ending fulfillment of all true desires. (…)

Our highest Father, God Almighty, who is 'Being', has always known us and loved us: because of this knowledge, through his marvelous and deep charity and with the unanimous consent of the Blessed Trinity, He wanted the Second Person to become our Mother, our Brother, our Savior.

It is thus logical that God, being our Father, be also our Mother. Our Father desires, our Mother operates and our good Lord the Holy Ghost confirms; we are thus well advised to love our God through whom we have our being, to thank him reverently and to praise him for having created us and to pray fervently to our Mother, so as to obtain mercy and compassion, and to pray to our Lord, the Holy Ghost, to obtain help and grace. (From "Revelations of Divine Love", LIX, LXXXVI).
We may, like the ancient Israelites or like the man in Christ's gospel parable this morning, be tempted away from God by those things which seem to satisfy our immediate needs, by fertile fields, jars of olive oil, the smell of baking bread, the aroma of roasting meat; we may believe that we have ample goods laid up for many years, and so be tempted to relax, eat, drink, and be merry. But let us never forget the source of all those things. As the Psalm today recalls to us, it is God who puts our feet on a straight path; it is the Lord who does wonders for his children; it is God who satisfies the thirsty and fills the hungry with good things. Hosea reminds us that we are God's children and that at the center of God's Being is the womb-love of a mother for her child, for us.
Whoever is wise will ponder these things,
and consider well the mercies of the Lord.
Amen.
====================
A request to my readers: I'm trying to build the readership of this blog and I'd very much appreciate your help in doing so. If you find something here that is of value, please share it with others. If you are on Facebook, "like" the posts on your page so others can see them. If you are following me on Twitter, please "retweet" the notices of these meditations. If you have a blog of your own, please include mine in your links (a favor I will gladly reciprocate). Many thanks!
====================
Father Funston is the rector of St. Paul's Episcopal Church, Medina, Ohio.