From the Psalms:
I lift up my eyes to the hills;
from where is my help to come?

My help comes from the Lord,
the maker of heaven and earth.

He will not let your foot be moved
and he who watches over you will not fall asleep.

Behold, he who keeps watch over Israel
shall neither slumber nor sleep;

The Lord himself watches over you;
the Lord is your shade at your right hand,

So that the sun shall not strike you by day,
nor the moon by night.

The Lord shall preserve you from all evil;
it is he who shall keep you safe.

The Lord shall watch over your going out and your coming in,
from this time forth for evermore.
(From the Daily Office Lecionary – Psalm 121 (BCP Version) – August 21, 2012)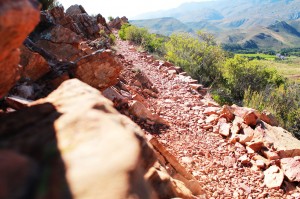 I think this may be my favorite psalm. It is the psalm appointed for use on the feast of St. Francis of Assisi. It is one of the psalms approved in The Book of Common Prayer for use at a funeral; it was selected by my mother to be used at her funeral.
It is one of the most intimate of the psalms for it constantly names God; each time the words "the Lord" appear in this English translation, the Hebrew actually sets out the Tetragrammaton, YHWH, the Name of God. The translation follows the Jewish custom of never saying that Name, of replacing the Name with other words to avoid any hint of familiarity with or disrespect for the Lord. Although I understand the piety behind that tradition, I find it here to be a bit sad, for in following it one loses the intimacy which makes this psalm so powerful.
As a college student, one of my recreations was hiking and camping; my circle of friends and I would take off for some wilderness area or mountain range for a weekend, backpacking all of our needs and supplies, exploring trails and seeing sights many people never see. In Southern California, many of the mountain trails are quite treacherous. The soil is rocky and loose and one can easily slip and lose one's footing. The pathways are not unlike those of the Holy Land – steep, rocky, covered with loose stones and gravel, footing unsure. For safety and support, we often walked close together, helping one other up or down steep slopes.
I thought of those hikes recently when, in my own backyard (which is on a rather steep slope) I slipped while doing yard work, went down, and tore the meniscus of my right knee necessitating surgery. No one else was home and I had to crawl back to the house by myself. If that had happened in the Southern California wilderness, it could have been disastrous. That's why we supported one another, and that's why the third verse of this psalm speaks so loudly to me. "He will not let your foot be moved." Yahweh is with us, close to us, supporting us in the same way my hiking companions were with me on those college-day backpacking trips.
And that's why I find it sad that the psalm does not name God. You don't refer to or address the one who supports you along a steep, slippery slope by formal titles. Your companion on the difficult path is your buddy, your friend, your intimate companion. As the opening anthem of the Burial Office in The Book of Common Prayer says of God, he is "my friend and not a stranger." He is Yahweh, and he will not let my foot be moved.
====================
Father Funston is the rector of St. Paul's Episcopal Church, Medina, Ohio.