From the Letter to the Romans:
For I am longing to see you so that I may share with you some spiritual gift to strengthen you — or rather so that we may be mutually encouraged by each other's faith, both yours and mine.
(From the Daily Office Lectionary – Romans 1:11-12 (NRSV) – June 16, 2014)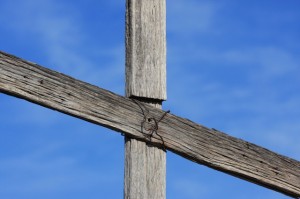 Confession: For years I have found Paul's writing tedious. I read it because the early church reached consensus that his letters would be considered divinely inspired and the contemporary church has mandated that we read his stuff in the Daily Office and Eucharistic lectionaries. But I read it carelessly, not paying much attention.
Only since taking on the discipline of writing these daily meditations on some part of the daily readings have I really read Paul. And I am impressed with his stated reason for wanting to visit the Romans! "That we may be mutually encouraged by each other's faith." That's solid.
That is, in fact, what I think Christianity is all about. It's about mutually encouraging and supporting one another. It's about sustaining interpersonal relationships. It's about community. It must be by design that these lessons show up the day after Trinity Sunday when we celebrate the paradigm complete and perfect community which is the Triune Godhead.
So much of modern Christianity seems to focus solely on the individual's devotion to God in Christ to the exclusion of the faith's social aspect. Many Christians seem to have forgotten that the cross has two members: a vertical, which represents that earth-to-heaven, human-to-God aspect; and a horizontal, which represents the relationships of human-to-human. Christianity is as much a horizontal faith as it is a vertical one. A prayer for mission in the Daily Office focuses on the horizontal:
Lord Jesus Christ, you stretched out your arms of love on the hard wood of the cross that everyone might come within the reach of your saving embrace: So clothe us in your Spirit that we, reaching forth our hands in love, may bring those who do not know you to the knowledge and love of you; for the honor of your Name. Amen.
I usually reserve this prayer for Fridays, but following Paul's hope in the horizontality of faith, "that we may be mutually encouraged by each other's faith," I said it today.
====================
A request to my readers: I'm trying to build the readership of this blog and I'd very much appreciate your help in doing so. If you find something here that is of value, please share it with others. If you are on Facebook, "like" the posts on your page so others can see them. If you are following me on Twitter, please "retweet" the notices of these meditations. If you have a blog of your own, please include mine in your links (a favor I will gladly reciprocate). Many thanks!
====================
Father Funston is the rector of St. Paul's Episcopal Church, Medina, Ohio.