From the Book of Joshua:
Joshua summoned all Israel, their elders and heads, their judges and officers, and said to them, "I am now old and well advanced in years; and you have seen all that the Lord your God has done to all these nations for your sake, for it is the Lord your God who has fought for you. I have allotted to you as an inheritance for your tribes those nations that remain, along with all the nations that I have already cut off, from the Jordan to the Great Sea in the west. The Lord your God will push them back before you, and drive them out of your sight; and you shall possess their land, as the Lord your God promised you. Therefore be very steadfast to observe and do all that is written in the book of the law of Moses, turning aside from it neither to the right nor to the left, so that you may not be mixed with these nations left here among you, or make mention of the names of their gods, or swear by them, or serve them, or bow yourselves down to them, but hold fast to the Lord your God, as you have done to this day. For the Lord has driven out before you great and strong nations; and as for you, no one has been able to withstand you to this day. One of you puts to flight a thousand, since it is the Lord your God who fights for you, as he promised you. Be very careful, therefore, to love the Lord your God.
(From the Daily Office Lectionary – Joshua 23:2-11 (NRSV) – July 26, 2014)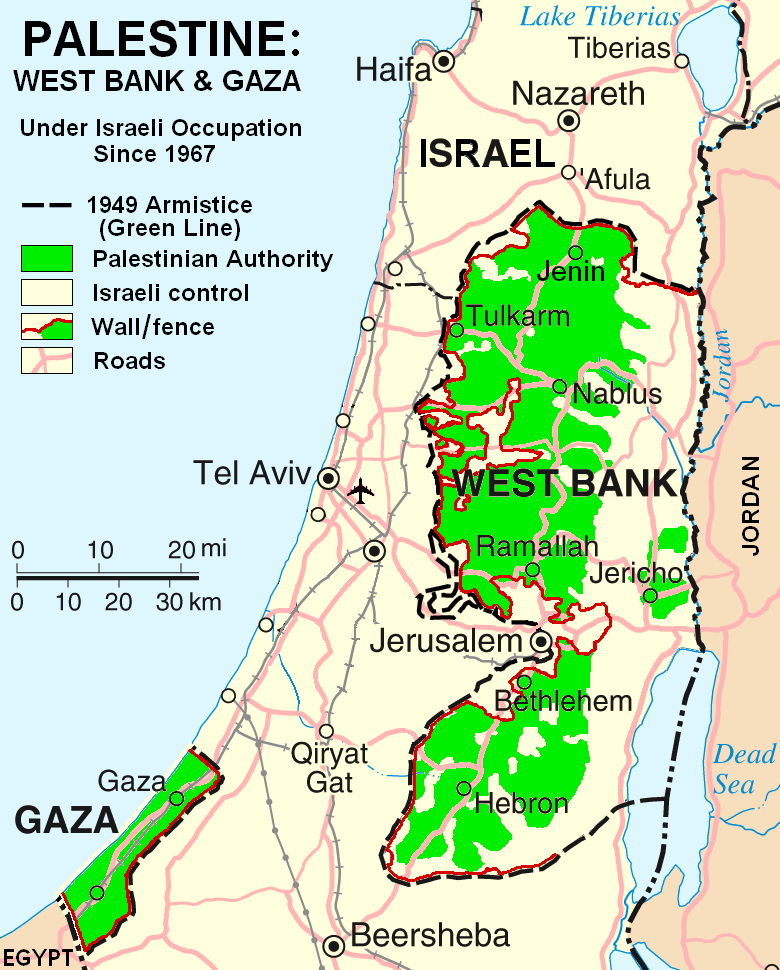 For the past several days, the Daily Office Lectionary has required us to read sections of the Book of Joshua detailing the conquest of the land "from the Jordan to the Great Sea in the west." I have dutifully read those lessons every day. I have been deeply troubled by them and by the suggestion (which I have seen some make on Facebook and other online sources) that the "history" set out in the Book of Joshua demonstrates God's approval of the conquest of "biblical Israel" by the modern state of Israel. I have avoided writing anything about these lessons in these daily reflections on this blog.
I've decided I cannot be silent any further. I must protest such a gross misunderstanding these stories and at least two distortions on which it is based.
First, the modern state of Israel is not the ancient nation of Israel. One cannot say that strongly enough. The modern state of Israel is NOT the ancient nation of Israel. That ancient nation ceased to exist centuries ago; its people were dispersed through several other nations — this is what the term "the diaspora" refers to — its government collapsed — its territory was absorbed into a series of empires.
The modern state of Israel was created in 1948 following the campaign by modern Zionists, themselves mostly secular rather than religious Jews, for a Jewish homeland. That campaign pre-dated the Nazi holocaust, but the holocaust gave the Zionist program added urgency. In November 1947, bowing to intense lobbying by Zionist organizations and after years of terrorist activities by the Jewish Haganah, Irgun, and Lehi organizations in Palestine, the UN General Assembly passed Resolution 181 calling for the partition of Palestine into Jewish and Arab states. The final vote was 33 to 13, with 10 abstentions and 1 absent. European Zionists welcomed the plan; the Arabs of Palestine rejected the vote immediately, but their objections were ignored.
In a civil war extending from 1947 into 1949, the modern state of Israel was born. Nearly one million Arabs lost their homes and become refugees in other parts of Palestine or elsewhere in the Arab world. The new government of Israel shortly passed two laws: the Law of Return (1950), which grants citizenship to any Jew from anywhere in the world who immigrates to Israel, and the Entry into Israel Law (1952), which prevents the return of Palestinian refugees.
This is the modern state of Israel. It is NOT the ancient nation of Israel. There is no biblical mandate for the modern country's existence, nor for its laws and actions. It is a modern political reality which the world, including the Arab world, must accept and with which it must deal, but it is not a God-endorsed, biblically-mandated reality.
The second distortion is the idea that the Book of Joshua is history. It is not. Technically, it is what is known in literary scholarship as an etiological myth. These are stories which provide a mythological explanation for certain events and customs (or natural phenomena) the origin of which has long been forgotten or is not understood. Other stories of this type are the Greek Illiad and Odyssey, the Irish stories of Cúchulainn, or even the American folk tales of Paul Bunyan and his blue ox Babe. Joshua is the ancient Hebrew equivalent of Achilles, Odysseus, Cúchulainn, or Paul Bunyan.
The Book of Joshua tells us something about human beings, something about human understandings of God, something about how humans behave in community (and in war); it tells us something of what some of the ancient Hebrews believed about their origins (which is partially contradicted by what others of them believed and is recorded in the Books of Chronicles). It tells us nothing, however, about actual historical events, nor about God's endorsement or condemnation of them or of any of their enemies.
To suggest that modern governance of territory in the Middle East should be based on (or understood through the lens of) the Book of Joshua makes as much sense as suggesting that the modern governance of Greece should be based on Homer's poems, that Irish foreign policy should be evaluated through the Cúchulainn stories, or that American environmental policy should derive from the tales of Paul Bunyan.
These are spiritual stories, not political ones. These are myths, not histories. These stories reveal truths, not facts. They should trouble us, perhaps inspire us, not direct us nor determine modern national governance.
====================
A request to my readers: I'm trying to build the readership of this blog and I'd very much appreciate your help in doing so. If you find something here that is of value, please share it with others. If you are on Facebook, "like" the posts on your page so others can see them. If you are following me on Twitter, please "retweet" the notices of these meditations. If you have a blog of your own, please include mine in your links (a favor I will gladly reciprocate). Many thanks!
====================
Father Funston is the rector of St. Paul's Episcopal Church, Medina, Ohio.