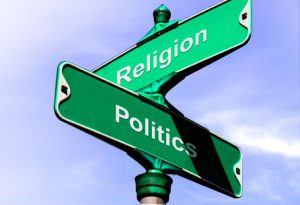 My Religion Is My Politics
I posted a Facebook status a little earlier (on September 12, 2016) that basically said I'm not going to play with Trumpeters, Gary Johnson's Libertarians, or so-called progressives who say they're voting for Jill Stein of the Green Party. I'm not going to engage in debate with them about Mrs. Clinton's honesty, nor discuss their chosen candidates, at all. Not Trump, not Johnson, not Stein. If they post too much on my wall about such things, I will unfriend or block them, end of discussion.
I was taken to task by a friend. (We are friends only in that Facebook sense that we have agreed to allow each other to read and comment our posts, tag us, post things to each other's Timeline, etc. We actually don't know one another in the "real" world.) My friend said I was "cutting off dialogue." I agreed, but suggested that the time for dialogue is past; we've done that. We are not going to convince one another, or anyone else, to change our minds and make another political decision in this election.
I also suggested that there are those who claim to have not yet decided; that simply cannot be. Such people are either being obstreporous and stubborn with no goal other than to kick up a fuss and call attention to themselves, or they are being irresponsibly disinterested, hiding their heads in the sand, so to speak, and pretending the world of politics has no importance for or impact upon them.
I am reminded of college friends back in the rebellious 60s and the stoned 70s who said they were simply going to refuse to decide about some issues, who claimed that they would not be responsible for the outcome of whatever the issue was because they weren't participating in the decision-making process. I often argued back then, and still believe, that not deciding is simply not possible, to "not decide" is, in fact, to choose whatever the default outcome will be, to accept someone else's decision as your own.
My friend who took me to task is (I believe) a college instructor and so should be familiar with the concept of a forced-choice test. Usually in such a test there are only two alternatives, yes or no, A or B, on or off, hot or cold, and so forth. Test respondents may not like either of the options offered and, in fact, the options may distort the outcome. A well known example is, "Have you stopped beating your wife? Yes or no?" This kind of closed-end question sometimes puts the respondent in the difficult position of having to choose one response from two unacceptable alternatives. That is often what life is like and very often (if not always) what elections are like.
I think we are obligated to make the hard choice even when both alternatives are unacceptable; one is always less objectionable than the other. Vote for that one. Any other action is an abdication of responsibility. My particular brand of Christianity asserts that every member of the church is to represent Christ and his Church by bearing witness to him wherever they may be, according to the gifts given them; failing to vote would not, in my opinion, be doing a very good job of representing Christ. Likewise, although other choices are allegedly being given us, casting a vote that would have no real effect, or worse might paradoxically lead to the least desirable outcome, would also be a failure of this obligation.
One might, I suppose, argue that some third-party candidate more closely represented one's Christian beliefs (I don't know of one that does, but you might make that argument). I ask in all sincerity: if your vote for that third-party candidate means that the better choice of the two majority party candidates doesn't get your vote and the worse choice wins by one vote, have you in fact voted for best achievable Christian outcome? We live with a binary, force-choice political system. There are no real third choice alternatives, only illusory ones.
Over the years, people have tried to game our two-party, forced-choice presidential election system and present alternatives to the two dominant party choices, i.e., third-party candidates. For at least 170 years no third-party candidate has had the slightest chance of being elected, but it is possible that in some instances third-party candidates have caused one or the other of the major party candidates to win when that person might not otherwise have done so. Most political scientists agree that in the 1912 election Woodrow Wilson would not have been elected if Theodore Roosevelt had not run on a third-party ticket and drawn votes away from William Howard Taft. Many believe (although the evidence is mixed) that Ralph Nader drew votes from Al Gore giving the presidency to George W. Bush in 2000.
This year we have not one but two third-party candidates. (Does that make one of them a fourth-party candidate?) Possibly drawing votes from the Republican candidate is a Libertarian; possibly drawing votes from the Democrat is a Green Party nominee. Neither of them have a whisper of a chance of being elected, especially not the Green Party candidate who has never polled a sufficient percentage of respondents to have a chance at a seat at the presidential debates; the Libertarian, however, seems to be drawing enough support that he might get to take part in the debates but even he is doubtful.
The presence of these two additional candidates seems to transform the forced choice election into a multiple choice election, but our system is not set up to handle multiple choice elections! It would be nice if we could handle a multiple candidate election, as with (for example) an instant-runoff style of balloting, but we don't currently have such a set-up and, short of a revolution or a new constitutional convention, we are unlikely to get one.
So even with the "participation" of third-party candidates, the electorate really has only three choices: cast a meaningful ballot for a Republican, cast a meaningful ballot for a Democrat, or don't participate. Casting a ballot for a third-party (or fourth-party) candidate is tantamount to not participating; such a voter knows going in that their candidate will not win – cannot win, that they are throwing their vote away and they might as well not vote because that is, in essence, what they are doing. Worse, if their candidate really does have the potential to be a "spoiler candidate," they might be throwing the election to the least desirable of the two truly possible victors, the one they would least like to see elected.
Let's boil it down in terms of the current election. Here are the multiple-choice answers we are given in this life test:
A. Donald Trump (R)
B. Hillary Clinton (D)
C. Gary Johnson (L)
D. Jill Stein (G)
E. None of the above (i.e., not voting)
Taking these from bottom to top, Choice E is the "I'm not going to choose" option, the one I argued about with my college friends. This person is a non-participatory drone; they don't care about the leadership and direction of their society; they'll just go along with whatever.
Choices C and D are the illusory choices; these voters look like they're participating but they and we know damned good and well that they are not. Their votes aren't going to matter. They are "grandstanding," making a show. They are like children looking at a dinner menu and not liking the available choices and so demanding something that the kitchen isn't preparing.
It occurred to me that the ballot in this election might be compared to those reply cards for a banquet event where you can choose your entrée. There's a choice of a chicken entrée or a steak; people who make these choices also get the full range of side dishes and the opportunity to participate in the dancing and entertainment that will be offered. There's also a vegetarian option and a fish dinner, but neither of these includes the side dishes or the dessert, and those who take them are also unable to join in the dancing. That is what's going to happen. These voters will vote for Johnson or Stein, but that's it. There's nothing else for them. There are no Green or Libertarian state governors; there are no Green or Libertarian members of the Senate or the House. Neither of the likely successful candidates is going to appoint a Green or a Libertarian to the cabinet or to the bench at any level of the Federal judiciary. There's no dessert and no dancing that comes with those options!
So, in reality, Choice C or D are just about functionally equivalent to Choice E. They're sitting at the table in the banquet hall, but they aren't really taking part. There's simply no point in differentiating them because the outcome is the same.
That leaves A or B. Republican or Democrat. Trump or Clinton. Pick one.
If like me, you're a Christian, what criteria are you going to use? I've got a few suggestions:
(a) The Old Testament law commands, "The alien who resides with you shall be to you as the citizen among you; you shall love the alien as yourself, for you were aliens in the land of Egypt." (Leviticus 19:34) Which candidate is most likely to treat resident aliens in this way?
(b) The prophet Micah told us that what is required of us is "to do justice, and to love kindness, and to walk humbly with your God." (Micah 6:8) I think it irrelevant to our secular system whether any candidate "walks humbly with God," but it matters to my politics as a Christian that I do so and cast my vote in a manner that reflects that. Thus, it matters to my politics which candidate's behavior and policies come closest to doing justice and loving kindness.
(c) Jesus was once asked, "Which commandment in the law is the greatest?" And he replied "'You shall love the Lord your God with all your heart, and with all your soul, and with all your mind.' This is the greatest and first commandment. And a second is like it: 'You shall love your neighbor as yourself.'" (Matthew 22:36-39) Which candidates treatment of other people throughout life has been more in tune with that second commandment? Again, I think it irrelevant to our secular system whether any candidate follows the first, but it matters to my politics as a Christian whether he or she comes close to living up to the second.
(d) Jesus suggested that the Father blesses those who feed the hungry, give drink to the thirsty, welcome strangers, clothe the naked, take care of the sick, and visit those in prison, and turns away those who fail to do such things. (See Matt. 25:32-46) Which candidate's and which party's proposed programs and policies come closest to accomplishing those things?
(e) When Jesus was arrested, one of his disciples drew a sword and cut off someone's ear, but Jesus said, "Put your sword back into its place; for all who take the sword will perish by the sword." (Matt. 26:52). Granted that neither candidate does very well on this question, but which one is less likely to make use of the modern day equivalent of a sword in his or her statecraft and international diplomacy?
I could go on, but I think my point is made. I am not voting for religion to have a place in American politics; like it or not, it already does because it informs the vote of many of the electorate, including me. I am voting in accordance with my religion, because my religion has a place in my politics. My religion is my politics. And in my politics, I cannot not vote; to do so would be to fail my religion. And I cannot throw my vote away on a third-party candidate with no chance of holding office because, again, that would be a failure of my religion. I believe I am called to take actions which have real consequences, not just make philosophical stands, especially if to do so could result in the least acceptable candidate getting elected, which is all that third-party candidate votes can accomplish; that is all they have ever accomplished.
It is for this reason that I have decided to no longer countenance, or participate in, arguments about this election on my Facebook page. I will continue to post to my Facebook page news articles about the candidates and to comment upon those reports, but I will not engage in debate. I will not engage with those who claim to be still undecided – in my opinion, we have all that we need on which to make a choice – nor will I engage with those who champion the third-party and fourth-party candidates; in my opinion, that would be a waste of time for all of us and would not be conducive to my loving them, my neighbors, as I am supposed to.