From Paul's Letter to the Church in Rome:
So then, brothers and sisters, we are debtors, not to the flesh, to live according to the flesh — for if you live according to the flesh, you will die; but if by the Spirit you put to death the deeds of the body, you will live. For all who are led by the Spirit of God are children of God. For you did not receive a spirit of slavery to fall back into fear, but you have received a spirit of adoption. When we cry, "Abba! Father!" it is that very Spirit bearing witness with our spirit that we are children of God, and if children, then heirs, heirs of God and joint heirs with Christ — if, in fact, we suffer with him so that we may also be glorified with him.
(From the Daily Office Lectionary – Romans 8:12-17 (NRSV) – March 14, 2013.)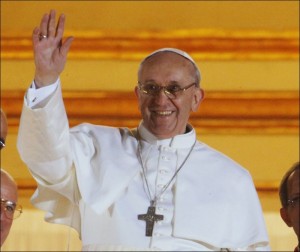 There were two things about which I was unaware when I wrote yesterday's meditation referring to the folk chorus Abba, Father. First of all, I didn't know that today's readings would include Paul's comments to the Romans on that form of addressing God. Secondly, I had no idea that the modern day Romans (in the form of the Papal Conclave) would have elected a new pope by today.
Today the entire world, Protestant, Anglican, and Orthodox Christians, as well as those of other religions, together with the world's Roman Catholics, are taking stock of the newest successor of St. Peter, trying to figure out who Pope Francis is and what his election means. According to all the news reports I've seen, he is a humble man with much concern for the poor and the economically oppressed. On the other hand, he is apparently a doctrinal conservative who has had some pretty negative things to say about contraception, a woman's right to reproductive choice, and the legalization of abortion, as well as about the LGBT community and the rights of gay, lesbian, and transgendered persons. How this will all shake out in his leadership of the Roman Catholic Church is anyone's guess.
I hope that he will listen to what Paul has to say in his letter to the Roman church of long ago. I hope that he will acknowledge that "all who are led by the Spirit of God are children of God," even though that Spirit may be leading them in non-Christian directions. I hope that he will consider the suggestion of his fellow Jesuit, Avery Dulles, who wrote: "On Christian grounds, it may be held that the divine person who appears in Jesus is not exhausted by that historical appearance. The symbols and myths of other religions may point to the one who Christians recognize as the Christ." (Revelation and the Religions, Quaker Universalist Fellowship: 1999)
It is my understanding of basic Christian doctrine that the Holy Spirit may act wherever and whenever she chooses. If we presume to constrain the activity of the Holy Spirit, if our doctrinal predisposition is to limit God to only our particular religious assumptions, then we are not faithful to the Truth. Christian tradition recognizes a mandate to seek Truth wherever it may be found and to follow the Holy Spirit wherever she may lead, even if that may be into consideration of other religions or non-Christian philosophies. I hope his Holiness will be of the same understanding and seek interfaith dialogue.
Even more, I hope that he will seek common cause with non-Roman Christians, even when our ecclesiologies and theologies may not agree with those of the Holy See. I pray that he will acknowledge that Protestants, Anglicans, and Orthodox Christians are "children of God, and if children, then heirs, heirs of God and joint heirs with Christ." It was a great disappointment when his predecessor, Benedict XVI, ratified and confirmed a statement that "those Christian Communities born out of the Reformation of the sixteenth century . . . because of the absence of the sacramental priesthood, have not preserved the genuine and integral substance of the Eucharistic Mystery [and] cannot, according to Catholic doctrine, be called 'Churches' in the proper sense." (Responsa Quaestiones, June 29, 2007) As an Anglican, especially, I would dispute the basic assumptions about the priesthood and the Eucharist, but even without regard to that quibble, to deny that any group of Christians is the church seems to me to be an unnecessary stumbling block to ecumenical relations. Hopefully, Pope Francis will be more gracious than his predecessor in acknowledging that "where two or three are gathered in [his] name, [Christ is] there among them." (Matt. 18:20 NRSV)
Which brings me back to the folk chorus Abba, Father and yesterday's meditation. The petition of the song is
Mold us, mold us and
Fashion us,
Into the image,
Of Jesus your Son
Of Jesus your Son.
Father, may we be one in you,
May we be one in you,
As he is in you,
And you are in him.
God the potter is constantly molding the church. May Pope Francis's election be an opportunity not only for the Roman Catholic Church to be molded anew, may it also be an occasion for the whole of the Christ's universal church, and God's people of other faiths, to be molded together into a new ecumenical and interfaith cooperation.
====================
A request to my readers: I'm trying to build the readership of this blog and I'd very much appreciate your help in doing so. If you find something here that is of value, please share it with others. If you are on Facebook, "like" the posts on your page so others can see them. If you are following me on Twitter, please "retweet" the notices of these meditations. If you have a blog of your own, please include mine in your links (a favor I will gladly reciprocate). Many thanks!
====================
Father Funston is the rector of St. Paul's Episcopal Church, Medina, Ohio.