====================
This sermon was preached on the Fourth Sunday of Easter, April 21, 2013, at St. Paul's Episcopal Church, Medina, Ohio, where Fr. Funston is rector.
(Revised Common Lectionary, Fourth Sunday of Easter: Acts 9:36-43; Psalm 23; Revelation 7:9-17; and John 10:22-30. These lessons can be read at The Lectionary Page.)
====================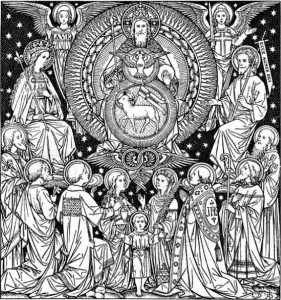 It's Good Shepherd Sunday . . . the Fourth Sunday of the Easter Season is always Good Shepherd Sunday. Every year, regardless of which of the three years of the Lectionary cycle we are in, we hear some lessons which mention shepherds or lambs, and we recite the 23rd Psalm as the Gradual, and we sing every "Shepherd hymn" in the hymnal. I've been preaching Good Shepherd sermons for 25 years, so I pretty much thought this was going to be one of those Sundays when I could just "wing it" and preach extemporaneously.
But it's not. The events of the past week have made this a Good Shepherd Sunday unlike any that has come before. This Good Shepherd Sunday, as I read the words of the 23rd Psalm, "Though I walk through the valley of the shadow of death, I shall fear no evil," (Ps. 23:4) I cannot help but be aware of all those who, unknowingly, were in that very place on Monday afternoon; I cannot help but think of Boylston Street, Boston, as "the valley of the shadow of death."
Today's Gospel lesson is John the Evangelist's story of an event that happened before Jesus' crucifixion, something that happened as he was teaching in the Jerusalem Temple. "The Jews," which is John's way of naming the temple authorities (the priests and scribes) gathered around Jesus and put him on the spot. "Are you the Messiah?" they ask, "Tell us plainly."
Jesus' answer is to say that he has said as much and that it is plain to those who are his sheep, because his sheep understand what he says: "My sheep hear my voice. I know them, and they follow me." (John 10:27) They hear what I say; they understand my words; and they do what I tell them.
Well, maybe . . . .
Let's be honest. Understanding Jesus and doing what he says aren't always very easy. For example, St. Luke tells us that Jesus said, "Be merciful, just as your Father is merciful. Do not judge, and you will not be judged; do not condemn, and you will not be condemned. Forgive, and you will be forgiven." (Luke 6:36-37) And St. Matthew tells us that he commanded, "Love your enemies and pray for those who persecute you." (Matt. 5:44) I know what those words mean, but when it comes to the events of this week, they are not easy to obey.
But . . . OK . . . let's give it a try. Our prayer book heritage gives us words to pray when we cannot think of the words ourselves, so let's give this praying for those who hurt us a try using some of those prayers:
O God, the Father of all, whose Son commanded us to love our enemies: Lead them and us from prejudice to truth: deliver them and us from hatred, cruelty, and revenge; and in your good time enable us all to stand reconciled before you, through Jesus Christ our Lord. Amen. (Book of Common Prayer 1979, page 816)

Into your hands, O Lord, we commend Tamerlan Tsarnaev, as into the hands of a faithful Creator and most merciful Savior, praying that he may be redeemed in your sight. Wash him, we pray, in the blood of that immaculate Lamb who was slain to take away the sins of the world; that, whatever defilements he may have contracted in the midst of this earthly life being purged and done away, he may be presented before you pure and without spot; through the merits of Jesus Christ your only Son our Lord. Amen. (Adapted from the BCP 1979, page 488)

O God, whose mercy is everlasting and whose power is infinite; Look down with pity and compassion upon Dzhokhar Tsarnaev; and whether you visit him to test his fortitude or to punish his offences, enable him with your grace to submit himself willingly to your holy will and to your judgment. O Lord, go not far from him or any person whom you have laid in a place of darkness; and seeing that you have not cut him off suddenly, chasten him as a father and grant that he, duly considering your great mercies, may genuinely turn to you with true repentance and sincerity of heart; through Jesus Christ our Lord. Amen. (Adapted from the Book of Common Prayer of 1789, A Form of Prayer for the Visitation of Prisoners.)
This is what our Shepherd requires of us, that we pray for the repose of the soul of Tamerlan Tsarnaev and for the salvation Dzhokhar Tsarnaev, even though we find it very difficult to do.
When I was still practicing law, I had occasion to defend a dentist whose hobby was sculpting. One of the pieces he showed me was a very nicely done, and in most respects very traditional, Crucifix. What was nontraditional about it was the expression on Jesus' face; it was contorted in obvious and quite extreme rage.
I asked him about that saying, "I don't think I've ever seen Christ depicted in that way, and I can't say that I've ever conceived of this reading any of the Gospels' crucifixion stories." He answered by asking me, "You know in the Gospel according to Luke when Jesus says, 'Father, forgive them . . . . ?' I've always heard that as angry, as Jesus saying to God the Father, 'You forgive them because, right now, I can't.'"
If you, like me, are having some difficulty in praying for those two boys, let these prayers be offered in that same spirit. We pray for God to take them, for God to forgive them, because right now, we can't. We know exactly what Jesus meant but right now, we can't do it. So we ask our Shepherd to do it for us. Because, as the multitude witnessed by St. John of Patmos cried so clearly, "Salvation belongs to our God who is seated on the throne, and to the Lamb!" (Rev. 7:10)
That's one of the Good News lessons for today, for this week, I think. Jesus asks us to pray for and forgive those who do us wrong, but if we can't, he can do it for us. We don't need the fancy words of prayers out of the prayer book tradition. We just need Jesus' own words, his words on the cross, "Father, forgive them." That's really all we need to say, "Father, forgive them." Because even if we can't, he can.
I think the other Good News lesson for this week is in something else Jesus says in today's Gospel lesson: "I give them eternal life, and they will never perish. No one will snatch them out of my hand."
Yesterday, I was at a diocesan leadership conference and, as you might expect, during the break times, our conversations centered around the events of the week.
A colleague commented at a diocesan meeting this morning, "It's been one of those weeks." My first thought was, "One of what weeks? There aren't very many weeks like this!" The more I thought about it, however, I think maybe every week is like this. Every week people die. It's an uncomfortable reality, but it's true. Every week people die. It's nothing to fear, however. I remember hearing a bishop (it may have been Desmond Tutu) say that being a Christian means (among other things) accepting the fact that you have already died. Certainly that is the witness of scripture: "Do you not know that all of us who have been baptized into Christ Jesus were baptized into his death? Therefore we have been buried with him by baptism into death, so that, just as Christ was raised from the dead by the glory of the Father, so we too might walk in newness of life." (Rom. 6:3-4) And, again, "Set your minds on things that are above, not on things that are on earth, for you have died, and your life is hidden with Christ in God." (Col. 3:2-3) And, again, "The saying is sure: If we have died with him, we will also live with him." (2 Tim. 2:11) The very meaning of the Easter Season which we continue to celebrate is that death has been conquered, and that to God's faithful people "life is changed, not ended; and when our mortal body lies in death, there is prepared for us a dwelling place eternal in the heavens." (BCP 1979, page 382)
And every week people do awful things to other people. Sometimes those things are hugely catastrophic for many people, like the bombs at the marathon finish line. Sometimes those things go unseen by nearly everyone except the one injured, like the bullying that has led so many teens to commit suicide. Such things, awful things happen all the time. But . . . "Have you not known? Have you not heard? The Lord is the everlasting God, the Creator of the ends of the earth. He does not faint or grow weary; his understanding is unsearchable. He gives power to the faint, and strengthens the powerless." (Isaiah 40:28-29) And, again, "The Lord upholds all who are falling, and raises up all who are bowed down." (Psalm 145:14) And, again, "I can do all things through him who strengthens me." (Philip. 4:13) The very meaning of the Easter Season which we continue to celebrate is that the power of God overcomes anything, any-awful-thing, the evildoers of this world can throw at us.
Not very long after the bombs exploded in Boston, comedian Patton Oswalt posted a reflection on his Facebook page in which he said:
I remember, when 9/11 went down, my reaction was, "Well, I've had it with humanity."

But I was wrong. I don't know what's going to be revealed to be behind all of this mayhem — one human insect or a poisonous mass of broken sociopaths.

But here's what I DO know. If it's one person or a HUNDRED people, that number is not even a fraction of a fraction of a fraction of a percent of the population on this planet. You watch the videos of the carnage and there are people running TOWARDS the destruction to help out. (Thanks FAKE Gallery founder and owner Paul Kozlowski for pointing this out to me). This is a giant planet and we're lucky to live on it but there are prices and penalties incurred for the daily miracle of existence. One of them is, every once in a while, the wiring of a tiny sliver of the species gets snarled and they're pointed towards darkness.

But the vast majority stands against that darkness and, like white blood cells attacking a virus, they dilute and weaken and eventually wash away the evildoers and, more importantly, the damage they wreak. This is beyond religion or creed or nation. We would not be here if humanity were inherently evil. We'd have eaten ourselves alive long ago.

So when you spot violence, or bigotry, or intolerance or fear or just garden-variety misogyny, hatred or ignorance, just look it in the eye and think, "The good outnumber you, and we always will."
I think that is the reality to which Scripture testifies; I think that is the triumph of Easter — that the good will always outnumber the evil. "I give them eternal life, and they will never perish. No one will snatch them out of my hand."
So I guess my colleague was right. It's been one of those weeks . . . a week when life was changed for some, a week in which the Presence of God helped people get through some really awful stuff, a week when the good outnumbered the bad. It's been one of those weeks. Every week is. Thanks be to God!
====================
A request to my readers: I'm trying to build the readership of this blog and I'd very much appreciate your help in doing so. If you find something here that is of value, please share it with others. If you are on Facebook, "like" the posts on your page so others can see them. If you are following me on Twitter, please "retweet" the notices of these meditations. If you have a blog of your own, please include mine in your links (a favor I will gladly reciprocate). Many thanks!
====================
Father Funston is the rector of St. Paul's Episcopal Church, Medina, Ohio.