From Matthew's Gospel:
Jesus said, "Then the kingdom of heaven will be like this. Ten bridesmaids took their lamps and went to meet the bridegroom. Five of them were foolish, and five were wise. When the foolish took their lamps, they took no oil with them; but the wise took flasks of oil with their lamps. As the bridegroom was delayed, all of them became drowsy and slept. But at midnight there was a shout, 'Look! Here is the bridegroom! Come out to meet him.' Then all those bridesmaids got up and trimmed their lamps. The foolish said to the wise, 'Give us some of your oil, for our lamps are going out.' But the wise replied, 'No! there will not be enough for you and for us; you had better go to the dealers and buy some for yourselves.' And while they went to buy it, the bridegroom came, and those who were ready went with him into the wedding banquet; and the door was shut. Later the other bridesmaids came also, saying, 'Lord, lord, open to us.' But he replied, 'Truly I tell you, I do not know you.' Keep awake therefore, for you know neither the day nor the hour."
(From the Daily Office Lectionary – Matthew 25:1-13 (NRSV) – December 2, 2012. Please note, this is the Daily Office gospel for today, a Sunday, not the gospel from the Eucharistic lectionary.)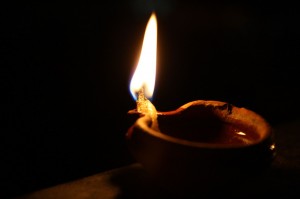 I have to admit that I've never liked this parable! I mean, isn't the point of the gospel of Jesus Christ that we are "all in this together" and that we're supposed to help one another, share what we have, take care of our brothers and sisters who have less than we do? But here "wisdom" of five bridesmaids is to be selfish and not share their oil! That just doesn't sit well with me.
But, of course, that's not the point of the parable, is it? The thing about parables is that they are are extremely limited in their application. Parables, especially Jesus' parables, are usually intended to make a single important point, and living in community, sharing what we have, and helping one another is definitely not the point of this parable. This little story is about being ready, being prepared, getting one's act together.
As a reminder for the first day of the new Christian year, the first Sunday of the season of Advent, this story is most apt. In the midst of all the running about that most of us are doing at this time of year, buying presents, decorating homes and businesses, planning liturgies (those of us in the church business), planning menus, baking fruit cakes, making candy, taking care of travel arrangements . . . the list of pre-Christmas activities goes on and on . . . it is good to take a moment to look beyond the big day. Are we ready for something else? Are we ready for what lies beyond Christmas? Beyond this life? Are we ready for the bridegroom's return? Will the bridegroom know you when he comes back?
The way to be known to cultivate a relationship; the way we do that with Christ is through prayer. Forty-five years ago this month, Dionne Warwick made the charts with the Burt Bacharach tune I Say a Little Prayer. The song describes several times each day, during every day activities, when the singer said a short prayer for her beloved. That's really all it takes, a short prayer in the midst everyday life.
Here's a simple exercise in tending one's lamp and making sure one's stock of oil is filled: each time you get into or out of your car say this words – "Jesus Christ, Son of God, have mercy on me." Nine short words. Say them in connection with that one specific action. It won't take long but it will cultivate the habit of prayer; it will add a little oil to your store; it will trim the wick of your lamp just a little.
====================
A request to my readers: I'm trying to build the readership of this blog and I'd very much appreciate your help in doing so. If you find something here that is of value, please share it with others. If you are on Facebook, "like" the posts on your page so others can see them. If you are following me on Twitter, please "retweet" the notices of these meditations. If you have a blog of your own, please include mine in your links (a favor I will gladly reciprocate). Many thanks!
====================
Father Funston is the rector of St. Paul's Episcopal Church, Medina, Ohio.