From the Psalms:
Clap your hands, all you peoples;
shout to God with a cry of joy.
* * *
God has gone up with a shout,
the Lord with the sound of the ram's-horn.
Sing praises to God, sing praises;
sing praises to our King, sing praises.
(From the Daily Office Lectionary – Psalm 47:1,5-6 – September 11, 2012)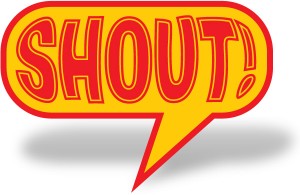 I love this Psalm – it's about liturgy and worship, something dear to my heart!
There's a children's song based on this song that we used to sing in the Cursillo movement (maybe they still do – I haven't been to a Cursillo event in years). Our church school children learned to sing it at Vacation Bible School this year and had a great time doing so. I went surfing through YouTube and found this recording of Pat Boone teaching it to some kids:
The song, like the Psalm, has great energy. I have no idea how the Psalm was performed in the Temple, but how could a Psalm that calls for clapping, shouting, playing trumpets, and singing praises not be vibrant and energetic. That's how liturgy should be.
It doesn't have to be all kids' songs, however. This same Psalm was sat as a choral anthem by Ralph Vaughn Williams. Here's a YouTube of Williams' O, Clap Your Hands performed by the Louisville Collegiate Choir.
It, too, is vibrant and energetic, but totally unlike Pat Boone's children's tune. Vibrancy and energy is not a matter of "style"; it is an issue of authenticity, of life, in the liturgy.
I love good liturgy! Good liturgy involves clapping, singing, praising, and even shouting done with authenticity and feeling! I love good liturgy!
====================
Father Funston is the rector of St. Paul's Episcopal Church, Medina, Ohio.