From the Book of Revelation:
You are neither cold nor hot. I wish that you were either cold or hot. So, because you are lukewarm, and neither cold nor hot, I am about to spit you out of my mouth.
(From the Daily Office Lectionary – Rev. 3:15-16 (NRSV) – December 17, 2013.)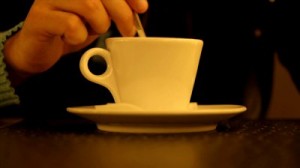 When I was in college I was part of group that liked to go backpacking on weekends. Because we were in Southern California, this often meant a trek into some desert wilderness where there was no local water. As a result, we each had to carry enough water for the weekend; as a rule of thumb, that would mean one gallon of water for each day of the hike.
We had found these one-quart, cube-shaped, collapsible water bladders that weighed just an ounce or two, and were easily packed into a backpacked. Pack four of those per day and you were set.
Of course, the cubes weren't insulated and neither were the water bottles or canteens we carried outside our packs for easy regular access. One's water was whatever temperature the day was; most of the time that meant the water was tepid, or as this verse says "lukewarm." It satisfied the body's need for hydration, but it was not terribly refreshing or stimulating!
I've always understood these two verses from Revelation (part of the message to the angel of the church in Laodicea to be metaphorical. I have considered that being "hot" or "cold" equate to loving or hating God; being lukewarm, to being indifferent. Understood in this way, the verse encourages emotional commitment.
But as I think about drinking that tepid water on those college hikes and how much more I appreciated the water if it was chilled or used to make a hot beverage, I'm wondering if maybe the passage should be understood somewhat more literally. What if God really does want to be refreshed? What if God really wants to be stimulated? (I won't say "needs to be," but that would be an even more interesting question.)
That God enjoys refreshment and finds it good is witnessed in Scripture. In the Book of Exodus, God commands the Israelites to honor the sabbath because "it is a sign forever between me and the people of Israel that in six days the Lord made heaven and earth, and on the seventh day he rested, and was refreshed." (Exodus 31:17)
That God might be stimulated by human beings was explored by the poet Louise Glück as she described an afternoon hike:
Even as you appeared to Moses, because
I need you, you appear to me, not
often, however. I live essentially
in darkness. You are perhaps training me to be
responsive to the slightest brightening. Or, like the poets,
are you stimulated by despair, does grief
move you to reveal your nature? This afternoon,
in the physical world to which you commonly
contribute your silence, I climbed
the small hill above the wild blueberries, metaphysically
descending, as on all my walks: did I go deep enough
for you to pity me, as you have sometimes pitied
others who suffer, favoring those
with theological gifts? As you anticipated,
I did not look up. So you came down to me:
at my feet, not the wax
leaves of the wild blueberry but your fiery self, a whole
picture of fire, and beyond, the red sun neither falling nor
rising —
I was not a child; I could take advantage of illusions.
("Vespers" in The Wild Iris)
I wonder if God finds me refreshing or stimulating . . . or just lukewarm, tepid, and dull.
On Sunday, the Third Sunday of Advent, in the Episcopal Churches, we began our worship with this prayer, "Stir up your power, O Lord, and with great might come among us." Perhaps it is us who need to stir up in Advent, who need to become hot or cold, stimulating or refreshing.
====================
A request to my readers: I'm trying to build the readership of this blog and I'd very much appreciate your help in doing so. If you find something here that is of value, please share it with others. If you are on Facebook, "like" the posts on your page so others can see them. If you are following me on Twitter, please "retweet" the notices of these meditations. If you have a blog of your own, please include mine in your links (a favor I will gladly reciprocate). Many thanks!
====================
Father Funston is the rector of St. Paul's Episcopal Church, Medina, Ohio.