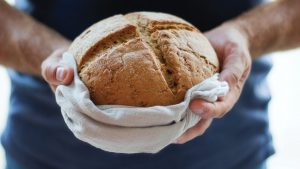 Anthelme Brillat-Savarin , an 18th century French politician once said, "Tell me what kind of food you eat, and I will tell you what you what kind of man are."[1] The 19th century philosopher Ludwig Feuerbach said, "Man is what he eats."[2]
These observations have been distilled into our modern idiom. "You are what you eat" is a saying one hears or reads pretty regularly. And it's true. Eating shapes our identities, defines who we are. A particular food and drink may highlight ethnicity, nationality, or age: tacos, lasagna, Coca Cola (over fifty), Pepsi (under thirty,) hamburgers, sushi. Food and drink defines the great holidays and important celebrations of our lives: champagne on New Year's Eve, turkey at Thanksgiving, plum pudding at Christmas, hot dogs on the Fourth of July, eggs at Easter.
An ordained colleague of mine once commented that the Sacramental presence of the Eucharist has shifted location in the modern church. Once the table-fellowship of the church was centered on the altar; now, he said, it is found elsewhere depending upon denominational tradition. For Baptists, it is now found in the fried chicken dinner; for Methodists, in the potluck supper; and for Episcopalians, at coffee hour. He was kidding, of course, but there is an element of truth in his humor.