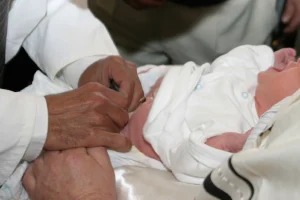 "Name this child." That's what I say to parents of infant baptismal candidates as I take their children from them. The words are not actually written in the baptismal service of The Book of Common Prayer as they are in some other traditions' liturgies, but there is a rubric that says, "Each candidate is presented by name to the Celebrant . . . ."[1] so asking for the child's name is a practical way of seeing that done. It's practical, but it's also a theological statement.
There is a common religious belief found in nearly all cultures that knowing the name of a thing or a person gives one power over that thing or person. One finds this belief among African and North American indigenous tribes, as well as in ancient Egyptian, Vedic, and Hindu traditions; it is also present in all three of the Abrahamic religions, Judaism, Christianity, and Islam.
The naming we do at baptism echoes the naming that takes place in Judaism when a male infant is circumcised on the eighth day after his birth. In that service, called the brit milah or bris, the officiating mohel prays, "Our God and God of our fathers, preserve this child for his father and mother, and his name in Israel shall be called ________"[2] and the prayer continues that, by his naming, the infant will be enrolled in the covenant of God with Israel. A similar thing is done when a girl is named in the ceremony called zeved habat or simchat bat, the "gift (or celebration) of the daughter" on the first sabbath following her birth.[3] With the name given at baptism, the church says to its newest member, "This is who you are: washed in the waters of baptism, sealed by the Holy Spirit, and marked as Christ's own forever,"[4] a brother or sister in the church, a fellow member of the Body of Christ, an adopted child of God the Father.