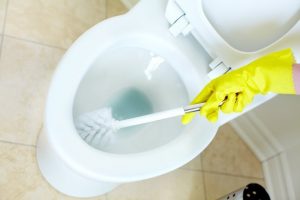 Lenten Journal, Day 9
I woke up this morning thinking of cleaning toilets. Not in the future sense, the "I have to clean the toilets today" sort of thinking. I did that yesterday. At least I cleaned one toilet yesterday, the one in our master bathroom. Put a gold star on the calendar and mark the day!
It's probably because I did that yesterday that I woke up this morning thinking about toilets and whether the job I did yesterday would have passed Doris's standards. Doris was my boss when I was 19 years old and working as a janitor at a small acute care hospital in Southern California. Doris was the hospital's Executive Housekeeper. She was, I think, the first Muslim with whom I ever had any daily interaction.
Doris was in her 50s when I worked for her, so I'm pretty certain she's dead now. Actually, this is sad to say, I hope she's dead. I would rather think of her in Paradise than imagine her facing today's world of bigotry and the news of Muslims murdered for their faith. Because today I also woke up to the news that 49 Muslims had been shot to death while worshiping in their mosques in Christchurch, New Zealand.