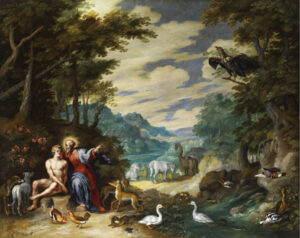 Come Holy Spirit, Comforter, Spirit of Truth,
everywhere present and filling all things.
Treasury of Blessing, Giver of Life,
Come, dwell within us and between us… Amen.
On the day of Pentecost, the disciples, "filled with the Holy Spirit" rushed out into the streets of Jerusalem "and began to speak in other languages, as the Spirit gave them ability," proclaiming the Good News to the crowds of people in town for Shavuot and answering their inevitable questions.[1] Jesus had told them, "Do not let your hearts be troubled, and do not let them be afraid."[2] The Spirit, as Jesus promised, had reminded them and empowered them, and now here they were.
Scholars and preachers go through all sorts of hermeneutical contortions to interpret this event as some sort of reversal or overcoming of the linguistic scattering of the nations at the Tower of Babel. I suppose that's why our lectionary pairs that Genesis story with the reading from the Book of Acts, but I don't think that's what Luke, the author of Acts, was trying to convey. I'm always left wondering, "If that's what he was trying to put across, why didn't he just say that?"