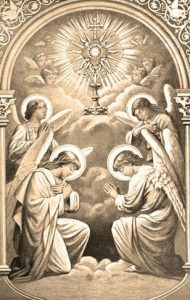 With churches suspending public worship out of concern for the contagion of Covid-19, the noval coronavirus, we Episcopalians (and many others) are prevented from receiving Holy Communion. An ancient practice of the Church in such circumstances, for there have always been those who, for whatever reason, are unable to take the Sacrament, is to make an act of "spiritual communion."
Spiritual communion was defined by St. Thomas Aquinas as "an ardent desire to receive Jesus in the Holy Sacrament and a loving embrace as though we had already received Him." This is a lovely way to unite oneself to God through prayer, expressing to God one's desire to be united with Christ when we are unable to do so through reception of Holy Communion.
The Roman Catholic saint, Alphonsus Liguori, taught a four-step method of of making a spiritual communion.