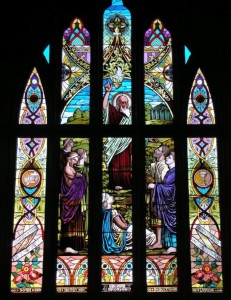 Lenten Journal, Day 32 – 5th Sunday in Lent
We went to a particular parish for church today because we had read that following the late service there would be a docent-led tour of their historic building. It is one we particularly like and in which we are especially interested, so we were really looking forward to it. But we were very disappointed. As we were driving home, I snarkily suggested to Evelyn that I had found my retirement volunteer gig – joining that congregation and becoming the docent to lead those tours.
More power to the person who was the docent! He was clearly uncomfortable doing what he was doing, but he had stepped up to the plate and taken his swing and done the best he could do. Perhaps it just wasn't his fault that he hit a blooper. It certainly wasn't his fault that his tour group included (a) an architect with more than a little knowledge of the style of the building, (b) an historic preservation scholar actually working on a master's thesis about the building, and (c) a priest (me) with an interest in stained glass. The three of us "supplemented" his tour spiel and probably threw him off stride.