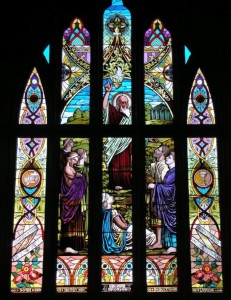 Lenten Journal, Day 32 – 5th Sunday in Lent
We went to a particular parish for church today because we had read that following the late service there would be a docent-led tour of their historic building. It is one we particularly like and in which we are especially interested, so we were really looking forward to it. But we were very disappointed. As we were driving home, I snarkily suggested to Evelyn that I had found my retirement volunteer gig – joining that congregation and becoming the docent to lead those tours.
More power to the person who was the docent! He was clearly uncomfortable doing what he was doing, but he had stepped up to the plate and taken his swing and done the best he could do. Perhaps it just wasn't his fault that he hit a blooper. It certainly wasn't his fault that his tour group included (a) an architect with more than a little knowledge of the style of the building, (b) an historic preservation scholar actually working on a master's thesis about the building, and (c) a priest (me) with an interest in stained glass. The three of us "supplemented" his tour spiel and probably threw him off stride.
Still … in my last parish with a building filled with Victorian stained glass, we'd had parishioners who'd done their homework and produced a splendid little self-guided tour book explaining our windows, their history, and their symbolism. Why, I wondered, hadn't this other congregation done the same? Their building also includes many more architectural details worth noting (most of which were simply ignored in this tour). Why hadn't they done something similar about them?
Church buildings are not museums and they are not memorials. Church buildings are tools for ministry. Most often when someone says that, they mean they are places where people are fed through soup kitchens or food pantries, housed in temporary shelters, educated in Sunday schools and parochial academies, counseled in times of trouble by clergy or other advisers, and so forth. But buildings are also tools in same sense that books are. It is well known that stained glass windows, icons, and statues came into being as part of the Christian armamentarium as devotional and educational objects, not merely as decorations; they were and still are the tools of prayer and of instruction. Pews and kneelers and special seating for bishops, deans, rectors, and so forth; altars, communion tables, and credence tables; candles and candelabra, organs and other instruments; they all have their functions. They are all tools and all parts of the larger tool which is the building.
Showing them off and explaining their uses and how they add to the work and ministry of the church and its members, if it is of interest to the visitor, the newcomer, and the potential member, should be done well. And apparently it is of interest to a sufficient number; there were over twenty people in that tour group this morning!
Prepare! That's all I'm saying. I'm one of those people reared by parents and grandparents who firmly believed and taught the old shibboleth that "something worth doing is worth doing well," and I absorbed and live by and expect that, too. I actually think about that whenever I am presiding at Lenten Eucharists and use the proper preface which says, "You bid your faithful people cleanse their hearts, and prepare with joy for the Paschal feast."[1] Lent isn't really about Lent; Lent is about Easter. It's about preparing to celebrate the Resurrection; it's about something worth doing and doing well. The Feast of the Resurrection is the model for all other human activity which is redeemed Christ. As we prepare for the Paschal feast, so we should prepare for everything. It is in the Resurrection that all things are made new, all activities are made worth doing, and all activities are made worth doing well. Preparation is the name of that game.
I really wish that docent volunteer all the best, and I really encourage him to continue offering those tours. I'm not going to act on my snarky suggestion and take over his gig, but I do encourage him to prepare with joy to do his tours well.
====================
Note: The illustration is the altar window, St. Paul at the Areopagus, at St. Paul's Episcopal Church, Medina, Ohio, my last parish.
Notes:
Click on footnote numbers to link back to associated text.
[1] The Book of Common Prayer 1979, page 379