====================
This sermon was preached at the Requiem Mass on June 25, 2013, for Charlie Stehno, a member of St. Paul's Episcopal Church, Medina, Ohio, where Fr. Funston is rector.
(Episcopal Church Lectionary, For Burials: Isaiah 25:6-9; Psalms 23; Revelation 21:2-7; and John 14:1-6. These lessons were selected by the family from among the options set forth in The Book of Common Prayer. All options can be found at The Lectionary Page.)
====================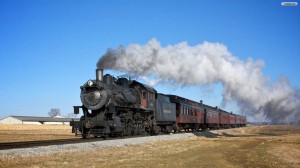 Are you familiar with those visions of the afterlife in which the dearly departed, clothed in flowing white robes lounge around on fluffy, white cotton clouds playing harps? I have to be honest with you that I cherish a very dear hope that such visions are 100% absolutely wrong! I cannot imagine any existence more boring than an eternity of cloud-floating and harp-playing, and if my ten years of knowing Charlie Stehno have given me a clue of anything about Charlie it is that he would most likely feel the same way. If he has gotten to the Great Hereafter only to find himself fitted out with a flowing white robe and issued a harp to play and cloud to lounge upon, I suspect that he is (as my grandmother would say) "fit to be tied."
But I don't really think there's any danger of that! I believe that larger life in God's Presence is quite a bit different from that beatific vision of robe wearing, harp playing, and cloud floating. As I spent the past few days contemplating the lessons that Kathy selected for today's Requiem — this wonderful vision of Isaiah's of a feast on a mountain top; John of Patmos's vision of the new Jerusalem where our home will be with God, where hunger and thirst will be no more, where there will be these wonderful springs overflowing with the water of life, and where God will wipe away every tear; and most importantly Jesus' promise that in God's home there is a place for all of us — as I contemplated these readings and as I thought about Charlie's life selling the heavy machinery that moved the rolling stock on the railways of this and several other countries, I kept having a childhood memory. It is a memory that informs my vision heaven, that shapes my belief about what lies through that doorway of death. I'd like to share it with you, so I hope you'll forgive me if I spend a few minutes sharing something about my family as a means to come to terms with the grief and loss experienced by the Stehno family.
My parents were raised in a small town in southeastern Kansas and when I was very young my paternal grandparents and many members of my extended family on both sides still lived in and around that town. On my mother's mother's side, my great-grandfather, Hinrich Buss, had emigrated from the German farm country of Ostfriesland in the 1860s when he was about 20 years old. He settled in that area of Kansas and homesteaded several thousand acres, raising not one but three families. I am descended from him and his third wife, Harmke (who bore Hinrich 15 children who lived to adulthood).
Each summer of my childhood I would spend several weeks with my father's parents, but for one day of each summer I would cease being a "Funston" and, instead, I become one of the several hundred "Buss cousins." That one day was like a parenthetical note in my life: "This is Eric Funston – open parenthesis – who is also a Buss – close parenthesis." Those parentheses were, if you will, represented by railroad journeys.
That day would start early in the morning when my great-uncle and great-aunt Roy and Blanche Buss would collect me from my Funston grandparents' home and we would drive to the Santa Fe Train Station and catch the Atchison, Topeka & Santa Fe Railroad for the ancestral home, which was outside the next town to the west, an hour's train ride away. Open parenthesis! When the train pulled out of station, I was no longer a Funston; I was a Buss.
When the train arrived, we would disembark to be picked up by other Buss cousins and driven to the farmhouse which had been and still was (and still is) the Buss family home.
As soon as we arrived, Blanche would join the other women in the farmhouse kitchen; Roy would go off with the other men to walk the fields and look at the livestock and smoke cigarettes and talk about the news of the day; and I would join the other kids swimming in the farm pond (which, to be honest, was pretty yucky, but we were kids, we didn't care).
Around midday trestle tables would be set up in the yard and in pretty short order they would be overflowing with sauerbraten, and schnitzel, and wursts of all sorts, with sauerkraut and potato salad and fresh garden tomatoes, and more kinds of homemade bread and rolls and biscuits than you can imagine. Someone would say a prayer, and we would all dig in and eat way more than we should and, afterward, fall asleep in the shade of the barn.
A little later the older kids and the younger men would get up a football game. Because there were more of us descended from Greatgramma Harmke than from Hinrich's first two wives it was usually organized as the third family against the first two. And there would be much cheering and yelling and arguing over plays and goals and whether someone is in-bounds or out; you know the sort of thing that happens in those sorts of games.
Sometime during the fourth quarter, the women would disappear back into that farmhouse kitchen and as the game came to its inevitable end, those trestle tables would again be loaded to overflowing, but this time with homemade pies, and cakes, and cookies, and even homemade ice cream. And, once again, we would all eat way more than a person ought . . . .
But in not-too-long a time, the sun would begin to set. And that would be the signal that Great-uncle Roy and Great-aunt Blanche and I would have to leave. We'd be driven back into town to catch the evening train back to my parents' hometown. When we got there, I went back to being a Funston. That eastbound train ride was the end of my day of being a "Buss cousin." Close parenthesis.
You know, there are a lot of songs about trains, and among those are a lot of songs about trains going to heaven. That's another thing that kept coming to mind as I thought about what I might say here today. There's Woody Guthrie's familiar tune:
This train is bound for glory, this train.
This train is bound for glory, this train.
This train is bound for glory,
Don't carry nothing but the righteous and the holy.
This train is bound for glory, this train.
And there's Boxcar Willie's wonderful song of a hobo's last train ride:
I'll ride that last train to heaven
On rails of solid gold
In a boxcar lined with satin
Where the nights are never cold
Where a hobo's always welcome
Even in his ragged clothes
I'll ride that last train to heaven
When the final whistle blows.
And my personal favorite is Curtis Mayfield's great song:
People get ready there's a train comin';
You don't need no baggage, just get on board.
All you need is faith to hear the diesels hummin';
You don't need no ticket, just thank the Lord.
In the 23rd Psalm, David thanks the Lord for shepherding us as we walk through the valley of the shadow of death, for setting an abundant table for us in the midst of our enemies, and for pledging in God's mercy and goodness that we will dwell in the house of the Lord for ever. Jesus affirms that in that home there are rooms for all of us, and both Isaiah and John of Patmos assure us that the abundance of that table will continue, that God will lay out a feast of "rich food . . . and well-aged wines strained clear," that there will no hunger or thirst of any kind.
It will be like a family reunion, God's family reunion, where everyone we've ever loved is present, and everyone they've ever loved (including us) eventually will be, "where sorrow and pain are no more, neither sighing, but life everlasting," and where "God will wipe away the tears from all faces." St. Paul, the patron of this parish, explained it this way in his First Letter to the Corinthians:
Since death came through a human being, the resurrection of the dead has also come through a human being; for as all die in Adam, so all will be made alive in Christ. But each in his own order: Christ the first fruits, then at his coming those who belong to Christ. Then comes the end, when he hands over the kingdom to God the Father, after he has destroyed every ruler and every authority and power. For he must reign until he has put all his enemies under his feet. The last enemy to be destroyed is death. (1 Cor. 15:21-26)
As a song I know was special to Charlie might put it:
The enemy must yield,
We'll fight just like our ancestors
and march right down the field!
(University of Toledo Fight Song; Charlie was an alumnus and former football start of Toledo U.)
Charlie has marched down that field; he has finished his walk through the valley of the shadow of death. He has won the victory! He has gotten on board that train bound for glory, that last train to heaven; he's left this life's crippling, painful baggage behind, and he has arrived in that larger life where, as Isaiah assures us, he has not found a cloud or a harp.
No, he's taken that train to a great family reunion, where the picnic tables are eternally laden with God's overflowing abundance, where the faithful swim not in some yucky farm pond but in the clear river that flows from the springs of the water of life, where the family home has room for everyone, and where (if there isn't one already, Charlie will make sure) there's a football game going on.
And the greatest and most wonderful thing is that there will be no sunset and there will be no train going back to anywhere; there will be no "close parenthesis."
Thanks be to God! Amen.
====================
A request to my readers: I'm trying to build the readership of this blog and I'd very much appreciate your help in doing so. If you find something here that is of value, please share it with others. If you are on Facebook, "like" the posts on your page so others can see them. If you are following me on Twitter, please "retweet" the notices of these meditations. If you have a blog of your own, please include mine in your links (a favor I will gladly reciprocate). Many thanks!
====================
Father Funston is the rector of St. Paul's Episcopal Church, Medina, Ohio.