From John's Gospel:
Jesus and his disciples had also been invited to the wedding. When the wine gave out, the mother of Jesus said to him, "They have no wine." And Jesus said to her, "Woman, what concern is that to you and to me? My hour has not yet come." His mother said to the servants, "Do whatever he tells you." Now standing there were six stone water jars for the Jewish rites of purification, each holding twenty or thirty gallons. Jesus said to them, "Fill the jars with water." And they filled them up to the brim. He said to them, "Now draw some out, and take it to the chief steward." So they took it. When the steward tasted the water that had become wine, and did not know where it came from (though the servants who had drawn the water knew), the steward called the bridegroom and said to him, "Everyone serves the good wine first, and then the inferior wine after the guests have become drunk. But you have kept the good wine until now." Jesus did this, the first of his signs, in Cana of Galilee, and revealed his glory; and his disciples believed in him.
(From the Daily Office Lectionary – John 2:2-11 – August 10, 2012)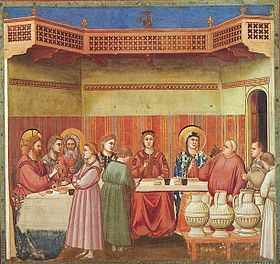 A year ago I was in Ireland, camped out in a cottage outside of the village of Banagher, County Offaly, on sabbatical. As my study project, I was translating old Irish hymns into metrical, rhyming English such that they could be sung to the music of the original. The hymns were published in the early 20th Century in a collection titled Dánta Dé Idir Sean agus Nuadh compiled by Uná ní Ógáin. Dánta Dé includes a communion hymn which elaborates on John's story of the wedding feast; it is entitled The Blessed Wedding at Cana and is attributed to Maighréad ní Annagáin. I found I could not directly translate the hymn, so instead I wrote a poem of my own. Reading this story today, I recall working on that piece and offer it again.
This is my poem inspired by the gospel story and the old Irish hymn:
King of love,
King of glory,
King of graces, guest at a wedding.
With his mother, with his friends,
seated at the marriage feast waiting.
Came the word: "There is a problem!"
Mary told her son to help them.
"What is this to me?" he asked her;
but to servants she was speaking.

"There is no wine
for the feast.
Do as he says, no hesitation."
Empty vessels standing there
for the rites of purification.
"Fill them," he says, "with plain water;
and then draw some for the steward."
"What is this now?" asks the steward,
"Finest wine in the nation!"

Blessed Mary,
Virgin pure,
Mother of God, you knew that even
that your Jesus was the Christ;
that he was the High King of Heaven.
But did you know he would become
the free way for us to our home?
Through baptism buried with him,
we, too, shall all be risen!

O Lord Jesus,
glorious King,
holy savior who bore the Thorn Crown,
you were beaten, crucified,
killed, and buried, layed in the cold ground.
In fulfillment of the promise,
you broke the bars closed against us.
With your own blood you have freed us!
Death is conquered! Life is newfound!

Your own Body
and your Blood
give us sinners true liberation;
Bread of Heaven, Blessed Cup,
holy table, feast of salvation.
Giving blessings beyond measure;
wedding banquet, splendid treasure.
At the marriage feast of the Lamb,
we are God's new creation!
For those interest in the hymn as Gaeilge, here is the Irish original:
Ag an bpósadh bhí i gCána bhí Rí na ngrás ann i bpearsain,
É féin is Muire Máthair, is nárbh áluinn í an bhainfheis?
Bhí cuideacht ós cionn chláir ann, agun fíon orra i n-easnamh,
'S an t-uisge bhí h-árthaibh nár bh'áluinn é bhlaiseadh?

A Dhia dhíl, a Íosa, 's a Rí ghil na cruinne,
D'iomchuir an choróin spíne is iodhbairt na Croise,
A stolladh is a straoilleadh idir dhaoinibh gan cumann,
Na glasa do sgaoilis, a d'iadhadh n'ár gcoinnibh.

Is ró-bhreágh an stór tá ag Rígh na glóire dúinn i dtaisge,
A chuid fola agus feóla mar lón do na peacaigh'.
Ná cuirigidh bhur ndóchas i n-ór bhuidhe nó i rachmas
Mar is bréagán mar cheó é, seachas glóire na bhFlaitheas.
====================
Father Funston is the rector of St. Paul's Episcopal Church, Medina, Ohio.