From the Letter to the Hebrews:
For though by this time you ought to be teachers, you need someone to teach you again the basic elements of the oracles of God.
(From the Daily Office Lectionary – Hebrews 5:12 (NRSV) – May 11, 2013.)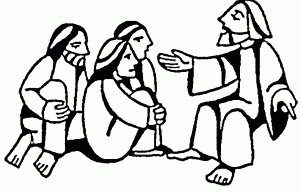 As I read this verse from the Letter to the Hebrews, continuing education in the faith (an "adult Christian formation" program) has apparently been an issue in the church for quite a while. There is certainly a crisis of lifelong learning – or the lack of it – in the church today!
Despite the fact that the Episcopal Church declares that Christian formation is a lifelong process in which each persons should grow in his or her relationships with God, self, others, and all creation, and encourages participation in adult education, it doesn't happen. It doesn't happen in my congregation, despite my best efforts and despite the efforts of good lay people to offer and sustain Bible study groups; and if my colleagues in other congregations are being truthful, it's not happening in other places either.
That strikes me as tragic in a denomination which has published a charter for life-long learning which asserts that God continually invites God's People
To enter into a prayerful life of worship, continuous learning, intentional outreach, advocacy and service.
To hear the Word of God through scripture, to honor church teachings, and continually to embrace the joy of Baptism and Eucharist, spreading the Good News of the risen Christ and ministering to all.
To respond to the needs of our constantly changing communities, as Jesus calls us, in ways that reflect our diversity and cultures as we seek, wonder and discover together.
To hear what the Spirit is saying to God's people, placing ourselves in the stories of our faith, thereby empowering us to proclaim the Gospel message.
Over a year ago, my seminary classmate the Rev. LeeAnne Watkins, offered a video confession of the "failure" in on-going education in her parish. It struck a chord with clergy throughout our denomination, and in the past couple of weeks I have seen some Presbyterian and Lutheran colleagues make reference to her video on their Facebook pages, so I know that chord is resonating in the broader mainstream.
I don't know what the solution is. What I do know, from reading this verse from the Letter to the Hebrews, is that the crisis of lifelong learning and the problem of sustaining on-going Christian formation has been around a long time!
====================
A request to my readers: I'm trying to build the readership of this blog and I'd very much appreciate your help in doing so. If you find something here that is of value, please share it with others. If you are on Facebook, "like" the posts on your page so others can see them. If you are following me on Twitter, please "retweet" the notices of these meditations. If you have a blog of your own, please include mine in your links (a favor I will gladly reciprocate). Many thanks!
====================
Father Funston is the rector of St. Paul's Episcopal Church, Medina, Ohio.