From the Gospel of Luke:
Jesus told a parable: "What woman having ten silver coins, if she loses one of them, does not light a lamp, sweep the house, and search carefully until she finds it? When she has found it, she calls together her friends and neighbours, saying, 'Rejoice with me, for I have found the coin that I had lost.' Just so, I tell you, there is joy in the presence of the angels of God over one sinner who repents."
(From the Daily Office Lectionary – Luke 15:8-10 – November 14, 2012)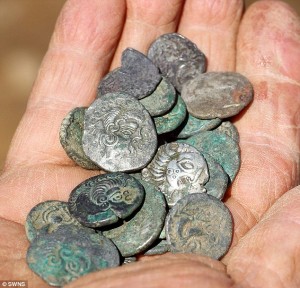 This story of the woman seeking her lost coin follows on the heels of the parable of the lost sheep in which the shepherd leaves the ninety-nine to seek the lost one. That story is much more familiar and, I suppose, is more popular because of romantic notions of some emotional bond between sheep and shepherd, supported no doubt by those lovely Sunday School images of Jesus carrying a lamb on his shoulders. As we modern (and now post-modern) 21st Century urban Christians have moved further and further from agrarian reality, those romantic misconceptions deepen and the less-palatable aspects of the parable's metaphor are forgotten.
Sheep are not the shepherd's beloved pets! He is not going to take the animal into his home (unless, perhaps, it is sick and needs to be nursed back to health). He is going to use the animal for his (or his employer's) economic gain. At best, the sheep will be fleeced and/or milked on a regular basis. It will be bred and its lambs will be taken from it to be slaughtered for food, sold in the markets for profit. At the worst, it will find itself slaughtered, its meat sold as mutton, its hide used for leather. Surely these aspects of the sheep-shepherd relationship are outside the scope of Jesus' metaphor; he did not mean us to see in them an analogy to the human-God relationship! And yet, there they are, background to the parable, limiting its scope and possibly confusing our understanding.
The parable of the woman seeking the lost coin is much more open ended, much richer in possibilities. Where the shepherd's sheep have their limited future, the woman's coins have a future that is wide open. What might she do with them? Anything! Taken to the marketplace, they could be spent with any vendor, purchase any product, follow any path of commerce. And the vendor then can similarly pass the coin on to any of a variety of other vendors, and so on into the future. Stretching before the coin I see a future filled with the branches of an unlimited decision tree, filled with unlimited possibilities, not unlike the myriad futures and alternative realities of quantum mechanics and superstring theory!
For the sheep . . . the future is fleecing and possibly slaughter. For the coin . . .the future is the multiverse! Of course, neither sheep nor coin has any say in what their future may be. As human co-creators with God, we do. Neither the sheep nor the coin has any choice in whether to cooperate with the shepherd or the woman. As human co-creators with God, we do. But like the sheep, we are not as knowledgeable as the shepherd; like the coin, we are not as wise as the woman. So like both, we must trust in the wiser, more knowledgeable Lord who saves us. A prayer in The Book of Common Prayer speaks of this; when I think of the future faced by either sheep or coin, I think of this prayer:
Almighty and eternal God, so draw our hearts to thee, so guide our minds, so fill our imaginations, so control our wills, that we may be wholly thine, utterly dedicated unto thee; and then use us, we pray thee, as thou wilt, and always to thy glory and the welfare of thy people; through our Lord and Savior Jesus Christ. Amen. (BCP 1979, Prayer 61, "Of Self-Dedication," page 832)
====================
A request to my readers: I'm trying to build the readership of this blog and I'd very much appreciate your help in doing so. If you find something here that is of value, please share it with others. If you are on Facebook, "like" the posts on your page so others can see them. If you are following me on Twitter, please "retweet" the notices of these meditations. If you have a blog of your own, please include mine in your links (a favor I will gladly reciprocate). Many thanks!
====================
Father Funston is the rector of St. Paul's Episcopal Church, Medina, Ohio.