From the Book of Revelation:
I saw what appeared to be a sea of glass mixed with fire, and those who had conquered the beast and its image and the number of its name standing beside the sea of glass with harps of God in their hands. And they sing the song of Moses, the servant of God, and the song of the Lamb:
"Great and amazing are your deeds,
Lord God the Almighty!
Just and true are your ways,
King of the nations!
Lord, who will not fear
and glorify your name?
For you alone are holy.
All nations will come
and worship before you,
for your judgements have been revealed."
(From the Daily Office Lectionary – Revelation 15:2-4 – November 6, 2012)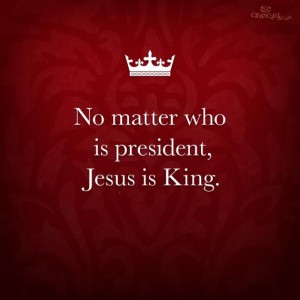 This song of praise from the Revelation to St. John of Patmos is a wonderful reminder on Election Day: God is the king of the nations; he alone is holy. Remember that when you go to the polls today. We are electing political leaders, not religious ones, and certainly not a savior.
In the Psalms there is another such reminder:
Put not your trust in rulers, nor in any child of earth, for there is no help in them.
When they breathe their last, they return to earth, and in that day their thoughts perish.
(Ps. 146:2-3, BCP version)
Today just happens to be the commemoration of one of Anglicanism's greatest theologians, Archbishop William Temple, who served as archbishop of Canterbury near the end of the Second World War. He served in that post only two years, from his appointment in 1942 to his death in October, 1944. He was a prolific author of philosophy and theology, and served in the episcopate for over twenty years (Bishop of Manchester, 1921-29, and Archbishop of York, 1929-42).
Addressing the 1938 Lambeth Conference (a decennial gathering of Anglican bishops), he said:
While we deliberate, God reigns.
When we decide wisely, God reigns.
When we decide foolishly, God reigns.
When we serve God in humble loyalty, God reigns.
When we serve God self-assertively, God reigns.
When we rebel and seek to withhold our service God reigns –
The Alpha and the Omega, which is and which was,
And which is to come, the Almighty.
John of Patmos, the Psalmist, Archbishop Temple . . . they all remind us, as does the graphic annexed to this little bit of prose, that no matter who is elected, Jesus is king; no matter how we decide, God reigns.
Or as Jesus would say, the sun will rise on Wednesday.

====================
Coffee with Jesus is from Radio Free Babylon's Facebook page.
A request to my readers: I'm trying to build the readership of this blog and I'd very much appreciate your help in doing so. If you find something here that is of value, please share it with others. If you are on Facebook, "like" the posts on your page so others can see them. If you are following me on Twitter, please "retweet" the notices of these meditations. If you have a blog of your own, please include mine in your links (a favor I will gladly reciprocate). Many thanks!
====================
Father Funston is the rector of St. Paul's Episcopal Church, Medina, Ohio.