====================
A sermon offered on Fourteenth Sunday after Pentecost (Proper 17B, Track 1, RCL), August 30, 2015, to the people of St. Paul's Episcopal Church, Medina, Ohio, where Fr. Funston is rector.
(The lessons for the day are Ecclesiastes 3:1-15; Psalm 15; James 1:17-27; and Mark 7:1-8, 14-15, 21-23. The Ecclesiastes lesson may be found in the Oremus Bible Browser; the others may be found at The Lectionary Page.)
====================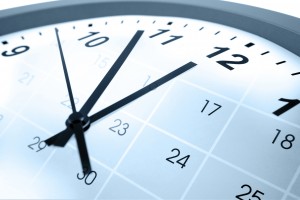 "This is neither the time nor the place . . . ."
Have you ever heard anyone say that? My mother and her mother were very fond of that saying. If you were doing something they didn't approve of, that was the sure fire way to stop it. If you were asking something they didn't want to answer, that was the answer you got. If you wanted to discuss something they didn't want to talk about, that put an end to the conversation.
"This is neither the time nor the place . . . ." (I learned very early on that, in my mother's and grandmother's estimation, there were somethings that never had a time or a place!)
Three weeks ago, you may recall, we heard part of the story of the rebellion of King David's son Absalom who had set himself up as a rival king leading to a civil war in ancient Israel. At the beginning of the Proper 14 reading from the Second Book of Samuel, David is sending out his army and giving instructions to his generals: "The king, David, ordered Joab and Abishai and Ittai, saying, 'Deal gently for my sake with the young man Absalom.'" (2 Sam 18:5) But Joab fails to follow the king's orders and Joab's armor bearers kill Absalom. As the army is returning to Jerusalem, a Cushite messenger runs ahead and informs the king of his son's death and, at the end of that reading, we are told:
The king was deeply moved, and went up to the chamber over the gate, and wept; and as he went, he said, "O my son Absalom, my son, my son Absalom! Would I had died instead of you, O Absalom, my son, my son!" (2 Sam 18:33)
What we did not read on that Sunday but were given to read this year in our Daily Office lessons is Joab's rebuke of the king for his mourning. You see, when his soldiers returned they found their king weeping and so, says the writer of Second Samuel, "the victory that day was turned into mourning for all the troops." (2 Sam 19:2) Joab tells the king "you have covered with shame the faces of all your officers who have saved your life . . . . You have made it clear today that commanders and officers are nothing to you." (vv. 5-6) He tells David to "go out at once and speak kindly to your servants; for I swear by the Lord, if you do not go, not a man will stay with you this night; and this will be worse for you than any disaster that has come upon you from your youth until now." (v. 7)
In other words, what Joab says to David is, "This is neither the time nor the place . . . ."
So David did what Joab advised him and nowhere again do we read about him mourning the death of his son. But I have a feeling that David was left to wonder, "If that wasn't the time, when is it? If that wasn't the place, where is it? When is the time to mourn the death of one's child?"
There must be one because elsewhere in Scripture, in the Book of Ecclesiastes, we are told:
For everything there is a season, and a time for every matter under heaven: . . . a time to weep, and a time to laugh; a time to mourn, and a time to dance . . . . (Eccl. 3:1,4)
When is the time to weep and mourn the death of one's child? When is the time to shake one's fist at reality and exclaim, "It isn't supposed to be this way! Parents are not supposed to outlive their children!?"
I don't know the answer to a lot of questions I get asked as a priest, but I do know the answer to that one as I have lived with it most of my life. Both my father and his only brother died before their parents, my grandparents. My only brother died before our mother. I know that the answer to that question is, "All the time and any time." Oh, one doesn't cry and carry on every minute of every day, and though pain of loss is never gone it's not always present, either. One gets on with life, like King David did because as Qoheleth the Preacher (as the author of Ecclesiastes is called) says, there is also a time to laugh and a time to dance and times for all those other things that make up our lives.
Today, we will formally accept and dedicate gifts from two of our parish families who, like my mother and my grandparents, have lived through the loss of their children in whose memory these gifts are given. Susan and Paul _________ have given us a new set of green vestments and hangings in memory of Susan's son Paul who died of cancer; Nancy and Michael ____________ have given us our new piano in memory of their son Colin who was lost to an immune-deficiency disorder. We are grateful to them for their generosity and hope that, in some way, their ability to make these gifts in memory of their sons eases their weeping and pours some small amount of the oil of joy onto their mourning.
The reading from Ecclesiastes which we heard to as our Old Testament lesson this morning is not the reading prescribed by the Lectionary. I chose to deviate from the Lectionary and use this text for a couple of reasons. One of which will become clear in a bit, but mostly I chose it because several years ago, Evelyn and I had the great misfortune to attend the funeral of a 6th Grade boy who had accidentally killed himself with his father's handgun. He was a school friend and fellow Boy Scout of our son. The preacher at the funeral used this text, or really I should say "misused this text," to deliver the message that the boy's death was "God's will and we just have to accept it." I cannot tell you how angry that sermon made me. Death of a child by whatever means, accident or disease or whatever, is never, ever God's will! "I have no pleasure in the death of anyone, says the Lord God," in the Book of the Prophet Ezekiel (Ezek 18:32). This first part of 8th Chapter of Ecclesiastes is one of my favorite parts of the Hebrew Scriptures, so I hated to see it misused that way; I want to set the record straight!
The great folksinger Pete Seeger set the words of Ecclesiastes 3:1-8 to music in the late 1950s and in 1965 the British rock group The Byrds covered it and had a No. 1 hit. I'm told Turn, Turn, Turn is the No. 1 pop song with the oldest lyrics. I'll bet most us who sang along with them during the rebellious 1960s had no idea we were singing words from the Bible. Anyway, it's a great song with a great message . . . and that message is not that everything happens according to some mysterious and arbitrary plan of God that we just have to accept and it is not that "everything happens for a reason."
Among those who believe that there is a God and that God created all that is, there is a spectrum of understanding about the involvement of God in the running of the universe. At one end of the spectrum is so-called "Deist" position; this is the belief that was held by many highly educated people in the 18th Century, among them most of the Founding Fathers of our nation. Deists held that God was less in the nature of a father-figure intimately involved with his children, and more like a clockmaker who had set the world running, wound up its spring and then let it function; this clockmaker God really takes little or no notice of what is happening in the lives of human beings. At the other extreme is the notion that "God has a plan for your life … for everyone's lives" … and that everything that happens in anyone's life is in accordance with that plan, everything is predetermined, and everything happens for a reason, which is God's reason and we should just accept that.
The truth is, most likely, somewhere in between and that's clearly where Qoheleth is. "Things and actions have their time," he says, "then they pass and other things and actions have their time;" there is a natural cycle to things. (P. Tillich, The New Being, Scribner's Sons, 1955) Qoheleth starts his enumeration of these things, these natural cycles, with birth and death. The natural cycles of time are beyond human control. We cannot control them and whatever control we may have of time is limited by them. They are the signposts which we cannot trespass.
Ecclesiastes is best known, perhaps, for its refrain, "Vanity of vanities; all is vanity!" (Eccl 1:2) In this regard, Qoheleth is testifying that "any human attempt to change the rhythm of birth and death, of war and peace, of love and hate and all the other contrasts [which he lists] in the rhythm of life is" a vanity. (Tillich) Instead, Qoheleth encourages us to be aware of these cycles, to understand that within them there is a "right time" to do one thing and not to do another. He does not suggest, in any way, that God is the micro-manager of every human life. Rather, he counsels us to follow these cycles as we exercise responsibility for our lives, do our own planning, and exercise our limited control according to them.
Qoheleth's assurance that there is a time for everything is part of what another preacher has called "the background operating system of [our] faith," the core truth that there is a God who is good and that existence. But this "operating system, this core truth "doesn't come with the assumption that all things, (including all the horrors we might encounter here), have a purpose," that "everything happens for a reason" known only to God.
That other preacher, the Rev. John Pavlovitz (who writes for Relevant Magazine), suggests such a distortion paints a picture of a god who makes us suffer for sport, who throws out obstacles and injuries and adversities "just to see what we'll do, just to toughen us up or break us down." To me, statements that "everything happens for a reason" or that something "is just the will of God" describe an arbitrary god who decides that this child will die of cancer while that one will become a star football player, or that this person will die of an accidental gun shot in the 6th Grade while that one will live to be 91. That is not the God in whom I believe and it is not the God testified to in these verses from Ecclesiastes. Qoheleth's God and ours does not arbitrarily micro-manage our lives. Rather, God wants to be "be happy and enjoy [our]selves as long as [we] live," for "it is God's gift that all should eat and drink and take pleasure in all" that we do (vv 12-13).
To believe otherwise leads to the religion of what James, in today's epistle, calls "hearers" who "on going away, immediately forget," rather than to the religion of "doers" who practice a holy generosity. To believe otherwise leads to the sort of religion that Jesus condemns in today's Gospel, a religion of arbitrary rules, of "washing of cups, pots, and bronze kettles" as Mark puts it, a religion of vain worship "teaching human precepts as doctrines" as Jesus puts it quoting Isaiah. To believe otherwise leads to "wickedness, deceit . . . envy, slander, pride, folly" and all those other "evil things [that] come from within and . . . defile a person."
Qoheleth's list of contrasting times, as one commentator has put it, "provides structure rather than a calendar," a structure within which "individual human moral decision making is possible." Ecclesiastes challenges us "to be wise, to be ethical, to discern when [our] actions are in keeping with God's time and then to act decisively." (NIB, Vol. V, page 308) Then, in the words of the Psalmist, we "may dwell in [God's] tabernacle," we "may abide upon [God's] holy hill." (Ps 15:1)
"This is neither the time nor the place . . . ." My mother and my grandmother were probably right about that most of the time. But Ecclesiastes is also right, "For everything there is a season, and a time for every matter under heaven . . . ."
I don't know why some children die before their parents, and some live to ripe, old age; I don't know why some people get cancer, and some don't; I don't know why some people get shot, or have to deal with disability, or suffer with mental illness. I don't know why there have to be hurricanes, and earthquakes, and parasitic worms that eat children's eyeballs. But I do know that these things do not happen for some arbitrary God-determined reason, that these things are not the will of God.
What is the will of God is that there is a time to deal with such things and there is a time to live life in spite them. Remember what Qoheleth wrote: "[God] has made everything suitable for its time; moreover [God] has put a sense of past and future into [our] minds . . . . [Therefore,] there is nothing better for [us] than to be happy and enjoy [our]selves as long as [we] live." The Indian poet and sage Kalidasa, about 400 years before the time of Christ, expressed the same thought:
Listen to the exhortation of the dawn!
Look to this day!
For it is life, the very life of life.
In its brief course lie all the
verities and realities of your existence.
The bliss of growth,
the glory of action,
the splendor of beauty;
for yesterday is but a dream,
and tomorrow is only a vision;
but today well lived makes
every yesterday a dream of happiness,
and every tomorrow a vision of hope.
look well therefore to this day!
Such is the salutation of the dawn!
Now is the time and now is the place when we give thanks with and to Nancy and Michael, and Susan and Paul, as they remember their sons, not their deaths but their lives, not with mourning but with joy, not with weeping but with generous acts of giving. May we all look well to this and every day and never be overthrown. Amen.
====================
A request to my readers: I'm trying to build the readership of this blog and I'd very much appreciate your help in doing so. If you find something here that is of value, please share it with others. If you are on Facebook, "like" the posts on your page so others can see them. If you are following me on Twitter, please "retweet" the notices of these meditations. If you have a blog of your own, please include mine in your links (a favor I will gladly reciprocate). Many thanks!
====================
Father Funston is the rector of St. Paul's Episcopal Church, Medina, Ohio.