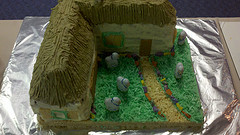 It was an extremely busy weekend. Our parish youth group held its Second Annual Homeless Awareness Sleep-Out with kids from several other parishes. Dozens of kids and adult chaperones slept in self-made cardboard shelters on the front lawn of the church to call attention to homelessness in our community. They raised more than $500 for Project Homes (our local shelter program) by "panhandling" on the town square. That was Saturday night.
Sunday morning the kids joined us for worship then, after our late service, we held the 5th Annual Gentlemen's Competitive Cake Auction. 23 men (including myself) of the congregation baked and decorated cakes which were auctioned for a total of $2,075. These funds will go to pay for our EYC's summer mission activities. (In the voting, I took home the coveted "Golden Apron" for my "Chestnut Cottage Cake".)
With all of that, I sort of fell down on the job of authoring my Daily Office Meditations for Sunday, March 25, and Monday, March 26. However, I will get those posted and get back on track for tomorrow, Tuesday, March 27.