====================
This sermon was preached at Christmas Eve Midnight Mass, December 24, 2013, at St. Paul's Episcopal Church, Medina, Ohio, where Fr. Funston is rector.
(The Revised Common Lectionary, Christmas II: Isaiah 62:6-12; Psalm 97; Titus 3:4-7; and Luke 2:1-20. These lessons can be read at The Lectionary Page.)
====================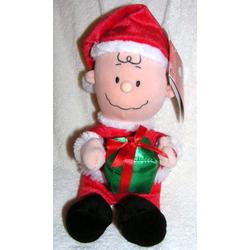 A few weeks ago, I was shopping at Giant Eagle and I wondered down the seasonal products aisle, which had been rapidly cycling through Halloween, then Thanksgiving, and now Christmas. On one shelf, I spotted something that pulled me up short; I had to have it and I knew that it would influence my Christmas Eve sermon. It was this Charlie Brown Christmas doll.
That same day, a ministry colleague who runs a tongue-in-cheek Facebook group entitled "The Society for the Prevention of Tacky Vestments" posted a picture of a clergy stole — this one — covered with pictures of the Peanuts gang opening presents around a Christmas tree. I knew I had to have it! I asked her where she'd found it and she directed me to an eBay page where I ordered it. It is truly tacky! It's got all the wrong colors — it's mostly red, the color of martyrdom — and sends all the wrong messages — it's crassly commercial; it's all about the worst of the secular observance of Christmas; it's got nothing religious on it at all. (It made me sort of wonder: if your Christmas fabric has nothing about Jesus on it, what's the point of making a stole out of it?) Nonetheless, I had to have it and I knew that, together with Charlie Brown here, it would influence this Christmas Eve sermon. Let me tell you why . . . .
When I was seven years old, about a month or so into the first semester of Second Grade, my mother decided that we (she and I) would take an extended Thanksgiving-through-Christmas holiday with her parents in Long Beach, California. At the time, we were still living in my hometown, Las Vegas, Nevada. My father had died a year and a half before; my older brother was living with our other grandparents in Kansas. So, it was just the two of us.
I guess she had made arrangements with her employer to take an extended leave, and with my school because I was going to have to do reading and arithmetic assignments while we were gone, but that was OK with me. At least I wouldn't have to go to school and endure the daily routine with Mrs. Dougherty!
So for a little more than a month encompassing those two major holidays, we shared my grandparents' second floor walk-up a block from the beach and the Nu-Pike amusement park in Long Beach. On the ground floor of the building where they lived were two businesses: a dentist's office and my grandfather's barbershop. For some reason, the barbershop was closed! My grandfather had packed up his tools (they were now in a case in the front hall closet of the apartment) and put the business up for sale.
I was later to learn that he had done so because he was suffering with late-stage colon cancer; he was struggling to wrap up his affairs and make sure my grandmother would be provided for after his anticipated death, which came just a few months later in March of the next year. What was an extended holiday vacation for me, was anything but for my mother. She was there to spend a last Christmas with her father, and to help him deal with all the messy reality at the end of human life.
Sometime during the week before Christmas, my grandmother and my mother went off to do some shopping, and my grandfather got it into his head that my hair was too long. (I had hair in those days and it was sort of longish.) So he set a stool in the bathtub, told me to sit on it, draped me with one of his barber's capes, got his tools from the front hall closet, and went to work. The reason he could no longer barber became painfully obvious as the haircut progressed.
He suffered from recurrent stabbing gut pain because of the cancer, and while he was cutting my hair one of these occurred. He flinched and made a mis-cut with his electric barber sheers. He didn't cut me, but he did shave a 2-inch stripe up the back of my neck and across the top of my head! There was nothing to be done for it but to shave the rest of my head . . . . so that I ended up looking pretty much the way I look now, without the beard, of course.
A few days later, my brother joined us for the holidays and his first words on seeing me were, "You look just like Charlie Brown!" referring to this character from the Peanuts comic strip which had been our late father's favorite. For the rest of that holiday week, that's what he (and everyone else) called me.
Eventually my hair grew back and the haircut was forgotten. But that name stuck, and for the rest of my childhood and youth, my family nickname was "Charlie Brown." So when I saw these Peanuts-related Christmas things, I knew I had to have them; and I knew that I would preach about them tonight.
The Peanuts franchise proved to be even more durable than my nickname. In 1965 it was the source of one of the most memorable and still best-loved Christmas specials on TV, A Charlie Brown Christmas; in fact, it was rebroadcast by ABC just last Thursday. 48 years after its debut and 13 years after the death of its creator, Charles Schulz, that cartoon Christmas special continues to touch hearts. In part because of its endurance, TV Guide has ranked Peanuts as the 4th greatest television cartoon of all time. (The top three are The Simpsons, The Flintstones, and the original Looney Toons series.)
If you've seen the Peanuts Christmas special, you know that there is a point in the story — which revolves around the kids putting on a Christmas play with a subplot involving Charlie Brown's forlorn-looking little Christmas tree — there is a point in the story when Charlie cries out, "Isn't there anyone who knows what Christmas is all about?" Linus replies, "Sure, Charlie Brown, I can tell you what Christmas is all about," and walks out onto the stage where the play is to be performed. He calls for a spot light, and then begins to recite St. Luke's nativity narrative, the same Gospel story we just heard. He ends with the message of the angels, "Glory to God in the highest and, on earth, peace, goodwill towards men." As he walks back over to Charlie Brown, he says, "That's what Christmas is all about, Charlie Brown."
David Michaelis, in his biography of Charles Schulz entitled Schulz and Peanuts, tells the story behind this. During development meetings early in the production of the special, Schulz "proudly announced" that there would be "one whole minute" of Linus reciting the Gospel. The producer, Bill Melendez, tried to talk him out of it. But Schulz, who was an active "lay preacher" in the Church of God, insisted, "We can't avoid it — we have to get the passage of St. Luke in there somehow. Bill, if we don't do it, who will?" Schulz was asking, as I had asked about my Peanuts-inspired stole, "If Jesus isn't in Christmas, what's the point?"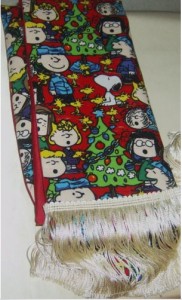 And it seems to me that that question, raised by Peanuts and Charlie Brown, by this doll and that special, by this silly stole that I will never wear again, is one we really need to think about: If Jesus isn't in Christmas, what's the point?
Now, I'm not a proponent of the nonsense that Bill O'Reilly and others put out about some mythical "war on Christmas." There isn't one. A war on Christmas might actually be a good thing: the history of the church throughout the world, from its founding by the Apostles to the present day, demonstrates that where the church is actively persecuted, where there is a war against the church and its message, the faith is strong and grows. The 2nd Century Church Father Tertullian wrote that "the blood of martyrs is the seed of the Church." A real war on Christmas would be a good thing! But there isn't one.
What there is, I think, is not so much a war on Christmas, as an indifference towards Jesus! There's plenty of holiday music on the radio and in the stores, but precious little of it mentions Jesus! There are yard displays galore, although there are a lot more Santas, Frosties, Grinches, and elves than baby Jesuses and Holy Families! There are scores of people attending parties, concerts, and special programs, many more at those venues then there are in churches like this. The winter solstice is being celebrated all over the place and the world around us is calling it "Christmas," while exhibiting a gross indifference to Jesus . . . but if Jesus isn't in Christmas, what's the point?
Christmas, as Linus told Charlie Brown and reminded us, ought to be about Jesus being born in a stable in Bethlehem. Born there because the emperor had declared a census, a crucial element in the Roman empire's system of taxation. In the ancient world, taxes were profoundly oppressive, especially in an economic system filled, as our own increasingly is, with individuals living at the very edge of survival. In a world full of working poor with very little to spare, the insatiable appetites of Roman military might and power, like the insatiable appetites of today's government-subsidized corporations, cost ordinary people a great deal.
From his very first breath, Jesus' life was shaped by oppressive power. His very existence was threatened by distant rulers, by Herod who would try to kill him as an infant, and by the Roman empire which would one day work his death, a death he would conquer and in conquering give meaning to his birth and his life.
In a very real sense, Jesus was born homeless. If Jesus were to be born today, he would likely be found in a tent city, under a turnpike overpass, in a city-center shelter, not in the safety of a maternity ward. If Jesus were to be born today, he would be found among those who suffer most but hope for much better, with those who rely on the kindness of strangers, on the goodness of the society around them to survive.
Jesus' birth, as Linus told Charlie Brown and reminded us, was announced to shepherds. The announcement did not ring in the throne room of Caesar, nor that of Herod, nor even in the city council chambers of Bethlehem. The good news was first heard by powerless, anonymous people in a dirty camp watching their sheep and yearning for something better.
The world around us is indifferent to these realities of Jesus' birth. The world around us, filled with those who are desperately poor, encourages us to ignore them, to make merry with an abundance of glitz and glamor rather than exhibit a generosity of spirit. The world around us, filled with those who have nowhere to live, encourages us to disregard them, to celebrate consumption and excess rather than the sufficiency of family and faith. The world around us, filled with powerless people whose lives are a mess, encourages to take no notice, to revel in plastic perfection instead of the complicated, beautiful reality of untidy human life.
Sunday evening our Church School children performed their annual Christmas pageant. It was fun and funny. It was lovely and it was sweet. The kids did a good job and everyone had a good time, but as I watched it I was struck by how little of Jesus there was in it. In fact, when it was all over, one of the parents in the audience asked, "But where's Jesus?" Joseph (who was a 15-year-old boy who stands about 6′ 3″) held up a small doll which had been tucked away out of sight in an over-sized manger crib. It was a funny moment, but it underscored our question: If Jesus isn't in Christmas, what's the point?
In Linus's brief one-minute of Gospel recited in the middle of what was otherwise a cute children's Christmas cartoon, the Peanuts Christmas special reminded us that Jesus is in Christmas and that at its core Christmas is not a holiday for children! The secular celebration of the winter solstice with its parties, with its gift giving (and receiving), with its glitz and glamor and plastic perfection — that is a holiday for children and for those who act like children. But the commemoration of the poor, homeless, messy birth of Jesus, given meaning by his poor, homeless, messy death, redeemed by his glorious and life-affirming resurrection, this Christmas is a holy day for grown-ups!
A little more than a decade ago, a priest of our church named Fleming Rutledge suggested that the idea that Christmas is entirely for children encourages spiritual immaturity. She wrote:
In these stress-filled times, virtually all of us, as we get older, will seek relief by visiting, in our imaginations, a childhood Christmas of impossible perfection. These longings are powerful and can easily deceive us into grasping for a new toy, new car, new house, new spouse to fill up the empty spaces where unconventional love belongs. Our longings are powerful, our needs bottomless, our cravings insatiable, our follies numberless. For those who cannot or will not look deeply into the human condition, sentiment and nostalgia can masquerade as strategies for coping quite successfully for a while — but because it is all based on illusion and unreality, it cannot be a lasting foundation for generations to come. (For Grown-Ups)
In other words, if Jesus isn't in Christmas, what's the point?
In the 4th Century, St. Augustine of Hippo wrote a prayer in his autobiographical Confessions. "You," he wrote to God, "have made us for yourself, O Lord, and our hearts are restless until they rest in you." If we are honest, we all have that deep longing — that sense of something missing in our lives. It comes with maturity and is a sort of nagging feeling that something about us is incomplete. We grown-ups, unlike children, are consciously aware of how fragile life is; we know how limited and unfinished we are. We know that if Jesus isn't in Christmas, there is no point!
Samuel Wells, the dean of the chapel at Duke University, wrote an article a few years ago about his experience attending a Christmas pageant at a church in Delhi, India, where the parts were all played by adults. (Christmas Is Really for the Grown-Ups) His initial reaction, he said, was to be flabbergasted: "Everyone knows the unique charm of Christmas is lost if adults take it too seriously. I sat there in Delhi and thought, Don't these people realize that Christmas is really for the children?" (Emphasis his.) But as the play went on his perception changed: "[W]hen you see a nativity play performed by adults in a country like India, . . . you see for a start that Christmas is about suffering people."
"This is a story," he wrote, "about political oppression, harsh taxes, displaced people, homelessness, unemployment, vulnerable refugees and asylum-seekers. That's the danger of performing it in a place like Delhi and having it acted out by adults who themselves know the very real possibility of any or all of these realities. We might have to recognize what it's really about."
And there's more. Making note of the biblical account of Elizabeth's barrenness, Mary's unplanned pregnancy, Joseph's confusion and possible humiliation, Wells comments, "The Christmas story's teeming with personal grief, unresolved longings, uncomfortable secrets, shabby compromises, intense fears, social humiliation, and aching hurts."
"When you sit in a market square in Delhi and see adults performing the Christmas story in an open-air nativity play. . . . . You see that Christmas is about people struggling, not just politically, but personally. Everywhere you look in the Christmas story you see people clinging on with their fingertips to life, to sanity, to respectability, to hope."
Then Wells considers the wise men scanning the heavens and making their pilgrimage to Bethlehem; he points to the shepherds shivering on the hillside and, later, to Anna and Simeon waiting in the Temple. "When you see adults performing a nativity play, not for their grandparents' camera-shots but in order genuinely to inhabit the story and make it their own, you see people not just suffering, not just struggling, but also searching. . . . . The nativity story is full of people searching, people yearning, people wanting to believe there's more than just appearances and surviving and making a living and staying cheerful."
When we consider the Christmas narrative as a story for adults, says Wells, it "encourage[s] us to name and explore the edges of our own faith, and commitments, and convictions, and questions." Christmas as a story for grown ups encourages us to get in touch with the suffering in the story, the discrimination in our own culture, the political oppression in our own world. Christmas encourages us as adults to get in touch with the struggling in the story, the disappointment, distress, and despair in the lives of the Holy Family, the wise men, the shepherds, and all the others, and to recognize their struggle in our own lives and in the lives of those around us. Christmas encourages us grown-ups to get in touch with the searching in the story, with the nagging incompleteness of human life, the unresolved questions of faith, the yearning of people aching for truth, longing for meaning, waiting for hope, reaching out for God.
The adults acting out the Nativity play in India and the Peanuts gang (especially Linus) putting on their Christmas pageant in the television special both underscore the importance of our question: if Jesus isn't in Christmas, what's the point?
Christmas is not a holiday entirely for children, but it is a holiday entirely about a Child, the child Jesus who is God Incarnate, the Son of God who chose to become as limited, as fragile, as human as we are.
Charlie Brown's question, "What's it all about?" is our question, and Jesus, the Child born in the stable, is our answer. Our lives, with all their nagging incompleteness, are in the hands of a God who became human, who was born poor and homeless, who joined us in all the messiness of human life. The God who comforts us and lifts us up when we can't lift ourselves up became Jesus, the Child born in a stable and laid in a manger, an infant who could not lift himself up, who needed to be comforted and lifted up by others, and thus inspires us to comfort and lift up others — the ones he would call members of his family: the poor, the homeless, the suffering, the struggling, the searching, the ones who live in the messiness and incompleteness of our world.
Without Jesus in Christmas, there is no point, because Jesus is the point! In the end Jesus is the good news of Christmas: that God, made fully known in Jesus, is with us, in all our suffering, in all our struggling, in all our searching, in all the messy incomplete reality of grown-up human existence.
Linus answering Charlie Brown by reciting that one-minute of Gospel in the middle of what is otherwise simply a cute children's Christmas cartoon reminds us that Christmas really isn't for children. It's for adults.
It's for you.
====================
A request to my readers: I'm trying to build the readership of this blog and I'd very much appreciate your help in doing so. If you find something here that is of value, please share it with others. If you are on Facebook, "like" the posts on your page so others can see them. If you are following me on Twitter, please "retweet" the notices of these meditations. If you have a blog of your own, please include mine in your links (a favor I will gladly reciprocate). Many thanks!
====================
Father Funston is the rector of St. Paul's Episcopal Church, Medina, Ohio.