From the Prophet Isaiah:
The Lord saw it, and it displeased him
that there was no justice.
He saw that there was no one,
and was appalled that there was no one to intervene;
so his own arm brought him victory,
and his righteousness upheld him.
He put on righteousness like a breastplate,
and a helmet of salvation on his head;
he put on garments of vengeance for clothing,
and wrapped himself in fury as in a mantle.
(From the Daily Office Lectionary – Isaiah 59:15b-17 (NRSV) – January 8, 2013.)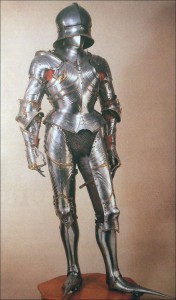 I am fascinated by this picture of God arming for battle, putting on his breastplate, his helmet, and his mantle, donning the "garments of vengeance." It is, of course, injustice and evil against which God is arming. St. Paul picked up on the picture painted here by Isaiah when he admonished the Christians in Ephesus:
Take up the whole armor of God, so that you may be able to withstand on that evil day, and having done everything, to stand firm. Stand therefore, and fasten the belt of truth around your waist, and put on the breastplate of righteousness. As shoes for your feet put on whatever will make you ready to proclaim the gospel of peace. With all of these, take the shield of faith, with which you will be able to quench all the flaming arrows of the evil one. Take the helmet of salvation, and the sword of the Spirit, which is the word of God. (Eph. 6:13-17)
When Paul tells the Ephesians (and us) to put on "the whole armor of God" that is precisely what he means! We are to wear God's own battle gear and just as God is portrayed by the prophet as going to war against injustice, so are we; our battle is "against the cosmic powers of this present darkness, against the spiritual forces of evil in the heavenly places." (Eph. 6:12) That, one has to admit, is a tall order . . . but it is our order.
How does one wage war against "this present darkness" and "the spiritual forces of evil"? The answer is contained within the admonition: truth, righteousness, peace, faith. This is a battle we do not with outside forces, but with ourselves. If we are true and righteous, if we live lives of peace, if we have faith, we win the battle. And the only ones who can prevent us from doing so are ourselves! Wrap yourself in God's mantle!
====================
A request to my readers: I'm trying to build the readership of this blog and I'd very much appreciate your help in doing so. If you find something here that is of value, please share it with others. If you are on Facebook, "like" the posts on your page so others can see them. If you are following me on Twitter, please "retweet" the notices of these meditations. If you have a blog of your own, please include mine in your links (a favor I will gladly reciprocate). Many thanks!
====================
Father Funston is the rector of St. Paul's Episcopal Church, Medina, Ohio.