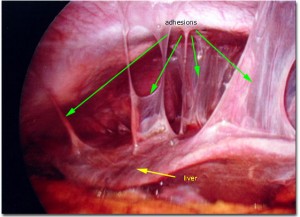 As a human body moves, its tissues or organs normally move and shift, repositioning themselves in relation to one another within a normative range; nothing in the body is static. These tissues and organs have slippery surfaces and natural lubricants to allow this. Inflammation, infection, surgery, or injury can cause bands of scar-like tissue to form between the surfaces of these organs and tissues, causing them to stick together and prevent this natural movement.
Adhesions can occur almost anywhere in the body, including the joints, eyes, and nside the abdomen or pelvis. Adhesions grow and tighten over time, further restricting the natural repositioning of the organs. Adhesions cause organs and body parts to twist painfully and pull out of position; over time, the body becomes unable to move normally.
Adhesions form in the body of society, as well.
The American body politic has been wounded again. This time in a nightclub in Florida. An AR-15 in the hands of an angry man and fifty are dead; more than fifty seriously injured. The news media barrage us with reports: "The worst mass shooting in American history." How does one gauge that? What is the measure of "worstness"? Is it (this is the metric used by the reporters) solely a matter of the number of dead and wounded? The number covers up the fact that each death is a singular and unique tragedy, each individual a particular loss to his or her friends or family; each one's murder the worst thing that ever happened to that person, to the intimate groups to which she or he belonged.
Spiritual and political adhesions form every time this happens. Organs of society which ought to slide past one another in conversation, whose movement against one another should be lubricated by both civility and recognition of distinct, though perhaps occasionally common, interest, become unhealthily linked. A commentator recently took note that (on what is called the political "right") there is, for example, a handful of notional associations, in many ways contradictory, that have been melded into an irrational identity: evangelical Christianity, neoliberal economic theory, Second Amendment idolatry, nativist anti-immigrant sentiment. On the "left" one can see a similar nonlinear grouping of (for example) pro-LGBT sentiment, socialist economics, anti-religious intellectualism, gun regulation enthusiasm, and support of reproductive rights.
There is no reason for a uterus to be connected to the woman's abdominal wall, but when it is the result is discomfort, pain, and even infertility. There is no reason so-called Austrian school economics should be associated with gun ownership rights, but when they are the National Rifle Association becomes a spokesman for the arms industry not a promoter of gun safety. There is no reason anti-immigrant nativism should be linked to evangelical Christianity, but when it is the Bible's words to "love the stranger, for you were strangers in the land of Egypt" (Dt 10:19) are quickly forgotten.
Adhesions . . . the scar tissue of trauma, the scar tissue of Columbine, of Sandy Hook, of Santa Barbara, of so many other times and places, and now of Orlando . . . and, as well, the scar tissue of 9/11, of Iraq, of Afghanistan, and (stretching back), the still-strong scar tissue of Vietnam . . . of Kent State, of Stonewall, of the Edmund Pettus Bridge, of the 16th Street Baptist Church . . . the list is endless, the scars old and strong, the adhesions tight and painful.
The only "cure" for adhesions is more pain; they must be surgically cut away, and there must be painful, therapeutic movement to prevent new adhesions from forming. The time is long since passed for the social surgery we so desperately need; we can wait no longer. We must sever the linkages and associations which distort and twist our social organs and render us incapable of movement. The first step in such separation is for individuals to examine their own consciences, to recognize the inconsistencies and unnecessary associations which bind them. Just as the number "50" obscures the individual tragedy of each death or traumatic injury in Orland, so do the labels "NRA," "progressive," "Christian," "patriot," "socialist" obscure the adhesions in our individual psyches, in our spirits.
Just because one may take a nativist stance on immigration reform, for example, does not necessarily require that one oppose the enactment of common sense gun safety regulation. Just because one believes that all people regardless of gender or sexuality should be allowed to marry the person they love does not preclude one from holding to the tenets of evangelical Christianity. You and I may disagree about one position, yet agree on a second. Our disagreement as to the first cannot be allowed to prevent us from working together on the second. It is only the painful, unnatural, and unhealthy adhesions of social scar tissue that do so, and we must cut those away!
"The unexamined life is not worth living," said Socrates. The Catholic Church teaches that an examination of conscience is a "prayerful self-reflection on our words and deeds in the light of the Gospel to determine how we may have sinned against God." Whatever one's starting point, secular philosophy or religious belief, the terrible event at the Pulse nightclub must encourage each of us to examine our own minds, beliefs, allegiances, and positions, and begin the painful task of cutting away the adhesions that bind us, individually and societally, into inaction.
=====================
Image of pelvic cavity adhesions from Pelvic Factor Tutorial.