====================
A homily offered by the Rev. Dr. C. Eric Funston on the Fifth Sunday after Pentecost, June 19, 2016, to the people of St. Paul's Episcopal Church, Medina, Ohio, where Fr. Funston is rector.
(The lessons for the day are Proper 7C of the Revised Common Lectionary: Isaiah 65:1-9; Psalm 22:18-27; Galatians 3:23-29; and St. Luke 8:26-39. These lessons may be found at The Lectionary Page.)
====================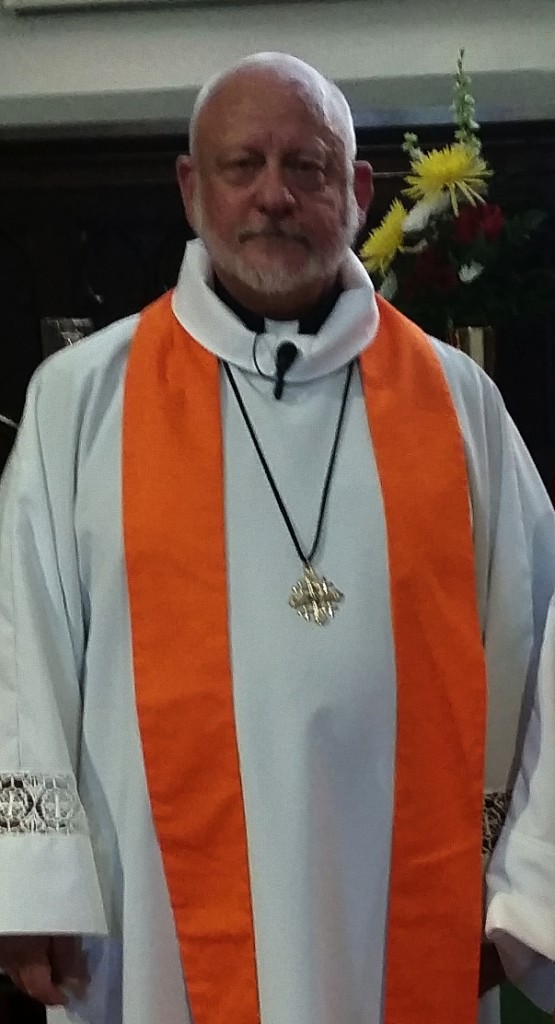 Twenty-four years and 363 days ago I was made a priest; some what more than a year more than that, I have been a deacon. I have been in parish ministry for more than 26 years and on Tuesday I will celebrate the 25th anniversary of my ordination to the Sacred Prebyterate.
I am good at what I do. I know well how to craft liturgy; I take care in what I do and the choices I make in creating the outline of a worship service, and I do a good job. I run a tight ship when it comes to parish administration and management of the church's resources.
I have been a Diocesan Chancellor, and served on Diocesan Councils, Standing Committees, Commissions on Ministry, Constitution and Canons Committees, and other interim bodies of the church. I have been a deputy to General Convention, an alternate Deputy, and a participant in the church's deliberative and legislative processes.
I have shepherded aspirants through the church's ordination process and mentored the newly ordained and the newly assigned; one of my apprentices is now the rector of a major parish in this diocese; another is now bishop in an important and historical diocese; my own son is rector of an important congregation in his diocese.
People tell me I preach a pretty good sermon, though sometimes I don't recognize the homilies they tell me I have delivered. They tell me I'm good with death, that they want me to officiate at their funerals when the time comes. Others compliment me on the beauty of weddings at which I preside.
I'm a good priest.
And yet I have my demons. Visiting someone in the hospital, or sitting with a family planning a funeral, or counseling a couple prepare for marriage (or a couple in the midst of a marriage possibly coming to an end) … I'm never sure that I have said the right thing. In fact, I'm often positive that I've been a complete failure, that nothing I've said has made any difference, except perhaps to have made things worse.
Sometimes I get cards, or letters, or emails thanking me for my ministry. I treasure those; I keep them in a special drawer in my desk. More often, I get letters and emails telling me how I have failed, how someone is disappointed in what I have said or done or failed to say or haven't done, or (worse) I am forwarded a note or email telling someone else like a church warden or a vestry member what a disappointment the rector is.
I don't keep those – I don't have to; every single one of them is etched into my consciousness, engraved on my heart; every single one of them hurts as much today as when first read however recent or long ago it may have been. Every one of them is a constant reminder of how I have failed to live up to my ordination vows.
But I'm a good priest; I know I'm a good priest.
I love the people of my parish – you. Sometimes, I don't like some of you very much, but I love you. I pray for you every morning; I lay awake at night worrying about you; I cry myself to sleep when I feel that I have failed you.
I love you, but I don't do what I do for you. And when I fail you, when I don't live up to you expectations, when I preach a word that discomfits you and you push back … it isn't you to whom I answer. It is the one who sets me free from my demons.
Jesus says to me, as he said Gerasene demoniac, "What is your name?" And demons begin to name themselves, "Parishioner complaint. Parishioner disappointment. Self-criticism." And then, of course, there's "Disappointing son. Inadequate father. Second-rate spouse. Poor excuse for an attorney." The demons are legion. And Jesus gives me permission to let go of them, and gives them permission to leave. Because what I do, I do for him. I do what I do for God. I don't know where those names, those demons go … maybe into a herd of swine; I don't know. They go away … sometimes they seem to come back, but mostly they go away.
And sometimes I just want to go away, too; I want to go away with Jesus. I beg that I might just go away and be with him; but Jesus won't let me. He says to me, "Return to your home, and declare how much God has done for you." So I preach. I preach about gun violence; I preach about mental health; I preach about community, and fellowship, and love; and I preach about what I read in the newspaper and what I read in the Scriptures. But always, no matter what the subject may seem to be, I preach about how much Jesus has done for me. For 25 years.
For 25 years. And I'm grateful to Jesus who called me to this ministry, who has sustains me in this vocation, and who frees me from my demons. Because of him, I'm a good priest.
====================
A request to my readers: I'm trying to build the readership of this blog and I'd very much appreciate your help in doing so. If you find something here that is of value, please share it with others. If you are on Facebook, "like" the posts on your page so others can see them. If you are following me on Twitter, please "retweet" the notices of these meditations. If you have a blog of your own, please include mine in your links (a favor I will gladly reciprocate). Many thanks!
====================
Father Funston is the rector of St. Paul's Episcopal Church, Medina, Ohio.