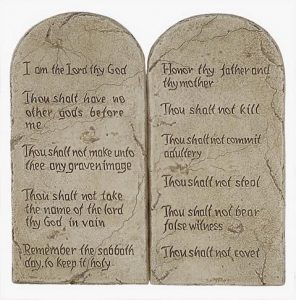 Here they are. The "Big Ten"! The words of Exodus[1] that Right-wing fundamentalists want to chisel in granite and put in American courthouses unless, of course, they prefer the similar (but not quite the same) version in the Book of Deuteronomy.[2]
My sort of go-to guy on the Old Testament is a Lutheran scholar named Terence Fretheim, who is Professor Emeritus of Old Testament at Luther Seminary, Saint Paul, Minnesota. My first grounding in the Hebrew Scriptures was from a short, two-volume study guide he wrote with co-author Lutheran pastor Darold H. Beekman entitled Our Old Testament Heritage.[3] A couple of years ago, Fretheim wrote a short online commentary on today's Old Testament lesson in which he said:
The Ten Commandments are not new commandments for Israel (see Exodus 16:22-30), but they are a convenient listing of already existing law for vocational purposes. Moreover, the Commandments were not thought to be transmitted in a never-to-be-changed form. They were believed to require adaptation in view of new times and places.[4]
This is why the version set out in Deuteronomy is slightly different.