As many of you know, I have a tradition of keeping my eye open, while doing my Christmas shopping, for some object to use as a physical illustration for this annual event, this sermon on the Nativity of Our Lord and Savior Jesus Christ. Over the years, these illustrative objects have included a pair of Christmas stockings, a Christmas banner with the greeting misspelled, and a stuffed frog wearing a Santa hat. Finding and using the annual "focus object" has become a source of great fun for me and I hope for the congregations who've been subjected to my preaching.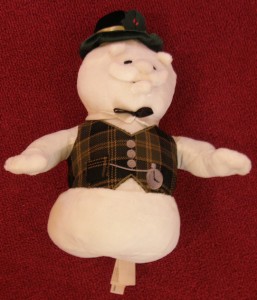 Over the past ten days or so I have been required almost every day to visit one of our larger local grocery stores, one which has a center section devoted to seasonal merchandise. On each visit as I walked through that section, one item on a top shelf kept catching my attention, but each time I declined to buy it. Every day I would go away and wonder why I was attracted to that particular thing, and those contemplations made their way into my notes for this homily.
Finally, yesterday I went to the store and bought it – meet Frosty the Snowman.
Christmas is a holiday which, more than any other, is characterized by music which actually has nothing to do with it! Just think about all the "seasonal" songs that you have been hearing on the radio and in the stores since Halloween. There is a lot of "Christmas" music that has nothing whatsoever to do with Christmas, that don't even mention Christmas! These are winter songs, not Christmas songs. Let's name a few: Winter Wonderland, Jingle Bells, Let It Snow! Let It Snow! Let It Snow!, Sleigh Ride. The song Frosty the Snowman is also one of these non-Christmas Christmas songs (although some versions do mention Christmas in the last line of the lyrics).
There's also a bunch of songs that are only tangentially about Christmas in that they contain the word "Christmas" but that's all. The epitome of these is the one called The Christmas Song (also known as Chestnuts Roasting on an Open Fire) which mentions Christmas only in its last line. Others in this category are White Christmas, I'll Be Home for Christmas, and the ever-popular All I Want for Christmas Is My Two Front Teeth. Rudolph the Red-Nosed Reindeer is in this second group.
And, of course, there is a huge category of music that is specifically about Christmas and its celebration of the birth of the Savior. This group includes not only the traditional hymns and carols of Christmas, such as we are singing here this evening, but also songs written to make a particular point about Christmas. For example, did you know that the carol It Came Upon a Midnight Clear with its call to live in peace was written by Unitarian minister Edmund Sears as a protest against the Mexican-American War? Another Unitarian, Henry Wadsworth Longfellow, wrote the carol I Heard the Bells on Christmas Day after getting news that his son had been critically injured in the Civil War, and Do You Hear What I Hear? was written in response to the Cuban Missile Crisis.
All of these songs, whether they actually mention Christmas or not, whether they have anything to do with Jesus or not, whether we know their origins or not, warm our hearts, recall loved ones to our memory, and perhaps bring tears to our eyes. I would hazard a guess that, for most of us, our Christmas memories and emotions are triggered more by music than anything else. The music of Christmas, whether commercial or liturgical, secular or religious, resonates in our souls. Perhaps that is why Frosty here kept catching my attention as I walked through the supermarket.
I'm almost 60 years of age, so Frosty the Snowman has been a part of Christmas for my entire life. He was invented by a couple of song writers in 1950 as an attempt to cash in on the phenomenon of Rudolph the Red-Nosed Reindeer which had been introduced to popular culture just the preceding year by Gene Autry. Most of us, I think, believe that Rudolph and Frosty have been around forever, but the truth is that they are both only a couple of years older than me!
Now most of us my age or younger who have children ourselves are familiar with Frosty's embodiment as a cartoon character in the Rankin/Bass television special that premiered in 1969 and has run on CBS every year since. It's that cartoon version of Frosty's story that I want to talk with you about tonight, because I think it demonstrates how even the least religious of Christmas-season songs and secular Christmas images can get us thinking about Jesus. How, instead of carrying on (as some do) about some imagined "war against Christmas," we can evangelize the secular and find the peace of Christmas even in the commercial. So….
On the one hand, we have Frosty (my plush-toy friend from the supermarket) … and on the other, we have Jesus (represented by the Jesus Action Figure given to me by my children a several years ago).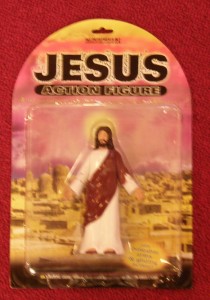 In the cartoon, Frosty's first words as he comes to life on Christmas Day are, "Happy birthday!" He may be referring to his own "birthday" but, in truth, Frosty is made not born. Jesus, on the other hand, as we confess in the Nicene Creed, is "begotten, not made … by the power of the Holy Spirit he became incarnate from the Virgin Mary" (BCP 1979, page 358) and was born in a stable in Bethlehem. Frosty's wish of "Happy birthday!" is a greeting to the new-born king.
Frosty is made of snow, snow which has fallen from the sky or, one might say, has come down from the heavens. This reminds us, again, of our credal faith that Christ "for us and for our salvation … came down from heaven" (Ibid).
As the story of Frosty progresses, he gathers a group of young students as his followers. Another word for student is disciple, and so we are reminded that Jesus gathered a group of disciples who became his apostles, spreading the Gospel message through their teaching and training generations of Christians. As St. Paul wrote to Bishop Titus of Crete in our epistle lesson tonight, "The grace of God appeared, bringing salvation to all, training us … to live lives that are self-controlled, upright, and godly" (Titus 2:11-12).
In the song, Frosty is brought to life by the "magic in [an] old silk hat" the children who made him found and put on his head. In the cartoon, that hat is the discarded top hat of an inept magician called Professor Hinkle; the basic storyline of the cartoon is the conflict between Hinkle and Frosty and his followers as Hinkle tries to take back the magic hat.
One of the children is a little girl named Karen who accompanies Frosty as Hinkle chases him. Karen begins to suffer from the cold and Frosty, in a self-sacrificing move, takes her into a greenhouse filled with poinsettias. Professor Hinkle traps Frosty in the warmth of this indoor garden and, of course, Frosty "dies" as he melts away into a puddle. This recalls to us that Jesus allowed his enemies to capture him in a garden at Gethsemane and that his enemies ultimately condemned him to death and killed him. Frosty "died" to save Karen; Christ died to save us. It is Jesus' death, resurrection, and ascension which give meaning to and make important for us his birth which we celebrate tonight. And, as you may have guessed, the story of Frosty reminds us of Easter and the Ascension, as well.
Santa Claus makes an appearance in the Frosty story at this point, opening the greenhouse to the magical-if-freezing winds of Christmas, a reminder of the mighty rushing wind of the Holy Spirit, and the puddle that was once Frosty, made from Christmas snow, reforms itself into the snowman. Father Christmas places the magic hat on his head and Frosty is resurrected. Thus we are reminded that "on the third day [Christ] rose again in accordance with the Scriptures" (BCP 1979, page 358).
After celebrating Frosty's return, Santa takes Karen home and he and Frosty fly off to the North Pole, Frosty sitting in the right-hand seat of the sleigh. In the cartoon and the song, Frosty "waves goodbye saying, 'Don't you cry, I'll be back again some day.'" Frosty's departure and parting words remind us all that Jesus "ascended into heaven and is seated at the right hand of the Father" and that "he will come again in glory to judge the living and the dead, and his kingdom will have no end" (Ibid).
Now, I'll admit this comparison of Frosty and Jesus might be condemned as more than a little bit silly. You'll think it's even sillier when I tell you that I got the idea from an atheist internet website that did the same sort of thing as an exercise in trying to prove not that Frosty is a reminder of Jesus, but that Jesus like Frosty is a fictional character. But I would suggest otherwise, that it's not silly at all. Quite to the contrary, I would submit to you that it teaches us that even the most secular of the winter songs and holiday traditions can be the source of spiritual enlightenment, that we can enjoy these songs and characters with our children and make use of them to teach the Faith we treasure.
When we listen to White Christmas we should at least be mindful of the many homeless for whom a snowy night is anything but "merry and bright." When in another song we sing the lyric "Good tidings to you, and all of your kin, good tidings for Christmas and a happy New Year," we should hear the words of St. James:
If a brother or sister is naked and lacks daily food, and one of you says to them, "Go in peace; keep warm and eat your fill," and yet you do not supply their bodily needs, what is the good of that? (James 2:15-16)
and we should be reminded of our baptismal commitment to "seek and serve Christ in all persons, loving our neighbor as ourselves" (BCP 1979, page 305).
That verse in Winter Wonderland where we build a snowman
Then pretend that he is Parson Brown
He'll say: Are you married?
we'll say: No man
But you can do the job
when you're in town
should remind us that Mary, though betrothed to Joseph, was nonetheless an unmarried mother and put us in mind of the many unwed mothers in our society; and it should also remind us of those who wish to marry but are prevented by unjust laws from doing so.
Singing "I'll be home for Christmas if only in my dreams" reminds us that Joseph and Mary had no home on that special night, that the One whose birth we celebrate in our comfortable homes had no crib in which to sleep, and that later in his life he would comment that "foxes have holes, and birds of the air have nests; but the Son of Man has nowhere to lay his head" like so many on the streets of our modern cities. (Matt. 8:20; Luke 9:58) Singing the song and telling the story of Rudolph the outcast reindeer can remind us how the outcast Galilean became the Savior, and looking at the example of Santa Claus should teach us the beautiful meaning of Christmas as a celebration of love made good by the giving of gifts not only to our children, our family members, and our friends, but more importantly to strangers in need.
The point is that these secular and commercial songs – Winter Wonderland, White Christmas, I'll Be Home for Christmas, and all the others – and these silly cartoonish characters – Frosty, and before him Santa Claus and Rudolph – have become significant parts of our society's Christmas tradition. While advertising and retail business interest are largely responsible for this, these songs and images nonetheless allow us to contemplate how belief can be transformative; belief in something innocent, belief in something good, belief in something wonderful, belief that can change the world.
We know good and well that reindeer don't have red, glowing noses to guide magic sleds through the sky; we know that a jolly old fat man can't visit every child in one night; and we know that a snowman cannot come to life. But at Christmas time, when our children are held in awe by flying reindeer, Father Christmas, and dancing snowmen, we celebrate their simple faith and remind ourselves that the One whose birth we celebrate commended childlike faith saying, "Whoever does not receive the kingdom of God as a little child will never enter it" (Luke 18:17). At Christmas time, in the face of impossible odds, Frosty the Snowman and all these other songs and images allow us all to admit that childlike belief in something beyond the physical world can be more powerful, more real than that which is right before our eyes; that childlike faith can transform lives; and that childlike love can change the world.
And so I'm offering this simple phrase
To kids from one to ninety-two
Although it's been said many times, many ways,
"Merry Christmas to you."
Let us pray:
O God, before whom saints sing and from whom angels go forth to tell of your glory: We give you thanks for the songs and stories of Christmas, secular as well as religious, songs and stories that warm our hearts, recall loved ones to our memory, and bring tears to our eyes; help us to hear in them the truth of the Incarnation and grant that they may give us glimpses of your beauty, that at length we may be worthy to behold it unveiled for evermore; through the One whose birth we celebrate, Jesus Christ our Lord. Amen.