====================
This sermon was preached on the Fourth Sunday after Pentecost, June 16, 2013, at St. Paul's Episcopal Church, Medina, Ohio, where Fr. Funston is rector.
(Revised Common Lectionary, Pentecost 4 (Proper 6, Year C): 1 Kings 21:1-21a; Psalm 5:1-8; Galatians 2:15-21; Luke 7:36-8:3. These lessons can be read at The Lectionary Page.)
====================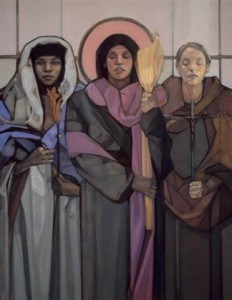 Today, I would like to talk about women. I know it's Fathers' Day but as my friend and colleague (someone known to many of you) the Rev. Jennifer Leider recently remarked, "The lectionary is no respecter of secular holidays." On this 4th Sunday after Pentecost, looking at the lessons for Proper 6 in Lectionary Year C, we have some readings from Scripture which draw our attention to women: women as active agents in the world of men, as subjects who act rather than as objects which are acted upon. Given the cultures, the political realities, and the social mores of the times and places in which these stories happened and were recorded, that's really quite amazing! So, it may be Fathers' Day, but let's take a look at these biblical women.
The first woman to consider is the wife of King Ahab of Israel, Queen Jezebel. Jezebel was the daughter of Ethbaal, king of Tyre, the Phoenician empire. She was a powerful woman who commanded her own army and had considerable control over the religious establishment of her homeland. According to the Scriptures, she converted her husband to the worship of Ba'al and convinced him to have many Jewish prophets killed. As we heard a couple of weeks ago, she brought 450 prophets of Ba'al into Israel and the Jewish prophet Elijah challenged them to a competition, which he and Yahweh won, and he then had the prophets of Ba'al slaughtered. This made Jezebel his enemy and, out of fear for her, he fled the country. In today's lesson from the First Book of Kings we see her wielding this power and manipulating her husband's acquisition of a vineyard by getting the legitimate owner, Naboth, falsely accused of and executed for blasphemy. This was not a woman to be messed with; she had political, military, and religious power.
This was not so with the second woman we meet in Scripture today, a woman described in Luke's Gospel as a "notorious sinner" who interrupts a dinner party to wash Jesus' feet with her tears, dry them with her hair, and anoint them with costly oil poured from an alabaster jar.
In all four of the gospels there is a story like this. Matthew, Mark, Luke, and John all relate a tale of a woman who, at a dinner party, comes and anoints Jesus with a jar of balm described as extravagantly expensive. In each story someone objects to the waste of the valuable ointment (or the money spent on it). In each story someone questions Jesus' credentials as a religious person. In each story Jesus defends the woman's action.
In Matthew's Gospel the event happens "while Jesus was at Bethany in the house of Simon the leper," just a few days before the Crucifixion; "a woman came to him with an alabaster jar of very costly ointment, and she poured it on his head as he sat at the table." When the action is challenged by the disciples, Jesus defends it as an anointing for his burial. (Matt. 26:6-13) Mark's version is essentially the same as Matthew's.
John says that it was Jesus' feet that were anointed, rather than his head, but agrees with Matthew and Mark this event took place just a few days before Jesus' execution. Like Luke, John describes the woman as washing Jesus' feet with her tears and drying them with her hair. But John identifies the woman as Mary of Bethany, the sister of Martha and Lazarus.
Luke is the only one who doesn't put relate this story as part of the narrative Jesus' passion and death. In this version, Luke takes the story of anointing, places it in the house of a Pharisee, adds the parable of excused mortgages, and gives us a story forgiveness, not a story of preparation for death.
In each of the other stories, especially John's telling, there is some suggestion that the woman has a legitimate right to be at the dinner, or at least in the house. This is not the case here. As I said a moment ago, this woman is described by Luke as "a notorious sinner." She is clearly not an invited guest; she is not a member of Simon the Pharisee's household. She just comes in off the street and does this remarkable, surprising thing. We might wonder how this could have happened; how could she have gotten all the way into the dining room to do this? To answer that question, we need to imagine ourselves in First Century Palestine.
Imagine that world for a moment. There are no telephones, neither cell phones nor land lines. There is no air conditioning. There is no refrigeration. Nothing electric at all. Furthermore, there is no credit; lending or credit are forbidden in the Law of Moses. Whatever was needed for daily life, especially food, had to be purchased with cash everyday. Whatever communication there was need of had to be done in person or through a messenger, usually a servant or slave employed specifically to run messages around town. Whatever business was done was usually done from the home, not from an office somewhere else. There were no schools; whatever education a child may have gotten was done at home by parents or, if the family was wealthy, by servants or hired tutors.
So people were constantly coming and going; members of the household going out to shop everyday and returning with their purchases. Messengers from others delivering family or business communications; the households own messengers taking messages to others. Servants coming and going.
Houses of the sort a prominent man like Simon the Pharisee would have had had a central courtyard with a number of rooms opening off it. The courtyard would have been separated from the public street by a wall and a gate, the gate usually open to all that coming and going.
The other three sides of the courtyard was surrounded by rooms, which would have been open to the courtyard to provide ventilation and cooling. Their inner walls would have been finished with a smooth coat of clay or plaster, decorated with elaborate frescoes. Wide benches of stone for sitting and sleeping, and shelves for storage would have been built into the walls. Stairs or a ladder would have led up onto the roof, which was used as an outdoor room most likely for bathing and laundry during the day and for sleeping at night during summer heat.
These rooms tended to be small and dark, so the courtyard and the roof were the important parts of the house; here those activities needing good light, spinning and weaving, food preparation, and dining would have taken place. In the courtyard of a First Century house you might find:
the mikveh, a pool of clean rainwater used for ritual cleansing
a kitchen area where food, purchased day by day, was prepared
a covered area where people worked and socialized, where they ate
This was the center of activity and socializing; it was here that all that coming and going took place. It was here that a woman might enter the gate right off the public street and interrupt a dinner in progress.
And that is what this woman did. A "notorious sinner," an outcast, one of the lowest of the low, took matters into her own hands. Knowing that Jesus was there and knowing that he might be able to help her do something to end her abject abnegation, she felt herself empowered. She had heard, no doubt, about the several times he had healed and forgiven others even when others thought it violated the Law in some way (Luke, Chapters 5 and 6). She might have heard about (or even been present at) his Sermon on the Plain. When he said:
Blessed are you who are poor, for yours is the kingdom of God. Blessed are you who are hungry now, for you will be filled. Blessed are you who weep now, for you will laugh. Blessed are you when people hate you, and when they exclude you, revile you, and defame you on account of the Son of Man. Rejoice in that day and leap for joy, for surely your reward is great in heaven; for that is what their ancestors did to the prophets. (Luke 6:20-23)
she might have understood that he was speaking to her. And when she heard him say:
Do not judge, and you will not be judged; do not condemn, and you will not be condemned. Forgive, and you will be forgiven; give, and it will be given to you. A good measure, pressed down, shaken together, running over, will be put into your lap; for the measure you give will be the measure you get back. (Luke 6:37-38)
she may have made her plan to give everything she had, to spend whatever she had on that costly jar of oil, to give him her best in thanksgiving for the forgiveness she felt had been given her. So she took matters into her own hands, bought that ointment, and walked through that gate and into that dinner party. Jesus rewarded her boldness and confirmed her forgiveness in the parable he told the Pharisee and in the words with which he thanked her and sent her on her way, "Your faith has saved you; go in peace."
The last image of women we have in today's lessons is not a single woman, but a group of women. Luke tells us that, shortly after this extraordinary dinner party, Jesus went on through cities and villages, proclaiming the good news, and that with him where the twelve and "some women who had been cured of evil spirits and infirmities: Mary, called Magdalene, from whom seven demons had gone out, and Joanna, the wife of Herod's steward Chuza, and Susanna, and many others, who provided for them out of their resources." (Luke 8:1-3) Here we have a picture of women of who in one sense are like Jezebel: they are independent women of means, some married, some unmarried, who own their own property and resources, women who have the authority to do as they wish. But in another sense they are like the woman with the alabaster jar; they give from their resources to provide for Jesus in his ministry.
So these are the three pictures of women in today's scriptures: a woman of wealth and power who used who wealth and power to corrupt and manipulate; a woman of absolutely no status whatsoever who felt empowered to give probably everything she had in gratitude for the forgiveness brought to her by Jesus; and women of independent means who made their own decisions to work for the betterment of the world, who (in this particular instance) supported Jesus in his ministry of forgiveness. It is certainly not like Jezebel, but like the others that the Episcopal Church and the Anglican Communion encourages and hopes to help women to become through our adoption of the Third Millennium Goal: to promote gender equality and empower women.
Not only in this Gospel story, but again and again in the Gospels we see Jesus meeting and interacting with women in ways that honor them, raise them up, and empower them. There is the woman who argued that "even the dogs get to eat the crumbs under the table" as she begged for healing for her daughter, whose faith Jesus applauded. There is the widow he observed who gave all she had to the temple treasury, whom Jesus praised for putting the wealthy to shame. There was Mary Magdalene, who became the first witness to the resurrection, the first evangelist of the Good News of the Risen Christ.
These are women whom Jesus empowered to be something other than the role their society would have put them in, to act with confidence that they, like the men around them, were created in the image of God.
Many women around the world today live in circumstances that make it difficult, if not impossible, to act with similar confidence. News reports daily document the level of violence against women: rape as a weapon of war (or as a possible danger of military service), so-called honor killings, sex trafficking, and other horrors suffered by women simply because they are women. In the United States today, homicide is the third leading cause of death for girls aged 1 to 4 and also for young women, 15 to 24, and most are killed by someone they know.
We are called by Jesus and by the church to emulate his ministry of forgiveness and empowerment, to offer women throughout the world the opportunity to choose life in a world ravaged by war, hunger, disease, and death; to promote gender equality so that women and men have equal opportunities and equal roles in decision-making throughout society. To promote equality between the sexes is to promote the healing of our world and to further the church's ministry of reconciliation.
Yes, it's Fathers' Day, and as Jennifer Leider said, "The lectionary is no respecter of secular holidays." But as it happens, Time Magazine decided to celebrate Fathers' Day this week by asking some famous fathers to write open letters to their daughters, and those letters echo remarkably the message of today's lectionary readings. Senator Marco Rubio wrote to his daughters Amanda and Daniella: "My hope for my daughters is that they will grow up to be strong, confident women who understand that they can be whatever that want to be in life." Chicago mayor Rahm Immanuel wrote to his daughters Ilana and Leah his hope that they would be "smart, fearless, independent . . . strong, trailblazing women." And producer Aaron Sorkin wrote this advice to his daughter Roxanne: "Be brave and know that the bravest thing you can do is be willing to not fit in. Never take pleasure in someone else failing. Dare to fail yourself. Be the one who doesn't care as much about clothes as the person wearing them. Be kind, be compassionate and be humble."
Our call as Christians, the message of today's lessons, is that we are to help build a world where that is possible, where no woman need be as conniving and manipulative as Jezebel, where no woman should be as put down and subjected as the woman who interrupted the dinner party, where every woman can be as independent and resourceful as those who followed Jesus and supported his ministry of forgiveness.
Today's Gospel teaches us that the best way to honor fathers is empower their daughters.
====================
A request to my readers: I'm trying to build the readership of this blog and I'd very much appreciate your help in doing so. If you find something here that is of value, please share it with others. If you are on Facebook, "like" the posts on your page so others can see them. If you are following me on Twitter, please "retweet" the notices of these meditations. If you have a blog of your own, please include mine in your links (a favor I will gladly reciprocate). Many thanks!
====================
Father Funston is the rector of St. Paul's Episcopal Church, Medina, Ohio.